As a graphic designer I love EVERYTHING that has to do with design.  I love not only graphic design, but art, fashion and especially interior design and home decor.
When I thought about the word for this week… savvy I am very excited to share with you my passion for home decor.  I love it, but do not love the price tag that comes along with finding furniture and artwork. My solution for the past few years is to beat those prices, be a little more savvy, and do a lot of the work myself!  I visit Goodwill, antique yards, yard sales and even sometimes the side of the road (I am not kidding) to find a random piece of furniture or salvage and make it into a new piece of "art" for my house.  Below I have shared two rooms in my home with an explanation of where I got my pieces and how much I actually spent project!  I hope it will show you ways that you can also be SAVVY with your home decor!
First up is my living room: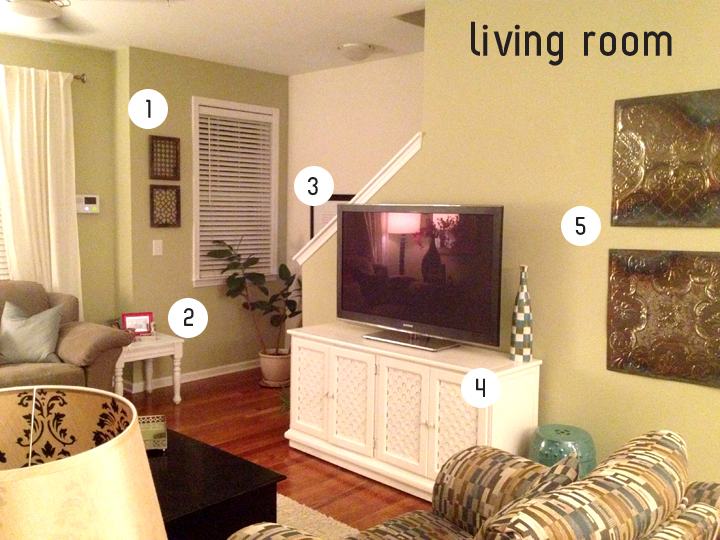 1. These are old floor grates that I found at a local antique yard and cost only $5 each!  I didn't have to do a lot to these – just sand them REALLY well and spray painted them with a clear protecting layer.
2. This table I had bought for my apartment in college YEARS before as part of a 3-piece set at a local flea market.  The entire set was $75.  I have both of the side tables (one here and one in my office).  I sold the coffee table about a year ago for $50, so I am left with $25 dollars for two side tables!  They were a light wood, so I painted them white and recently gave them another update with some simple stencil work.
Here was my inspiration piece I saw one day while out shopping.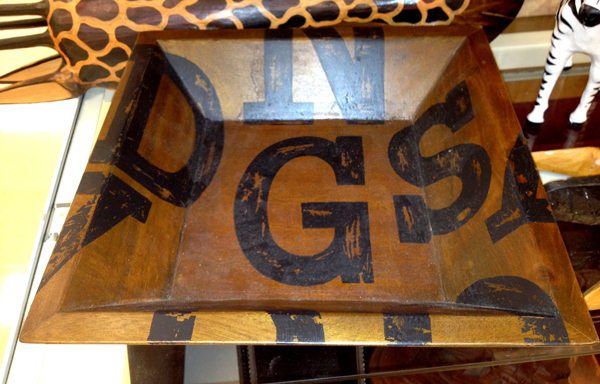 I took that inspiration and made one for myself!  I was really happy with how it turned out!

 3.  Tucked in the far corner you can see a frame.  For this space, I have typed out one of my favorite quotes and printed it out to fit the frame.  This was very simple and very inexpensive for a another piece of custom art!  The frame was free (re-used one I had), new mat for $2.99 and a custom print that will typically run you just a few dollars at any local print shop!  Here is the quote I used, from one of my favorite RomComs – Hope Floats!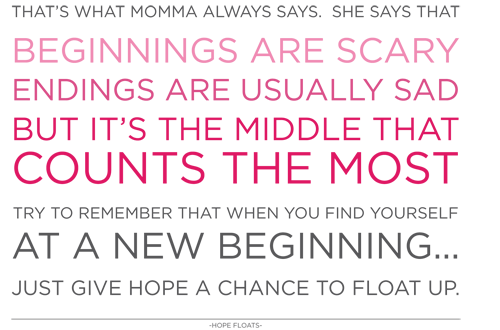 4. My tv credenza was a steal at Goodwill for $40.  It was tucked away and was a dark wooden color.  I brought it home and with one coat of white paint, well – maybe a few more than one, I it turned out great!  I get so many compliments on this thing – and for only $40!
5.  These antique ceiling tiles were another great steal at the antique yard at $10 each.  I loved that they had aged and have some great discoloration that matched my living room just perfectly!
Secondly is my guest bedroom.  I use this space to display some of my personal artwork as well as a few other custom pieces: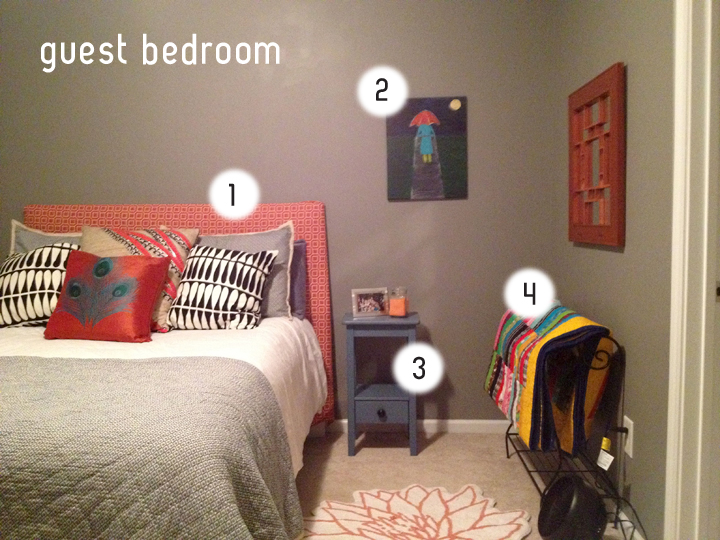 1.  This custom headboard is hand-made by… me!  My sister and I started this trend years ago when we were in college and had no money to put towards an actual head-board.  Dad cut a piece of wood to size, we covered it with some backing and then again with a piece of fabric of our choice.  Under this headboard I am sure there is probably about 4 other custom head-boards that have been used throughout the years!  This takes about 2-3 years of fabric.  I think mine was about $10 a yard – so I have a headboard for $20 – $30 dollars!
2. This was a piece of art that I painted at a local art shop.  It is from an art studio where you bring your own wine and they teach you to paint a picture. I bought this on a groupon so I think the cost was around $20.
3.  This was again another piece of furniture that I have had since college.  I painted it a fun shade of blue and added a new drawer pull making this total makeover about $3.
4.  Probably my favorite piece in the room was free!  This is a quilt that my great-grandmother made.  Every piece of fabric is an old shirt of my great-grandfather or a dress of another family member.  I am lucky enough to have a few of these and LOVE having them around my home!
A few other pieces in the room are below.
This idea is to take a mirror and give it a punch of color.  This mirror was an old mirror from my great grandmother's house.  I gave it a new look by adding a fresh coat of paint (The same color of the side table).  The shower curtain you see was a custom-made from the same material that I used for the headboard!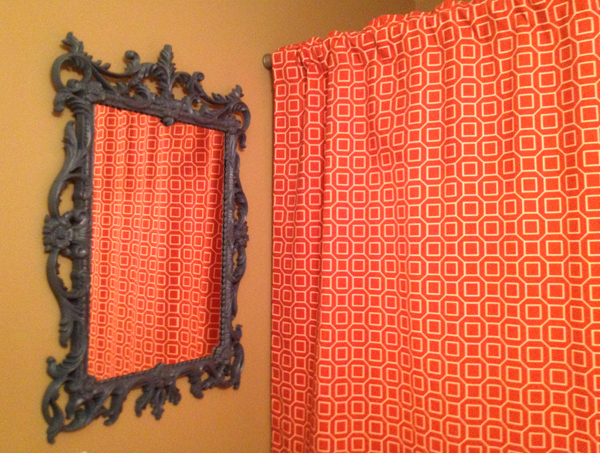 Another inexpensive idea is to frame a few greeting cards.  These cards cost me about $3 each!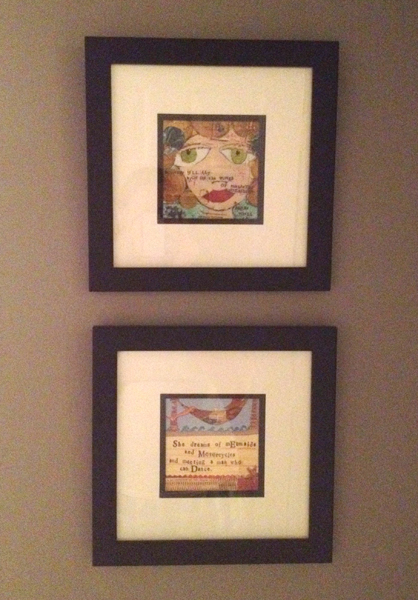 I got inspiration for this piece from The Nester.  I love her style and ideas for home decor!  The cost of this was $8 for the canvas and about $4 for the map "wrapping paper".
Finally here is one more custom piece of art – just a simple design that was easy to paint in under an hour!  I re-used an old canvas, so this was another FREE piece of art!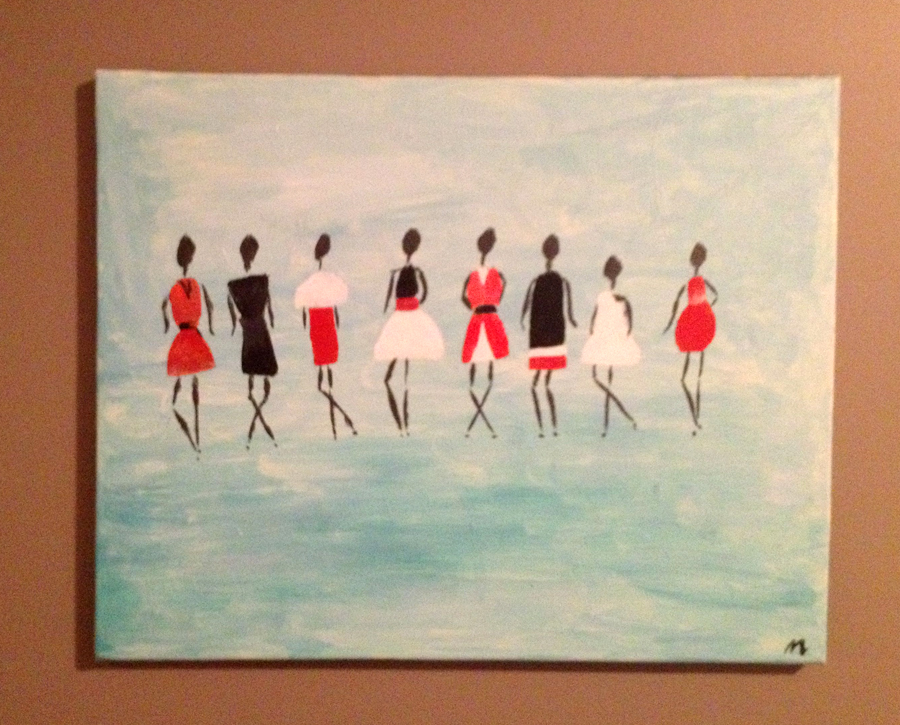 I get the majority of my ideas from other bloggers that share my love for thrifting and repurposing.  A few of my favorites that show great before and after ideas as well as inexpensive ways to decorate your home are listed here.  There are many more, but this will get you started!
The Nesting Place
Southern Hospitality who does a reoccurring post titled Thrifty Treasures.  Here is last week's post.
Button Bird Designs
Better After
Vintage Revivals 
Nate Berkus 
I am a firm believer that everyone needs a creative outlet.  Something that you do for fun outside of work.  For me it is finding or creating these one of a kind pieces for my home.  I once saw a sign that said, "Surround yourself with things you love".  Since then I have taken it upon myself to only have things in my home that I love – that bring back memories or that either I have created of a friend or family member has created!