It's "Get To Know The Sunny Slide Up Girls" week here on the blog.  We will each be answering personal questions this week.  Have an additional question?  Feel free to comment below and ask away!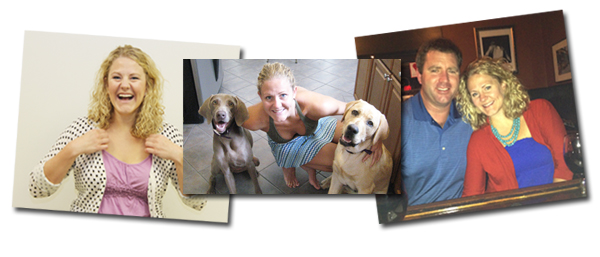 1. If you had to work on only one project for the next year, what would it be?
Well – If you would have asked me last week, I would have told you that during the next year I am going to work on taking my personal company, Dry Ink Designs, to the next level, by adding employees, streamlining my target client, etc.
However —  I have big news!  As of last week, I am ENGAGED!  So… my big project for the next year will be my wedding and I am beyond excited!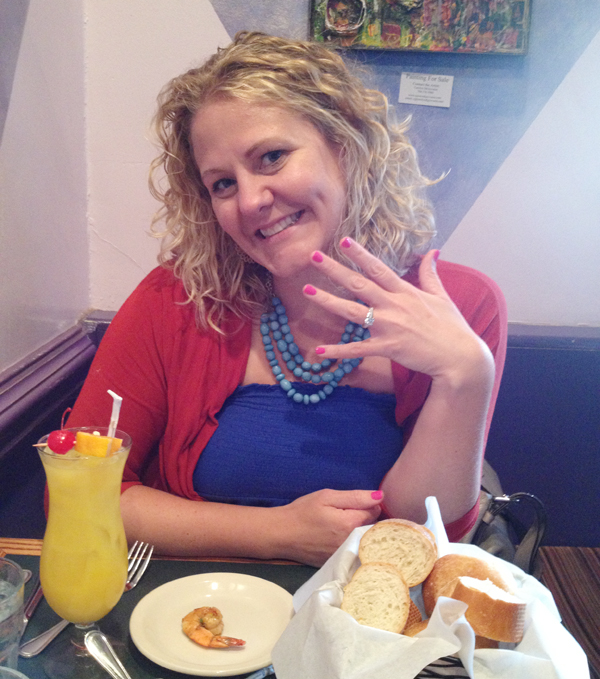 2. If you could learn anything, what would it be?
I love everything about decorating my home on a budget and the one thing that holds me back from going DIY crazy is the fact that I can not sew.  I have a sewing machine, I have fabric, I have TONS of ideas – but just can't make them happen… One day.
3. What sound do you love?
I love music around the house.  I grew up  in a house where there was no shortage of music.  My mom was a church organist for years and my dad plays every string instrument he can get his hands on.  The house was always full of hymns, wedding music and christmas carols on the piano and bluegrass and other "guitar" songs by my dad on his guitar, banjo or mandolin.  To this day – my dad has his guitar and banjo everywhere we go!  I feel so lucky that my FUTURE HUSBAND 🙂 has the same appreciation for music.  I love walking in the door to hear him picking out a new tune on the guitar or learning new chords on the banjo!
4. What is your favorite time of day/day of the week/month of the year?
My favorite time of the day is that moment The Mister walks in the door.  I get a wonderful hug and for a moment, nothing else matters!
Favorite day of the week is Saturday.  Running your own business you tend to work around the clock and you are always on call.  For the first year, I felt like I had to answer every email no matter what time of the day it was or what day of the week it was.  Recently, I have decided to make Saturday my day (for the most part).  I can take my time cooking breakfast over coffee and conversation with The Mister.  I can head out to the lake or go for a long walk or bike ride.  To me, Saturday is my escape from the "real world".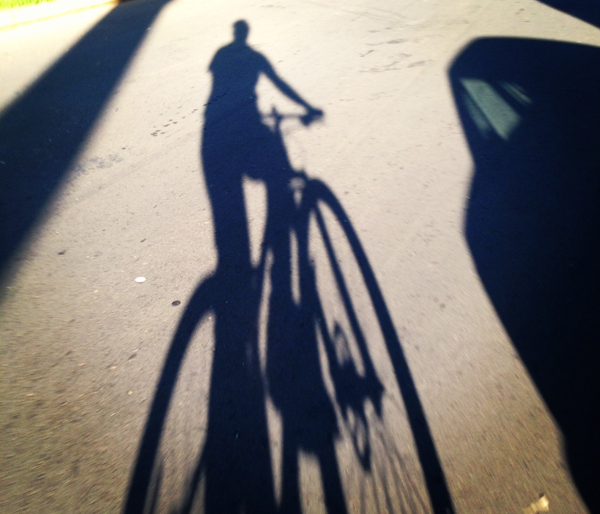 Favorite month of the year….December.  I am the same with Heather on this one!  I love the crisp air, the christmas songs playing everywhere, running around to find that perfect gift for your family members, decorating the house and christmas tree, christmas padgets, christmas movies and of course the food!  Everyone is so festive and has a smile on their face!
5. Describe your relationship with your parents.
I have an amazing relationship with my parents.  I love that I can go to them for advice, I can hang out with them on the weekends and I can talk to them about anything and they will support me unconditionally.  I also love how they have taken in The Mister in to their life and our family.  Funny story, but they knew him before I did.  My dad and The Mister's dad were college roommates.  I have known his parents and his has known my parents for years before we actually met.  It is so amazing to fall in love with someone that your dad is already friends with and your mom already likes.  Now the four of us hang out, take trips, go to dinner and it is just amazing!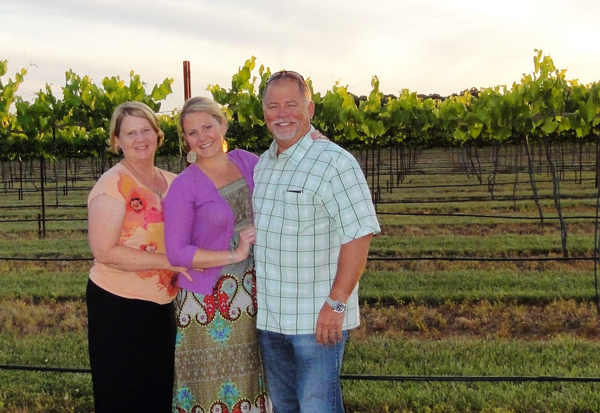 5. List 5 things you would tell your 16 year-old self, if you could?
Start eating healthy… now.  Your perfect body will not stay that way forever!
Choose wisely where you go to college, as these will be some of the best years of your life.  While you are there travel abroad, stay up late with girlfriends, study hard, meet new people that are nothing like  you knew from home, live in a dorm and  go to the football and basketball games while they are free!
Choose good friends.  Your girlfriends will stand by you for life and your guy friends will become irreplaceable.
Date!  You are so young, do not get in one relationship and stay there… date different types of guys to figure out what you really want.
Get involved in sports.  Learning to push yourself, learning the basics of working out and learning teamwork will help you in more ways than you can imagine.
One extra – learn to drive a stick shift.  Not all cars are automatic honey!
6. What are the 5 things that make you most happy right now?
Being in business for myself for almost two years!
Knowing I have found the man who I will spend my life with and build a family with
Having a wonderful family and network of friends that love and support me
Riding my bike and feeling like a kid again
I have to admit it – starting to think through planning my wedding.  It is so exciting!
6. Describe a typical day in your current life.
The alarm clock typically goes off around 5:30, but it is around 6:30 before I actually wake up.  I lay in bed and check the emails that came through overnight and respond to the ones that I can.  I get up, shower, get ready for the day and then either work from home or head out to one of my clients offices where I work away on the project of the day.  I never know what that project is – it may be a logo, a brochure, an ad, photos, etc.  Typically for lunch I meet with a client, potential client or friend to catch up.  Then after lunch it is back to the grind until around 5:30.  Note – calls for wedding stuff, errands and blog writing may be tossed in during the day as well!  Around 5:30 I head off to The Mister's office where we jog to the gym, I take my class and he works out for an hour before we jog back and head home.  One we are home it is time for dinner – and yep, we usually cook some amazing Pinterest recipe as well.  After dinner we try to do something together if we are both home… look at wedding venues, play cards, watch a tv show, etc before it is time to head off to bed.
7. What is your favorite part of your body and why?
I have 2 🙂
My eyes – when I see them they make me think of how similar they are in color to my dad and sister
My hands – they look exactly like my Grandma Grace's – so I think of her everytime I see them
8. What is the best decision you made?
The best decision I have made personally is starting my own business.  It has been the hardest and most challenging thing I have ever done, but.. the most rewarding.  I look back now at the accomplishments I have made and I am so proud.  All of what Dry Ink is today is because of me!

9. When is the last time you laughed so hard you couldn't breath?
I am crazy ticklish…like crazy bad.  The Mister found this out and from time to time, he will surprise attack me and I laugh so hard that I literally can't catch my breath… It is hilarious!
10. What is your idea of a perfect house?
One day we plan to build our forever home – I do not know where it will be or exactly what it will look like – but I have a vision.  I want a new house using old and vintage finds.
I want a house that is a home for our family – a big front yard with a long driveway, a wrap around porch with a blue ceiling, a back deck and back yard with a place to grill and entertain, kids running around the yard and through the house on socks, I want movie nights on pallets in the den, friends and family stopping by often to say hello, a big garden out back full of veggies and herbs, art work by me, friends, family and my children decorating the house, and love.  I want lots of love!
11. Were you named after anyone?
Oh was I.  My official name is Amanda Ruth Heilig.  Amanda is just a name that my parents chose, but Ruth – that is another story.
My mother's given middle name was Ruth, my mother's aunt's middle name was Ruth and my mother's grandmother's (my great grandmonther) first name was Ruth.  So much history!