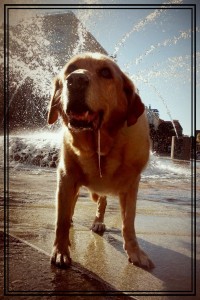 Luna loooooves a doggie car ride. I adopted Luna after my elderly neighbor in Charleston, SC passed away unexpectedly. She was eight years old. The doggie car ride was a new and glorious experience for us both. Ears flapping in in the wind, slobber trailing down the windows. Mission: dog park … beach … adventure!! PURE JOY!!
Fast forward to 2012. Burton and I decided it was time for an epic road trip so that Luna could sniff every corner of the USA. We called the adventure Luna's Last Hurrah.
At 14 years old, she was slowing down and her mobility was progressively limiting to front-wheel drive only. Regardless she'd want to chase tennis balls and jump into every body of water in her path. We were petsitting in Portland and flipping through the newspaper on sunny morning when I came across an article about water treadmill rehabilitation for dogs. We vowed to get Luna on a program as soon as we got off the road.
Luna turned 15 years old this spring. We take each day, one day at a time. She promised me she'll hang on until our wedding in Charleston in April. To help with her promise and whip her into shape, I take her to go hang out with her new BFF, Luke. He treats her like a princess. She gets so excited as the water fills up the tank. Suddenly all the pain and aches melt away. The treadmill turns on and suddenly she's swimming, jogging, panting — like years past. He ends her sessions with massaging jets.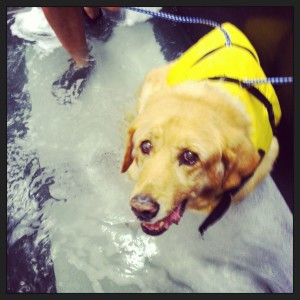 I am writing this post from 10,000 feet in the air on the way to San Francisco. My castle wedding is in 6 weeks!! I've been trying really hard to keep up with Luna. Workouts, massages, meditation, counting my wrinkles in the mirror. What I need are some magic tricks to give me back my youthful, sun-drenched skin.
Got any tips to cure the excitable wedding jitters?!! Skin transforming miracles? DIY mask recipes?
XOXO