In case you didn't know……JENN'S HAVING A BABY!!!!  No need for alarm.  She isn't going into labor now.  Well, at least I don't think so – I haven't talked to her today 🙂 She isn't due for a few weeks.
We celebrated her baby shower this weekend!  Isn't she just the cutest pregnant lady you have ever seen!  (And pardon our height difference….HA!)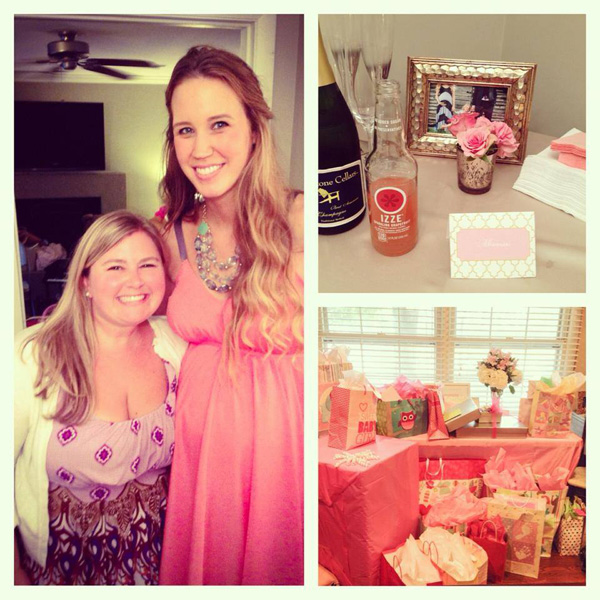 This baby shower reminded me that I need to share my love of DIY Diaper Cakes here on our blog.  I have tons of friends with little ones and have made many o' diaper cakes in the past few years.  They make an awesome baby shower gift, and are super easy to make!  Here are some instructions for you…
DIY DIAPER CAKES
What you will need:
A new pizza pan for the base – you can get these at Walmart for $5
A new baby bottle – for the center of the cake
A bunch of diapers – size 1 or 2 work best
Ribbon – the wired ribbon works nice for tying bows
A cake topper – rubber ducky or small stuffed animal
It takes a little bit to figure out how to layer the diapers around the bottle.  An extra set of hands helps, so that one can hold the diapers while the other one ties the ribbon to hold them in place.   Once you get the hang of it, you can put it all together in about 5 minutes.
Here are some of my diaper cake creations!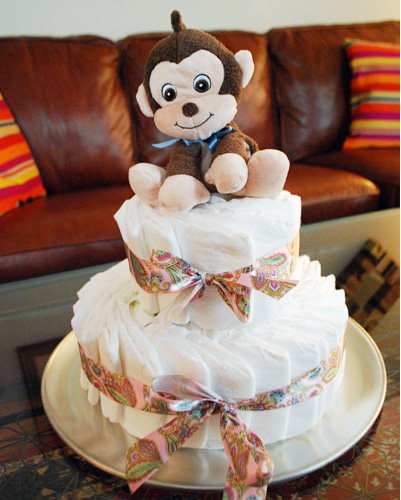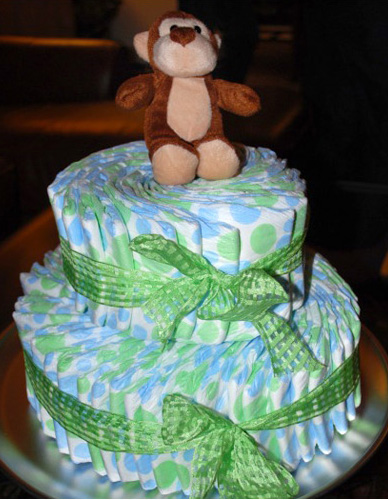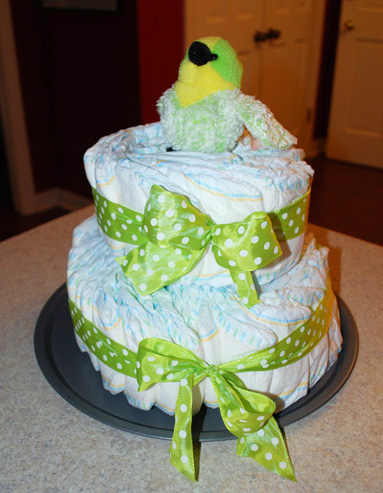 Know someone having a baby ?  Be sure to share with them Jenn's "Labor and Delivery Call Logs" and  "Registry Essentials" – both are FREE to download and super helpful for expecting mommies!
And while Jenn is on maternity leave, we are welcoming back a certain someone to guest blog for a while here on Sunny Slide Up!  Stay tuned…… 🙂