I just love when I discover a delicious new healthy AND easy recipe.  The title of this recipe caught my attention….and after reading the ingredients and discovering that a Laughing Cow cheese was involved I got super excited.  I love that stuff.  The cucumbers and tomatoes are plentiful this time of year, so this is a great summer salad!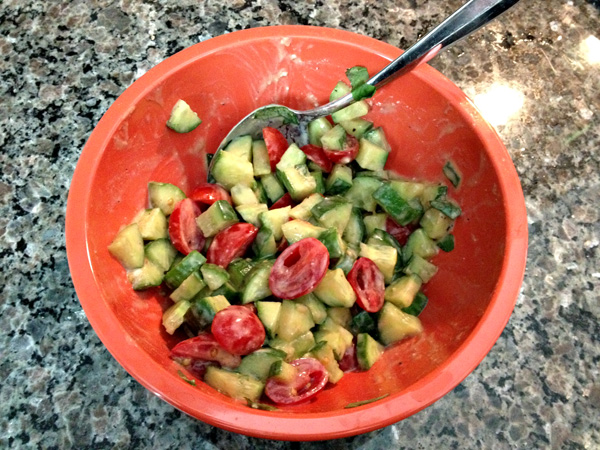 Cheesy Balsamic Cucumber Tomato Salad
2  Laughing Cow Light Garlic & Herb Wedges
1 tbsp red wine vinegar
1 tbsp Balsamic vinegar
Salt and Black Pepper
1 tbsp Olive Oil
1 tbsp Honey
Pint grape tomatoes halved
Large cucumber chopped in small bite size pieces
Basil – about 10 leaves or so torn up into smaller pieces
Mash The Laughing Cow Light Garlic & Herb Wedge with all of the vinegars, olive oil, and honey.  Add the tomatoes, cucumber, basil, and stir together.  Season with salt and pepper to your liking. Enjoy!
Thanks to GreenLiteBites for this yummy recipe!