2013 has brought new beginnings.  New healthier beginnings.
I am putting more focus on healthier foods, getting more sleep, and getting more exercise.  To jumpstart us off, the mister and I have agreed to three months of eating very healthy.  No grains and no diary, basically the Paleo diet.  It has actually been a lot of fun trying new recipes and cooking together.  Below is one of our favorites yet.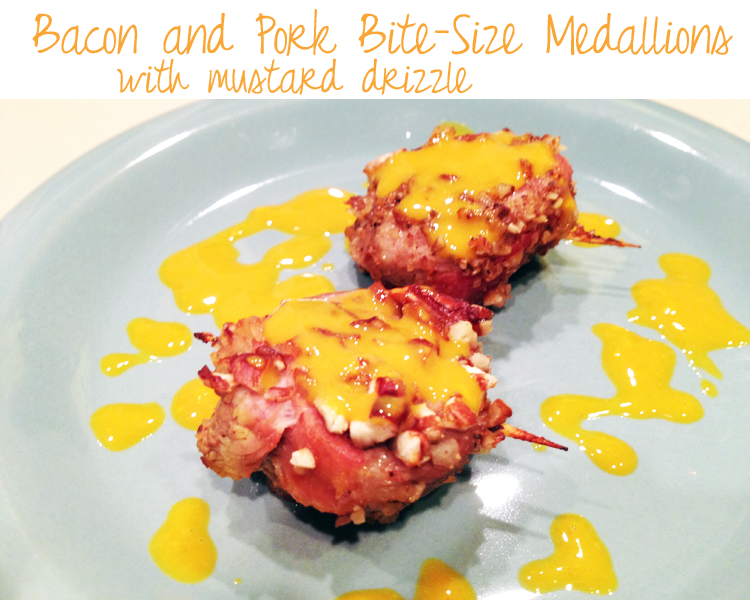 Bacon and Pork Bite-Size Medallions with Mustard Drizzle
Ingredients
MEDALLIONS
1 pork tenderloin
6 slices of bacon (you may need more depending on tenderloin size)
1 cup finely chopped pecans
salt and pepper to taste
toothpicks to hold meat in place
Directions
Preheat your oven to 375.
Prepare the mustard dip by combining all ingredients together in a bowl and mix well.  Make 24 hours ahead of time for best flavor.
Set aside 1 c of the mustard sauce to use as the drizzle.
Cut the tenderloin into 1/4 inch strips that are about the width of bacon.  Lay the strip flat and then layer one slice of bacon on the strip of tenderloin.  Start on one end and roll both into a pinwheel or medallion.  Secure with two toothpicks.
Cut the medallions in half to make two smaller medallions.
Mix together the pecans, salt and pepper.
Dip the medallions in the mustard and then coat with the pecan mixture.  Lay on a baking sheet that has been lined with wax paper.
Cook on each side for 7-8 minutes each, drizzle with the cup of mustard that was set to the side and serve.
These would be great for an appetizer or a finger food for your next party, but we used them as the main course for our meal.  We also made sauteed garlic spinach, sauteed mushrooms and a side salad with homemade lemon garlic dressing.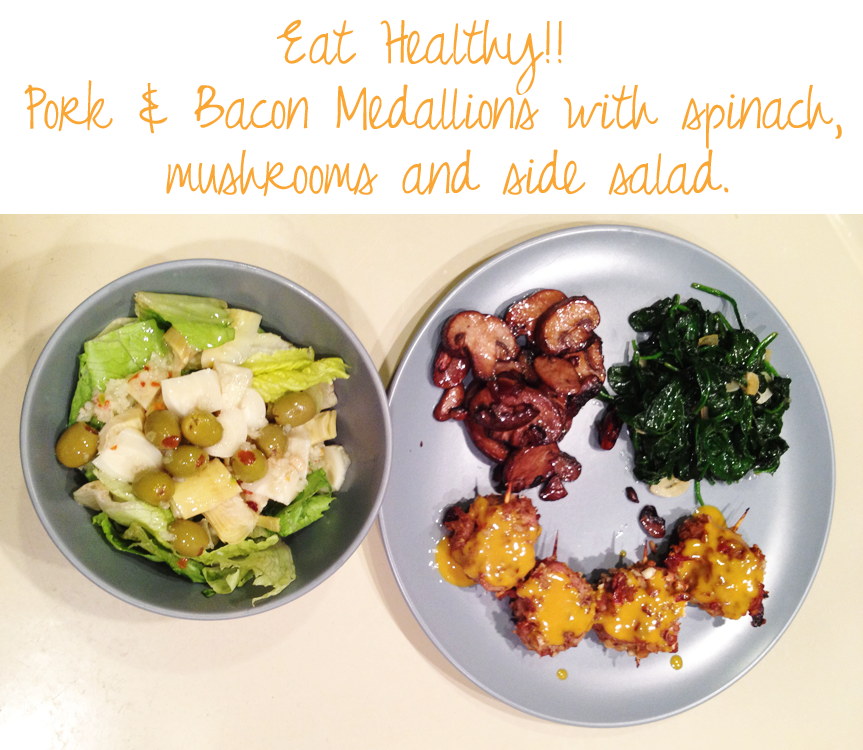 If you think these look great, you should try some of our other recipes:  chicken pot pie cupcakes / guilt free recipes / carrot and fennel soup