Ok – well, maybe I do have a crush on a boy.  If you have read any of my posts on here you have heard me talk about The Mister.  I do have a crush on that man.  I have been talking about a diet that we have been doing the past three months – I talk a little about it here and here.
Yesterday was our challenge weigh-in.  I was so proud of what we were both able to accomplish during these past three months!
With that said, it was time to treat ourselves!  I was thinking a beer or maybe one of the girl scout cookies that have been staring at us from the table for the past 2 months… but The Mister had something else in mind.  While I was away for the weekend to run the Cooper River Bridge Run, that sweet man went to Asheville and brought me back my all time favorite chocolates from French Broad.  I about cried… it was such a thoughtful surprise and we enjoyed every last bite!
Now… on to my other crush.
I have fallen hard for a new drink combo.  This drink makes me smile and want to leave the house a little early in the morning to be able to stop in the drive through… It is my take on a Non-Dairy Vanilla Iced Coffee from McDonalds… I'm loving it! 🙂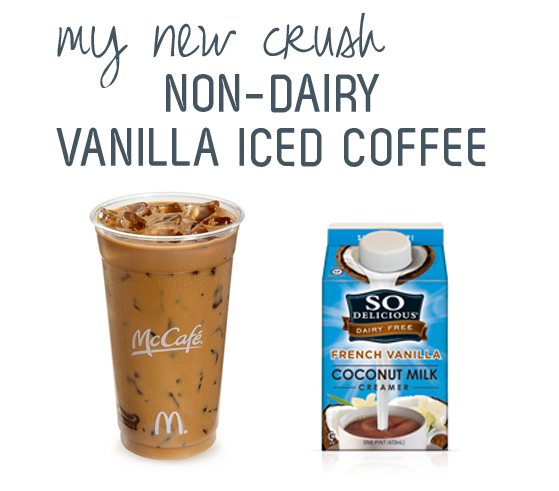 I go to McDonalds, order a Medium Vanilla Iced Coffee and ask for it with no cream.  I take along my SoDelicious French Vanilla Coconut Milk Creamer and add it in separately.
I tell you – this drink is refreshing, non-dairy, low in calories and ADDICTIVE!
Do yourself a favor and try it today!
PS.. McDonalds and So Delicious do not know me – I just love their stuff!
If you prefer the home-made version, I would suggest Pioneer Woman's Perfect Iced Coffee – you can always change out the creamer!