I love this recipe.  I have been wanting to share this with you for some time, but I always forget to snap some photos before I gobble it up.  Well, I finally remembered the other night, and here you go.
The Easiest Turkey Pesto Meatballs
This is so easy and has just a handful of ingredients.  It literally takes like 45 minutes tops to prep and cook.  Plus, it is turkey so a way more healthy choice for meatballs.  Be sure to pair with your whole wheat pasta and nice green salad too!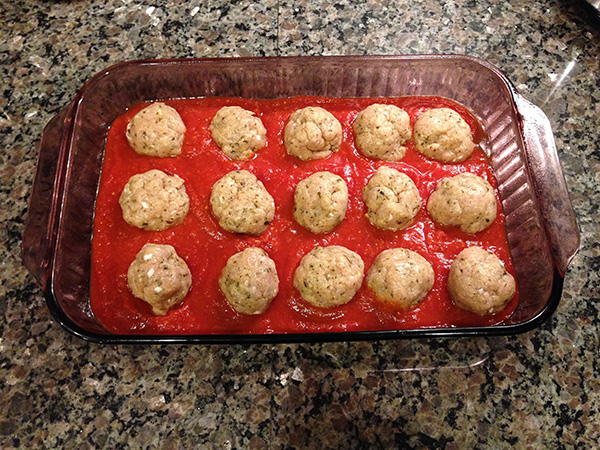 INGREDIENTS:
1 pound ground turkey breast
1/2 cup of pesto
1/4 cup of breadcrumbs (whole wheat if you can find them)
1/4 cup of parmesan cheese
2 tablespoons of minced garlic
1 tablespoon of Italian herb mix
1 jar of tomato pasta sauce
DIRECTIONS:
1. Preheat oven to 350 degrees.  Spray bottom of casserole dish with non-stick spray.
2.  Pour sauce into bottom of casserole dish.
3. Mix together the turkey, pesto, breadcrumbs, parmesan cheese and garlic with your hands to combine and roll into balls about 2 tablespoons large.  Could make smaller if you prefer.
4. Place the meatballs on top of the sauce and COVER dish.
5. Bake for about 25-30 minutes.  Shorter if you made smaller meatballs.   Cook your pasta while these are in the oven.
6. Serve with pasta of your choice, a dash of mozzarella cheese maybe or parmesan shreads….and don't forget the salad!
(recipe adapted from Recipe Boy)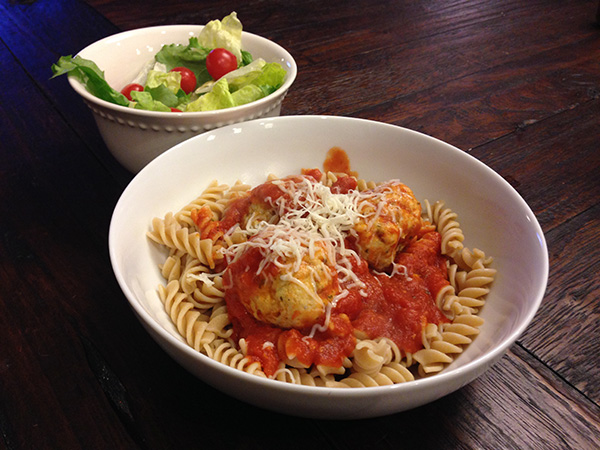 Enjoy!