Hi friends! This year we kicked off our spooky October celebrations early. First, I hand-selected a hoppy cornucopia of pumpkin beer at Whole Foods. That part was easy!!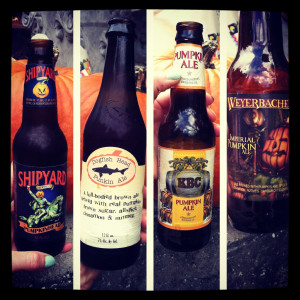 Next we went to the Trader Joe's Pumpkin Patch. That's right!! Where non-secular pumpkins are less than 4 bucks each. Dreamy!
While the gals were elbowing & digging through the pumpkin patch, the guys were at home … playing Grand Theft Auto 5. Sound familiar? Their mission was to round up all sharp objects and power tools … offline. Distracted, they failed miserably.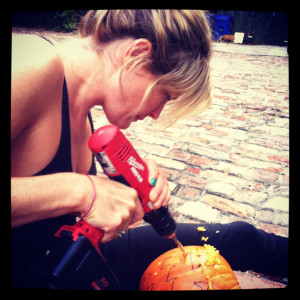 Pumpkin beer, cutlery and power tools in hand, we each got busy carving up classic, spooky inspirations. We even tried a spin on a nautical octopus carving, courtesy of Coastal Living Magazine via Pinterest.
Viola! We were pumpkined out. But we trekked on!! We saved all the gory guts, discarded teeth and seeds for the next step — spooky pumpkin chili!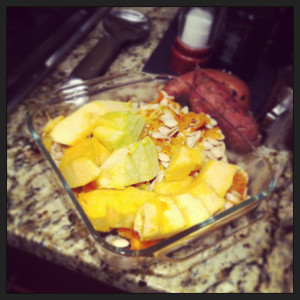 I laughed so hard when dear friends asked for the recipe. First we had to make sure we survived the first batch of spooky pumpkin chili. WE DID!
SPOOKY PUMPKIN CHILI
one large pot
gather all the various beans from your zombie apocalypse stash
gather all the cans of tomatoes & paste gathering dust in your cabinets
chop up all of your whithering veggies
salvaged pumpkin appendages
1-2 packages of spicy soy-sage that sat in your car for 24+ hr
half opened taco seasoning packages
salt & pepper to taste
steam all hard veggie + pumpkin appendages
warm olive oil with any fragrant veggies — such as garlic & onions
drain & add beans + tomatoes
sprinkle in taco seasoning
add remaining chopped mystery veggies
chop & add soy-sage
add softened veggie + pumpkin appendages
add water as needed
simmer for 1-2 hours
season as needed
YUMMY!!!!!!! It was the perfect combination of spicy & sweet. If you prefer a real recipe here is good link for inspiration.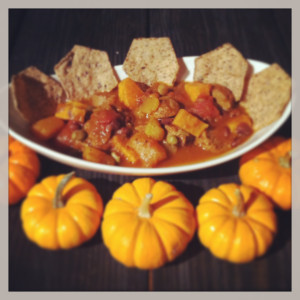 This weekend? We are going to hit up the Charleston plantation corn mazes & haunted hayrides. You'll hear me scream at the top of my lungs from hundreds of miles away.
XOXO