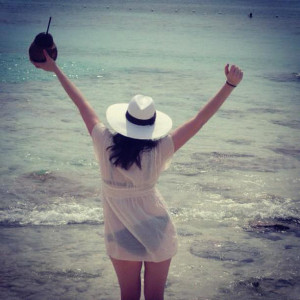 Introducing our guest blogger for today, Kseniya from in the Queen City – we are so happy to welcome a Charlotte girl!
Hello Sunny Slide Up readers!  Hopefully the snow has melted where you are (and if not, I'm sending snow melting thoughts your way) and you are enjoying everything that is great about spring!
Spring brings with it warm weather, bare legs, and cookouts.  My friends and I always look for a reason to cook out and celebrate, whether it's the birth of a child or completion of a bathroom remodel.  It doesn't take much.
My personal favorite reason to have a cook out is Cinco de Mayo.  You don't have to twist my arm when there are fresh Mexican flavors and margaritas involved!  Sharing is caring so I am going to share with you my favorite recipes that are perfect for a warm May afternoon.
No Cinco de Mayo cookout is complete without salsa.  Sure, you can buy pre-made salsa at the grocery store but it lacks the fresh flavors that make salsa great.  My recipe for the salsa is easy and takes less than five minutes to make.
Quick and Easy Salsa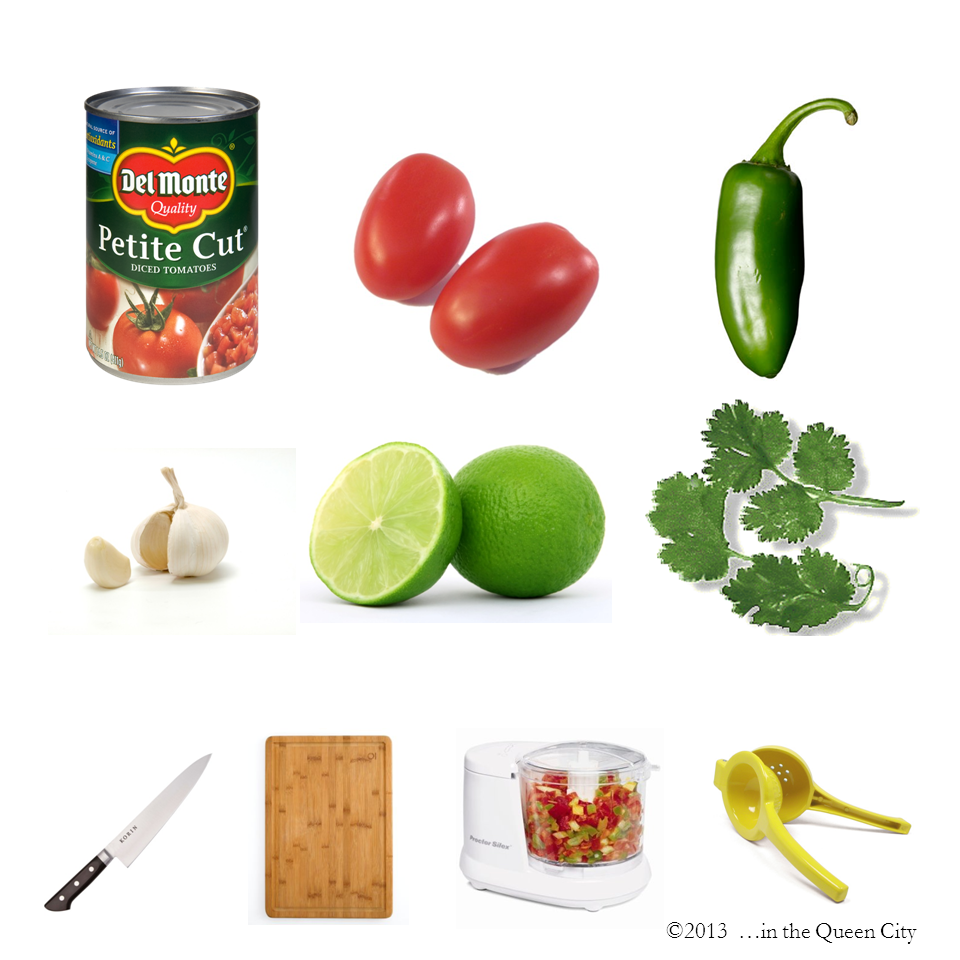 Ingredients: 
(1) 14 oz. can of diced tomatoes *or 4 fresh Roma tomatoes
(3) cloves of garlic
(1) jalapeno**
(1) lime
2 oz of fresh cilantro
Salt to taste
 Tools:
Knife
Cutting board
Small food processor
Handheld lemon/lime squeezer
*Tomatoes can be hit or miss early in the season so I prefer to use canned.  If using fresh, dice the tomatoes prior to adding them to the food processor.
** Leave the seeds in tact if you want your salsa extra spicy.
Instructions:
Rough chop the garlic, jalapeno, and cilantro and use a small food processor to do the fine chopping for you.  If you do not have one on hand, mince the garlic, jalapeno, and cilantro.
Squeeze the lime juice into the mixture using a handheld lemon/lime squeezer (or whatever other tool you have on hand, a fork works too).
Combine the garlic, jalapeno, cilantro, lime juice, salt and (canned) tomatoes in the food processor (or blender) and pulse 3-4 times.  You want your tomatoes to remain a little chunky.
Pour into a serving dish and enjoy!
Spring also brings with it trips to lakes and beaches near and far for the next couple of months.  The seafood is my favorite part of these trips… Other than spending time in the water, wearing summer dresses, and handing out on the boat and/or the beach.
But it's not just any seafood, it's freshly caught seafood!
My next recipe is in honor of bikini's, drinking cervesa on the beach, and eating fresh seafood.
Shrimp Ceviche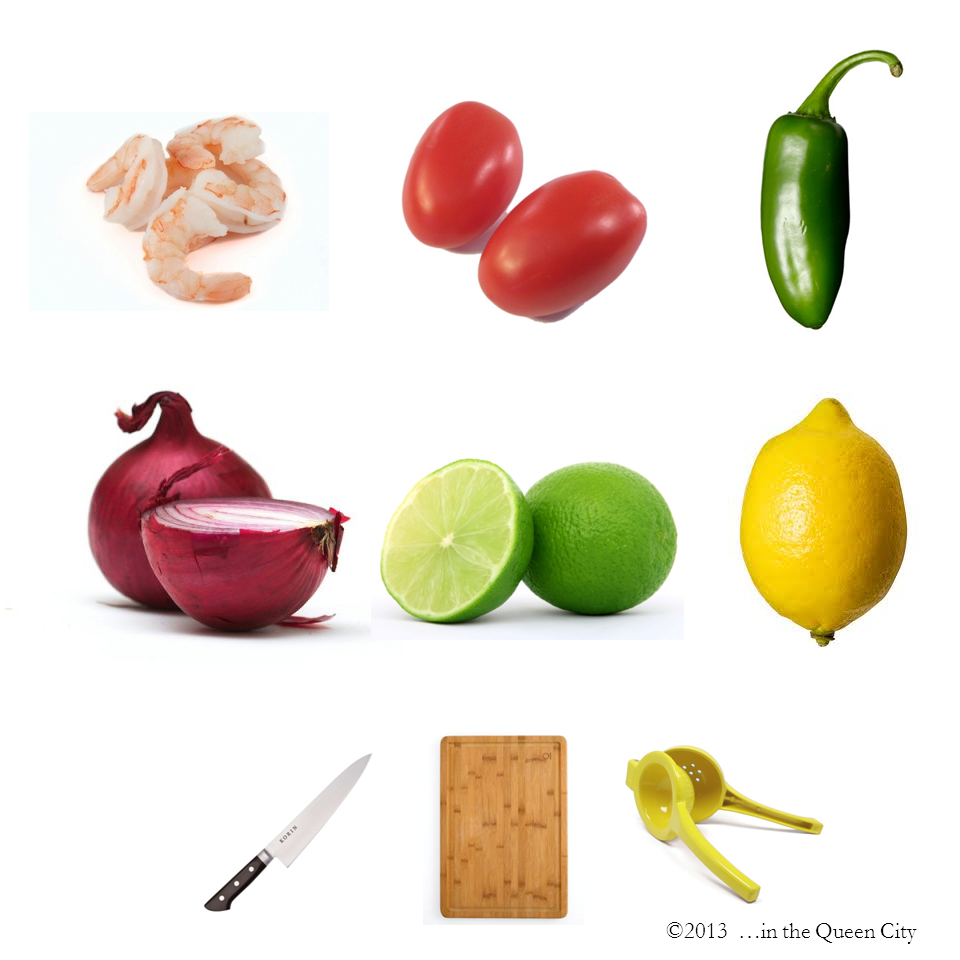 Ingredients:
1 lb. of large shrimp*
1 small red onion
3 Roma tomatoes
2 jalapenos
3 limes
1 lemon (large)
Salt to taste
Tools:
Knife
Cutting board
Handheld lemon/lime squeezer
Shot glass
Instructions:*This recipe works for both raw and cooked shrimp.  You will need to chill the shrimp in an ice bath if you choose to cook your shrimp prior to using it in the ceviche.  I prefer to use the cooked shrimp and defrost them prior to use in a bowl of cool water.  You can use different sized shrimp as well.  There's no need to dice the small sized shrimp, just use them whole (minus the shells, of course)!
Squeeze the juice out of the lemon and limes into a bowl.
Undress your shrimp* by removing the shell (including tail) and veins.
Chop the shrimp into small bite size pieces (you should be able to get 5-6 pieces from a medium sized shrimp) and place into the bowl with the lemon/lime juice and toss around until the shrimp is coated.
Finely chop the red onion, jalapenos, and tomatoes and add to the bowl of shrimp.
Season the ceviche with salt, mix all the ingredients in the bowl, cover the bowl and place it in the refrigerator.
Refrigeration time:
Cooked shrimp: 45-60 minutes
Raw shrimp: 60-90 minutes (the shrimp is "done cooking" once it turns pink)
Serve with tortilla chips, as a lettuce wrap filler, or with rice.
Variation:
Sometimes we add diced avocado right before serving the ceviche to "beef" it up a bit.
No Cinco de Mayo celebration is complete without margaritas!  I prefer mine tangy, fresh, and strong.
Fresh Margarita
3 limes
4 oz. Patron Silver tequila
2 oz. simple syrup
 Tools:
Knife
Cutting board
Handheld lemon/lime squeezer
Cut the limes in half and squeeze juice out of the 3 lime halves into each glass
Instructions:
Pour 2 ounces of tequila into each glass
Pour 1 ounce of simple syrup into each glass
Add ice and stir (or shake) the drink prior to consuming
For a fun (and spicy) variation, add slices of fresh jalapeno to the margarita.
The final step is to dress in something simple and fun, like a breezy summer dress with a pair of wedges or flip flops (remember ladies, May is too late to aerate someone's yard with your stilettos).
The Outfit
Flowy dress
Wedges or flip flops
Bright chunky jewelry
Fedora Hat
Tools:
A fun attitude and the love for sun!
Thank you for having me, Sunny Slide Up!
Cheers,
Kseniya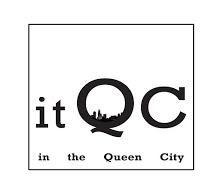 Kseniya is crazy about the Queen City (Charlotte, NC), loves going on foodventures, and blowing up everyone's Instagram feeds with pictures of her German Shorthaired Pointer.  She's a social media junky so follow her on Twitter, like her on Facebook, and connect with her on LinkedIn.