Sometimes you just need a little extra…courage….patience…strength….passion….self control….goodness….love.   And even though these little words come from random piece of paper posted in some random spot – maybe, just maybe they could help.
The "Take What You Need" project was started by college student, Katie North from Dallas, TX back in September of 2011. She made the first "Take What You Need" sign and posted it on her college campus and now thousands of them have been spread around the world!  I first heard about the project on the CreativeMarket blog.

You can check out the TAKE WHAT YOU NEED Facebook page HERE, where they have these rules posted…
Make a sign now.
Post them everywhere. Some ideas are coffee shops, your office, your school, grocery stores, on light poles, at your front door, in your cubicle, etc., etc.
Take a quick photo of the first day you post it.
Come back a week or two weeks later to see what people needed.
Share your photos and stories of when and where you posted it.
Spread the word all over.
So….make your own sign, or you can print out the one below!  Click image or visit link below.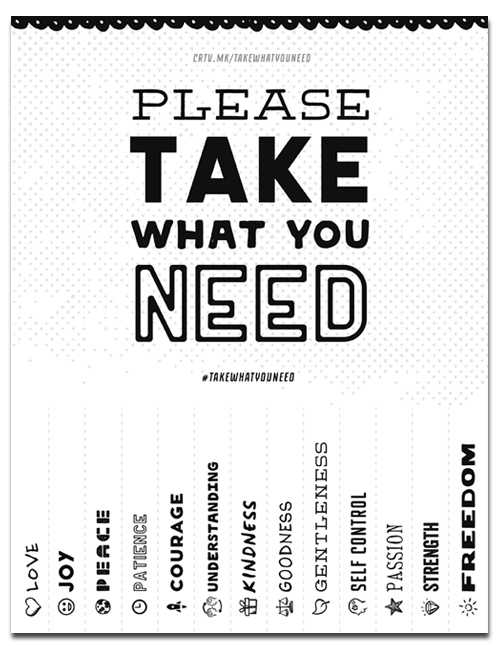 #takewhatyouneed
www.creativemarket.com/blog/2013/09/11/take-what-you-need
Sometimes the littlest thing can help so much 🙂
DON'T FORGET…..Today is the last day to enter to our Giveaway from Vintage Charlotte!  Tomorrow we will announce the winner, and the new giveaway will launch 🙂