Not hosting Thanksgiving this year and worried about missing out on the yummy leftovers?  Have no fear!  These open-faced turkey sandwiches are super easy to make — in this case, all you need is a crock pot and a microwave.
Ingredients are simple:
2 lbs turkey breasts
microwave mashed potatoes (or you can get fancy and whip up the real thing)
2 12 oz jars of gravy (I've used Heinz Home Style)
Bread
Cranberry sauce optional
And so is the cooking!:
Put turkey breasts and gravy in crock pot; cook on high for 7 – 8 hours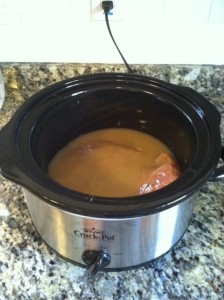 Toast bread
Microwave mashed potatoes
Combine ingredients onto sandwich and enjoy!