I am so excited to be a guest blogger on Sunny Slide Up! My name is Alivia and I run a self-titled food blog called Alivia Jane. I started a blog as a way to tap into my creative side and showcase the foods I love to eat. Most of my recipes revolve around a whole foods and a plant-based way of eating, although I do sneak in a meat recipe here and there. Everything in moderation is my motto!
To keep innovative in the kitchen I experiment with a new ingredient every few weeks. It is so rewarding to try slightly off-the-beaten path ingredients that open up the door to new flavors and kitchen creativeness. My hope is that through the simple and delicious dishes I create, I will inspire others to be inventive in their kitchens with healthy and incredible tasting foods.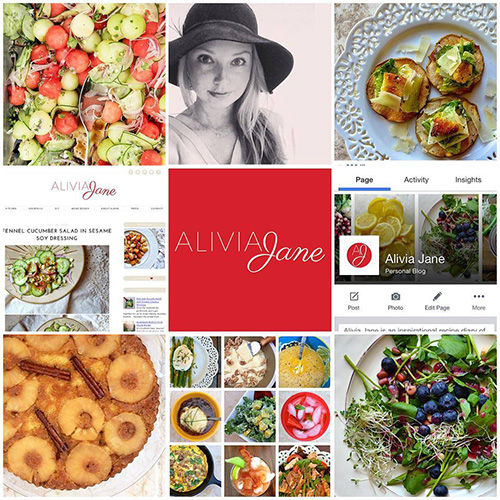 This week, I'll be sharing five simple recipes that incorporate a new ingredient that you may not use in your every day cooking. Today, I'd like to share my recipe for Cacao Coconut Granola Clusters! If you are not familiar with cacao, it is a sugar-free raw powder and a healthy alternative to conventional over-processed "cocoa" used often for baking and desserts. Cacao is a top source of antioxidants, and it contains an abundance of magnesium and iron. It is amazing!
Finding a healthy snack can sometimes seem like such an impossible mission, especially when trying to maintain a healthy diet.  These Cacao Coconut Granola Clusters are the perfect snack not only because they are totally delicious and made with whole foods like nuts, seeds and cacao powder, but also they're filled with antioxidants, protein, and fiber. You can eat them plain, for breakfast with almond milk, or in yogurt.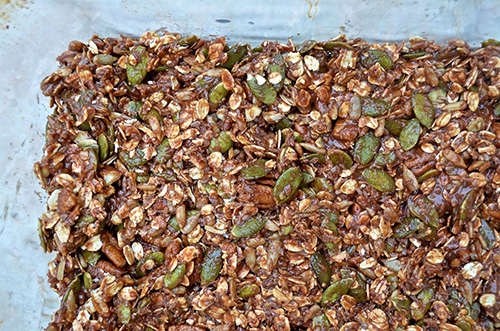 Cacao Coconut Granola Clusters
Ingredients:
½ cup cacao powder
1 cup of gluten free oats
1 cup pecans, lightly broken up but not crushed
½ cup dried coconut flakes
½ cup flaxseed
½ cup pumpkin seeds
¼ cup sunflower seeds
3 bananas
4 tablespoons maple syrup
2 tablespoons almond butter
Directions:
Preheat the oven to 350F.  Grease a medium baking dish.
Place oats, pecans, coconut, flaxseed, pumpkin seeds, and sunflowers seeds into a medium sized mixing bowl.  Toss to mix and set aside.
Into a food processor place the almond butter, maple syrup, bananas, and cacao powder and blend until smooth. Pour this mix over the dry ingredients and stir well until all dry ingredients are coated.
Add the granola into your baking dish and bake for 15 minutes. Remove the dish to toss the flattened granola mixture to create clusters and bake for an additional 15 minutes.  Remove from oven to let cool completely.  Store in an airtight container.
Tip: Don't be shy about adding additional maple syrup or honey drizzle to the finished granola for an extra sweet finishing touch!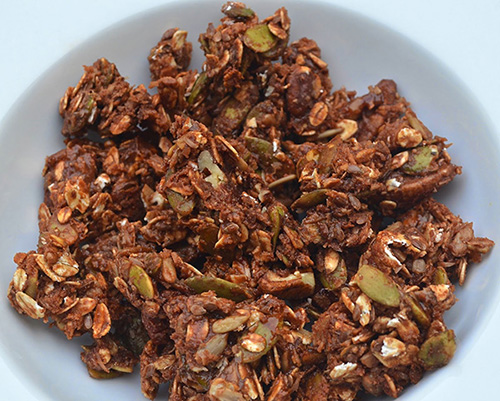 Referring link: http://www.seasonallyjane.com/2014/07/cacao-coconut-granola-clusters.html
Excited to share a week of recipes with you!