Tis the season for fresh produce stands!  I just came back from a long weekend in the mountains of North Carolina and picked me up a huge basket of fresh cucumbers and tomatoes.  This was the perfect recipe to use my local farm fresh goodies!

Greek Turkey Burgers with Cucumber Salad
FOR THE BURGER PATTIES
1 pound ground turkey breast meat
1/2  box of frozen spinach (typical box is 10 oz)
1/2 small red onion chopped finely
1 tablespoon of minced garlic
1/2 cup crumbled feta cheese
1 teaspoon of oregano
1 teaspoon of dill weed
1/2 cup of breadcrumbs
1 egg
salt and pepper
Thaw spinach and then remove all water through strainer or by squeezing in hands.  Remember, you only need to use half of the spinach for this batch of burgers.  Add all ingredients above in a large bowl and mix well.  Form 5-6 patties depending on how large you want the burgers.  Add a little olive oil to a skillet and cook on high/medium heat, flipping to get a good crisp on each side.  I cooked mine about 2 minutes each side AND then turned down to medium heat for another 4 minutes each side.  Just cut one open to check to be sure they are done.  *These would also be great on the grill….mine just happened to be out of order right now 🙂
Serve tzatziki sauce on the side to dip the burgers in, or add to the top of your burger if using a bun.  I tend to not eat my burgers with a bun to save on the carbs and calories.   To make your own tzatziki sauce (cucumber dill sauce) click here for recipe.
FOR THE CUCUMBER SALAD
2 large cucumbers chopped
1 large tomato chopped
1/2 can of chickpeas
1/2 cup red onion chopped
1/2 cup of feta cheese
1 teaspoon of lemon juice
1 tablespoon of olive oil
1 teaspoon of red wine vinegar
1 tablespoon of dill weed
1 tablespoon of minced garlic
1 teaspoon of parsley
salt and pepper
Mix all of the above ingredients and serve with burgers!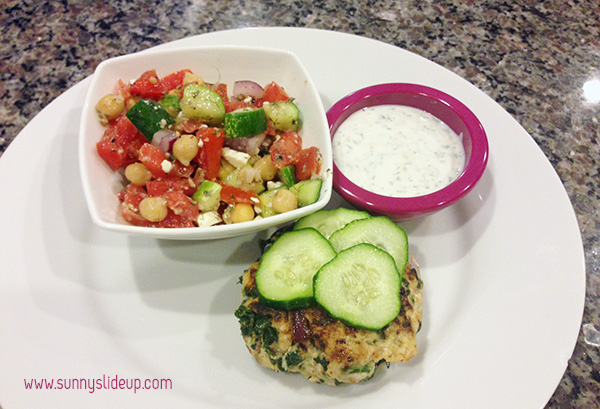 You might also like my Cheddar jalapeno chicken burgers with guacamole recipe.  I'm a big fan of custom burgers, and this recipe is going on my favorite list for sure!
We love our recipes here on Sunny Slide Up and are very excited for next week's secret guest blogger.  Stay tuned!