Happy Labor Day weekend everyone!  I hope you are out enjoying a fabulous long weekend vacation somewhere…and are just as happy as me to see football season back!   Go Dawgs!
You might remember this football party post I did last year about setting up for my husband's fantasy football draft party.  Well this year I took that challenge on again and it was a huge success.  I hope you find these recipes and party tips helpful for your next football gathering.
The guys were coming over at 11:00am to start setting up for the draft, so I wanted a "brunch" dish to start off with….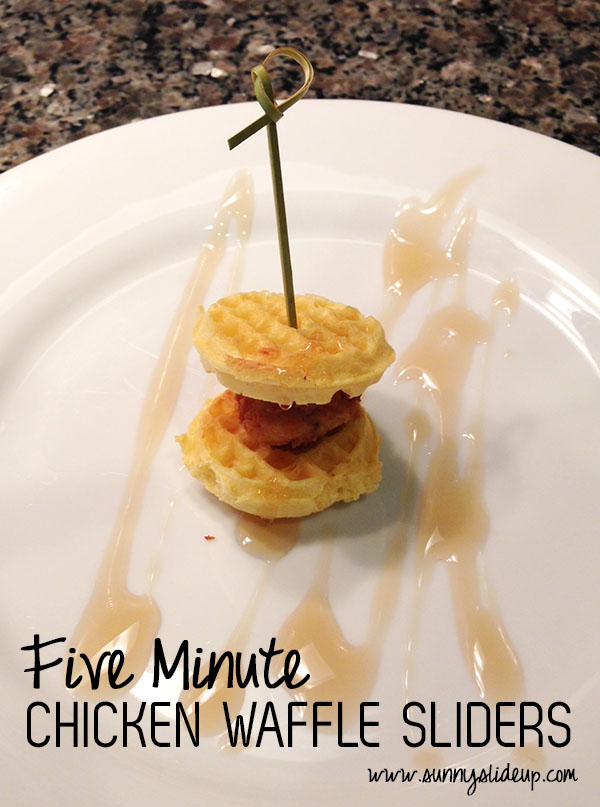 These were super quick and easy to make.  Plus, a huge hit to start off the party.
Five Minute Chicken Waffle Sliders
Buy already cooked prepared nuggets.   I purchased a nugget tray at Chick-Fil-A knowing I could serve up the extra nuggets later as a snack.  Heat up nuggets appropriately.   Pop Eggo Waffle Minis in your toaster to crisp up.  Stick on a skewer and drizzle with syrup. I served them up on a football party tray.  See, I told you that was easy!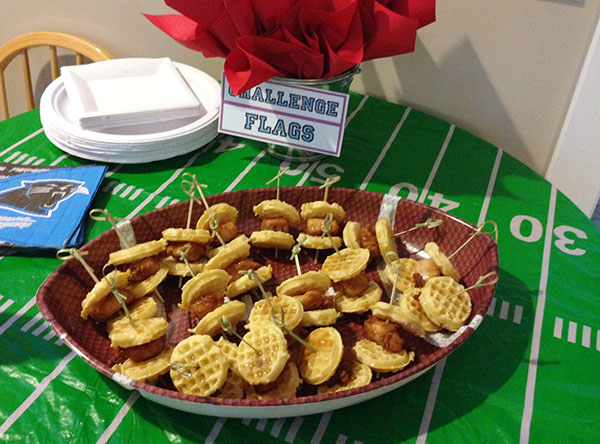 Notice the "Challenge Flags" bucket in the background?  I decided to switch up my penalty flags from last year.  I bought some lollipops to tie up in napkins to act as challenge flags for the party.  Super cute, huh?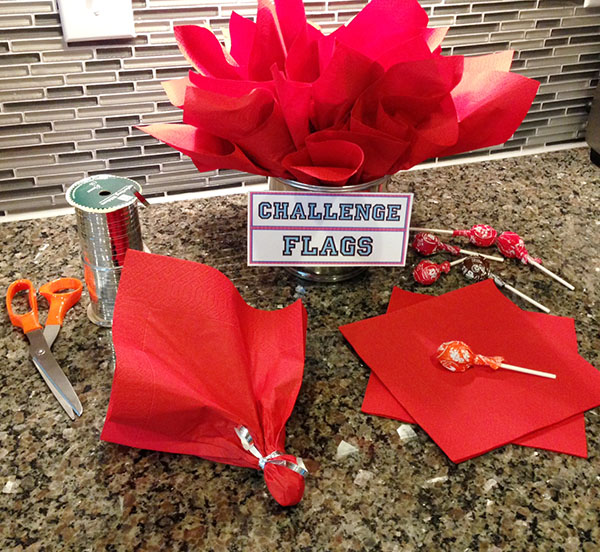 Another fun find were these koozies made just for football draft parties.  One of the guys got these and the giant draft board at www.draftkit.com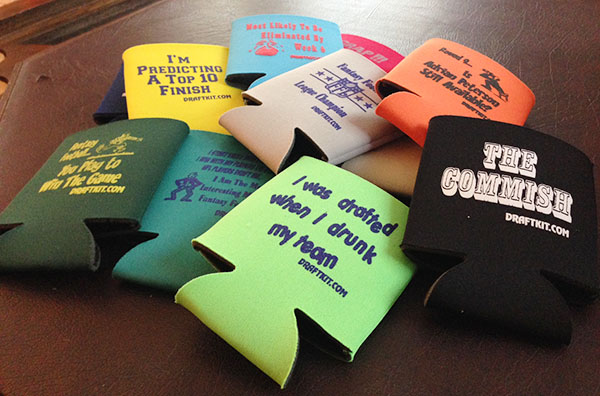 Once the draft got started, I brought in some lunch time food….. Mini Baked Ham Sandwiches, Chips and French Onion Dip, Antipasto Kabobs….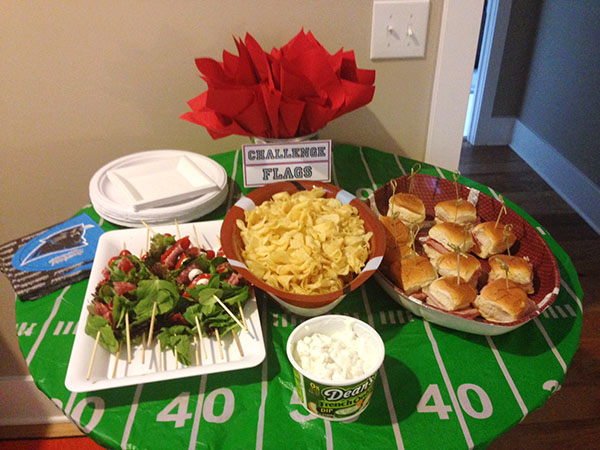 Antipasto Kabob Appetizer Skewers
What you will need:
Sliced Genoa Salami
Fresh Mozzarella Balls
Roasted Red Peppers (jar of)
Olives of your choice (I had kalamata olives)
Cherry Tomatoes
Package of spring lettuce mix
Simply stick all of the ingredients onto skewer and serve right away, or refrigerate until ready to serve.   It's like a salad on a stick!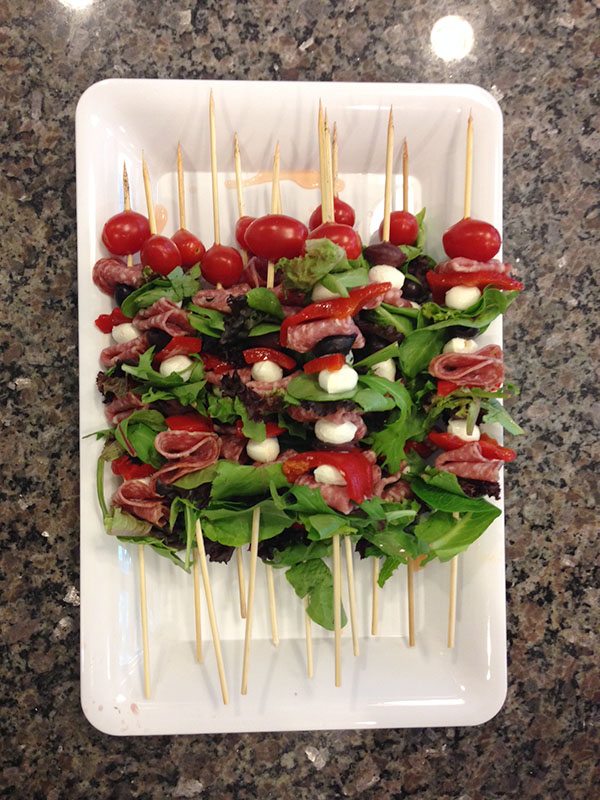 I also served up these cute little football cookies I found a local Charlotte bakery (Kai's Kookies) to make for me…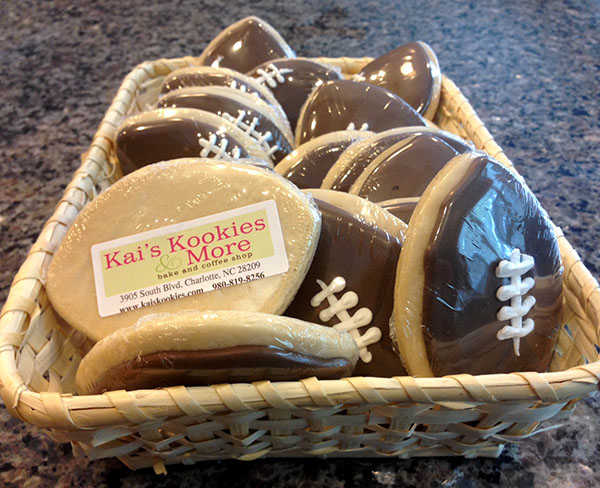 These live football draft parties can take like 4 hours, so I like to space the snacks out. About half way into the draft, I brought in some more bite size treats…
Turkey Meatball Subs On A Stick
Find recipe over at Cookies and Cups
(I couldn't find "breadsticks", so I used Pillsbury "pizza dough" which worked fine.  And mine don't look quite as pretty as the original recipe, but they were delicious!)
And, I HAD to make those Buffalo Chicken Cupcakes that were the hit from last year's party!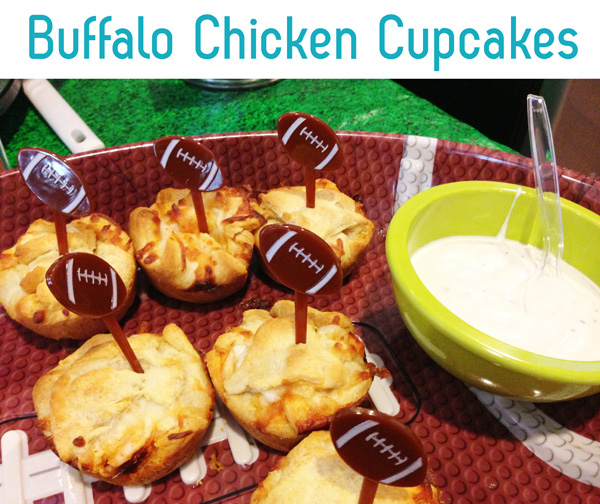 I hope your favorite football team has a successful season….or at least you have fun planning some football party gatherings!