'Tis the season for Fall family photos!   Everyone seems to have Christmas cards on the brain (already!), and with that comes the stress of what to wear for your family session.
I'm heading up to NH in a couple of weeks for a round of family sessions, and the first question clients ask is… "what should we wear?"   My initial response is always the same:  do your best to coordinate outfits, and avoid anything matchy-matchy.  (Khakis and white button downs?  No. no. no…  When's the last time you saw a family of four going about their Saturday all dressed the same?)  Have fun with your style, bring in some bright colors, add a few accessories… but most of all, be yourselves.  Wear what you're comfortable in, and something you won't mind seeing on your wall everyday.
Along with a few ideas I pulled together below (mostly from Gap, Target and H&M) check out Pinterest for all kinds of combinations!
And don't forget to think about location!  The sessions I'm doing will be in an apple orchard… so something like a cozy blanket or cups of hot apple cider would make for some fun props.
Say cheese!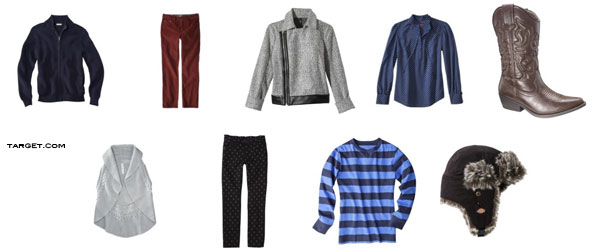 All clothing above is currently available in the stores I've listed:
gap.com, hm.com, asos.com, target.com