Here in North Carolina last week we were snowed in for a few days.   I made it to the grocery store before the snow hit and stocked up on some ingredients to make some new recipes I had found on Pinterest.  This one was the clear winner, and so easy to make!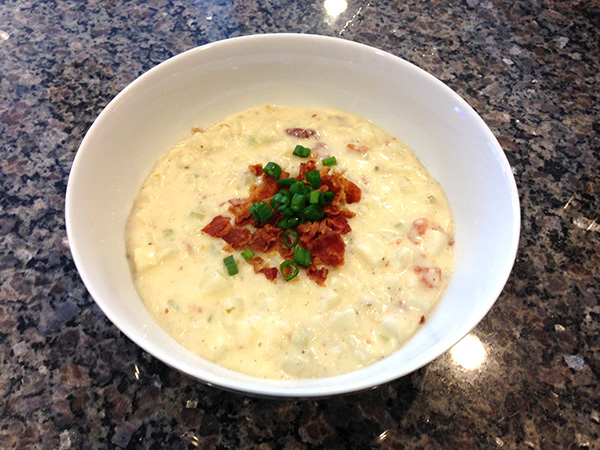 Recipe adapted from Iowa Girl Eats.
Easy Cheesy Back Pepper Jack Potato Chowder
INGREDIENTS
1 pack of  bacon, chopped.   12-16 oz (depends on how much you love bacon!)
1/2 cup of celery, chopped
1/2 cup yellow onion, chopped
2 cloves garlic, minced
1/4 teaspoon red chili pepper flakes (or more or less)  *more if you like it spicy
2 Tablespoons flour
2 cups chicken broth, divided
2 cups 2% milk
4 cups Southern-Style frozen hash browns
pepper
8oz freshly shredded Pepper Jack cheese
3 green onions, chopped
Whisk together 2 Tablespoons flour with 1/4 cup chicken broth and set aside.
In a large soup pot over medium heat cook chopped bacon until crispy. Remove bacon to a paper towel-lined plate to drain then remove all but 1 Tablespoon bacon grease from the pot. Add chopped celery and onions, season with pepper, and then saute until tender, about 4-5 minutes. Then stir in garlic and red chili pepper flakes, stirring constantly  for about 30 seconds.
Add remaining 1-3/4 cups chicken broth, milk, hash browns, and lots of freshly cracked pepper to the pot then turn heat up to high and bring to a boil, stirring occasionally. Slowly drizzle in flour/chicken broth mixture then stir to combine. Turn heat down to medium-low and simmer until chowder has thickened and potatoes are tender, stirring occasionally, about 5 minutes.
Remove pot from heat then add shredded cheese about 1/2 cup at a time, stirring until completely smooth before adding the next batch. Stir in 3/4 the cooked bacon then serve with remaining chopped bacon, and chopped green onions.
DELICIOUS!  And this heats up really well for leftovers. 
It was the perfect comfort food for our snowed in day!