I have had the same breakfast every Christmas morning for as long as I can remember – Breakfast "Christmas Trees" and Crescent Brunch.  My parents would only make this at Christmas, so we looked forward to it so much every year.  We loved decorating the "christmas trees" with sprinkles ….. correction, we still love decorating with sprinkles.  Here is a photo from last year with my sister doing just that: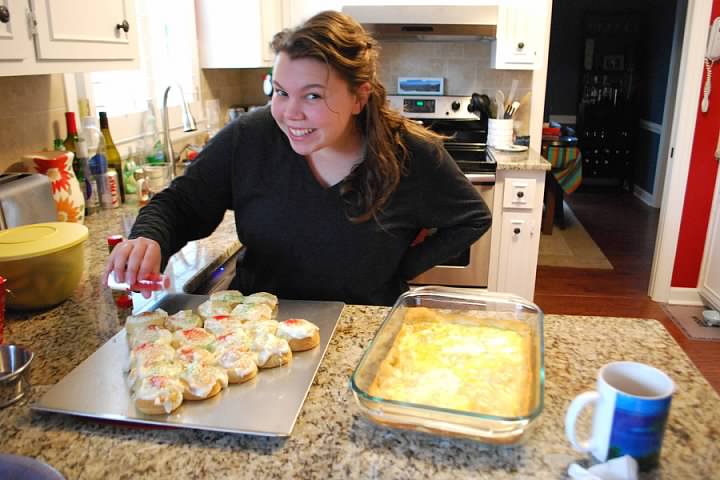 Both of these recipes are super easy to make and fun for kids to pitch in and help.  And, now that I don't live with my parents and these recipes are only for once a year….I make the crescent brunch recipe all of the time!
Breakfast "Christmas Trees"
2 packages refrigerated crescent rolls
2 ounces cream cheese
1 cup confectioners' sugar
2 Tablespoons orange juice
2 Tablespoons red and green sugar
Preheat oven to 375 degrees. Slice 2 packages of crescent rolls (do not unroll) into 11 equal pieces and flatten. On ungreased cookie sheet, arrange 10 pieces into a triangle to form tree. Use last piece to make trunk. Bake 20 minutes. Meanwhile, cream the cream cheese with powdered sugar and orange juice. Drizzle on baked rolls and sprinkle with red and green sugar.
Crescent Brunch
3 eggs slightly beaten
3/4 cup of milk
1 8 oz. package of crescent dinner rolls
6 slices of swiss cheese
2 Tablespoons red and green sugar
In a small mixing bowl, combine eggs and milk.  Separate crescent dough into 4 rectangles and place on bottom of 13×9 baking dish.  Press over bottom and 1″ up sides. Place cheese slices on top of dough.  Pour egg mixture over cheese.  Bake for 18-20 minutes at 425.
Only 8 more days until I can enjoy the delicious recipes above!