I recently wrote and said that I was traveling to the amazing state of Hawaii.  Well I have to say, it was one trip that I will remember for the rest of my life.  Not only the beautiful sights, but the amazing time that I had with my sister.  You are my world, baby!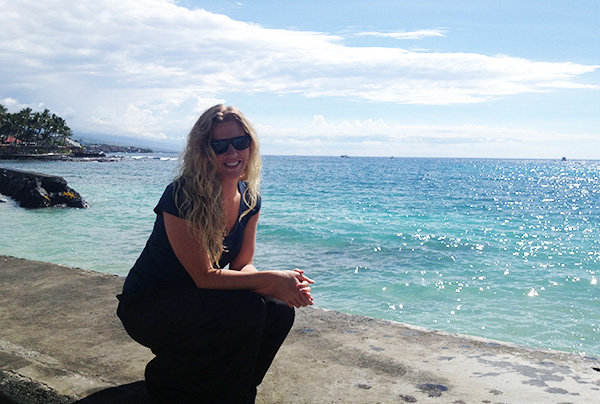 This year at Christmas, I got the biggest surprise!  My sister had created a scavenger hunt for me!
Gift 1:  A tank top
Gift 2:  Long Island Medium's Book
Gift 3: Hawaiian Tropic Sunscreen (this is when I was getting a bit confused)
Gift 4: a note telling me to go to the computer screen and turn it on – to a screen saying, "SURPRISE – We are going to HAWAII!  Last single sisters getaway"  I don't think I could form words for about 10 minutes.   Let me tell you that there was not a dry eye in the house as my mom, dad and sister had followed me around doing my scavenger hunt, video camera in hand!
SUCH an amazing sister!
Well, one week after getting home, I am back in my office, listening to the Hawaiian Radio Station streaming and ready to share pictures from my trip!  We ate the most amazing food, watched HUGE waves on the north shore, visited the big island (we were staying on Ohau), and saw places that literally take your breath away.
If you go to Hawaii get ready and bring your running shoes, the food there is out of this world.  If you like to eat… you are in for a treat!
One of our favorite places is Kona Brewing Company – or Kona Brew.  If you make it there, you have to get the pork nachos and a beer sampler – just trust me!  They have multiple locations, we visited the one on Ohau as well as the original brewery on Big Island.  GREAT times, good food, local music… a must see!
Another restaurant I had to go back to was Haleiwa Joe's.  We went to this place on a previous trip and I knew I had to go back.  It has a great atmosphere, great views and the food…. just trust me.  The Black and Blue tuna is a must!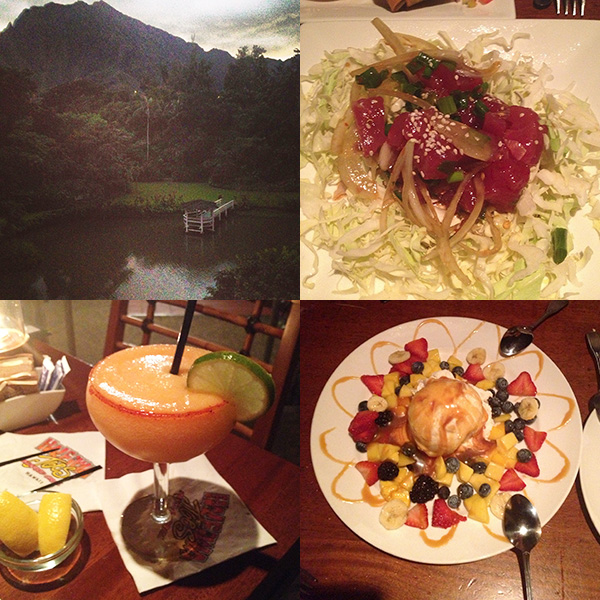 And finally, if you are going to Ohau, you kind of have to go to Duke's Waikiki named after the father of surfing, Duke.  The best time to go is on a Sunday afternoon!  You are right in the center of waikiki, walking distance to all kinds of fun shopping and more restaurants and bars.  You never know who you will run into… we saw Dog the Bounty Hunter, he was having a birthday party, so I didn't barge in for a photo, but it was fun to see someone so well known.  We stopped in to Duke's to get a few pupus (appetizers) and of course the Duke's Mai Tai – just check out the cup it comes in!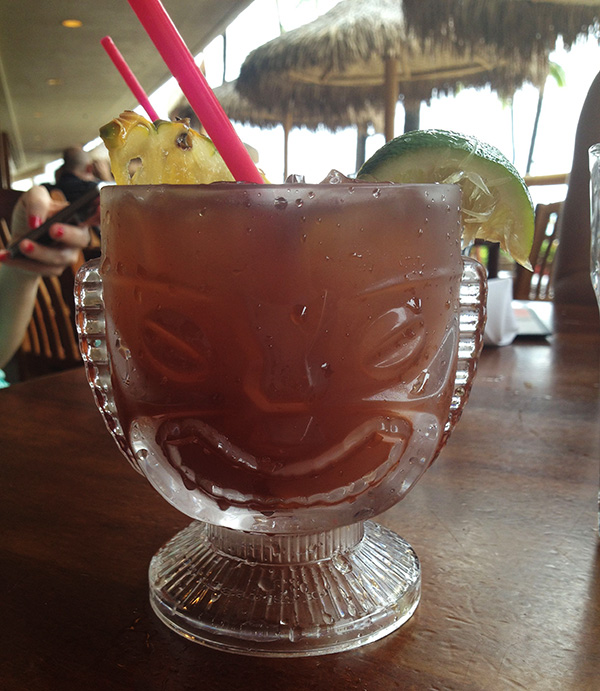 Speaking of surfers…  I flew in town the PERFECT time to see the big waves.  The day I got there, they were 50 feet…. INSANE!  We went up the next day and caught some 35-40 foot waves.  Still very impressive!  To see the waves you head up to the north east side of the Island… or the North Shore.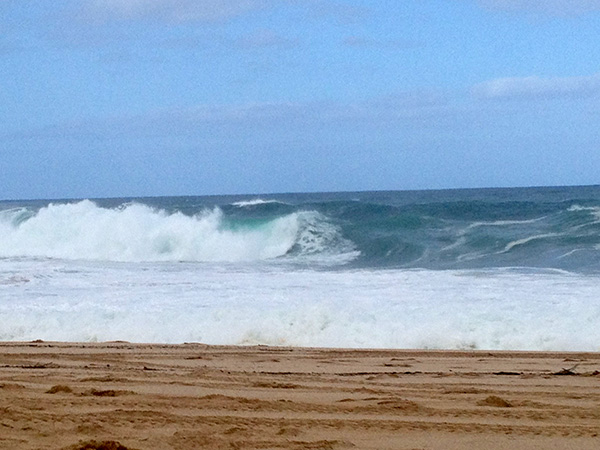 If you look closely in this next picture, it puts it all into perspective… In the top center of the photo, you will see three small white lines coming off the wave… those are surfers…The white is the wake, the guy is the tiny black dot…. crazy!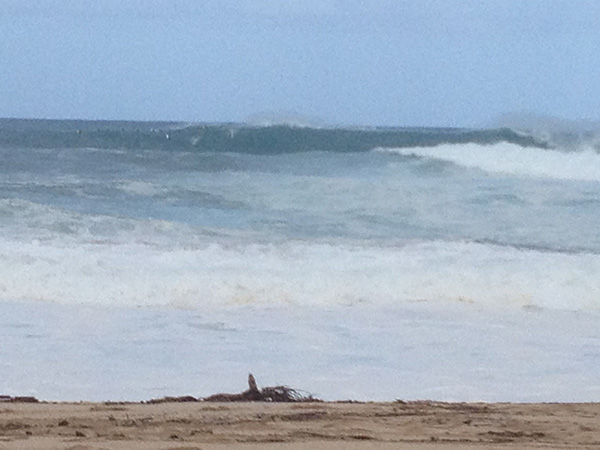 Here is one guy walking back after going for a surf… these guys have nerves of steel!

The last few days of our trip we went to Big Island.  After being on Ohau for a few days, Big Island seems HUGE.  You can drive for miles and miles and miles… and we did!  We flew into Kailua Kona (West side) and drove around to see other areas including where the volcano is and Hilo (East Side).  I strongly suggest checking out multiple islands while you are in Hawaii.  They are all so different and beautiful in their own way.  On the flight over Abbi referred to the big Island as a masculine island, meaning it did not have nearly as many flowers… man was she right.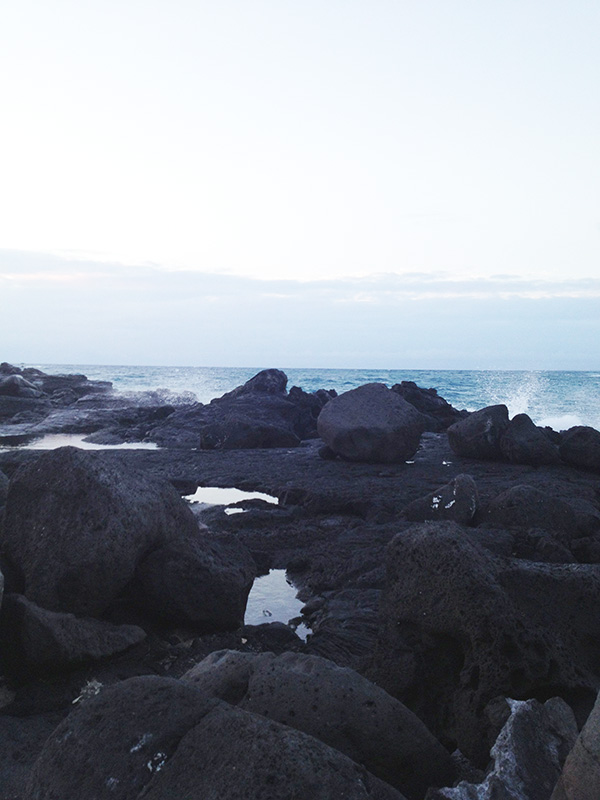 Lava rock like this pretty much made up the island… It was everywhere.
On big Island I wore my lei!  I had a ginger lei that smelled more beautiful than it looks.  It is my favorite and I was so excited when my sister had this one for me!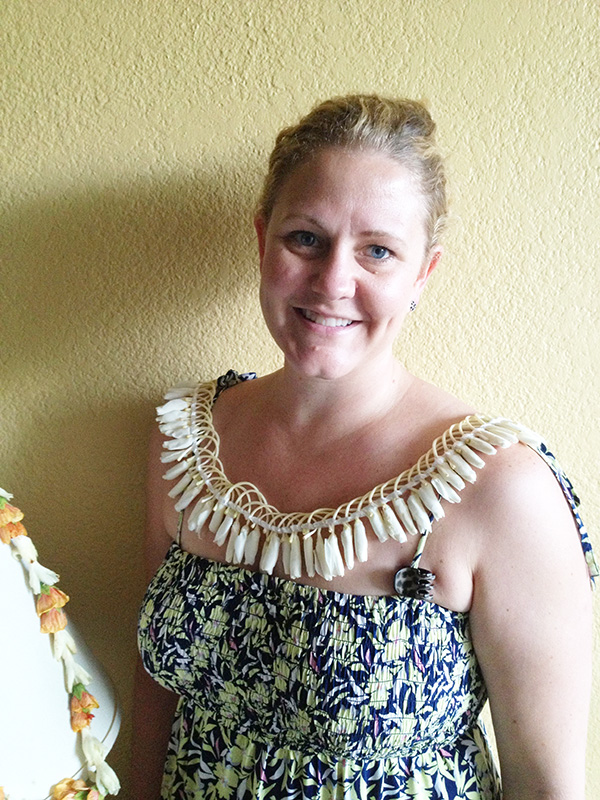 Also on the big island we saw the oldest church on any of the islands located right in the middle of "downtown " Kona.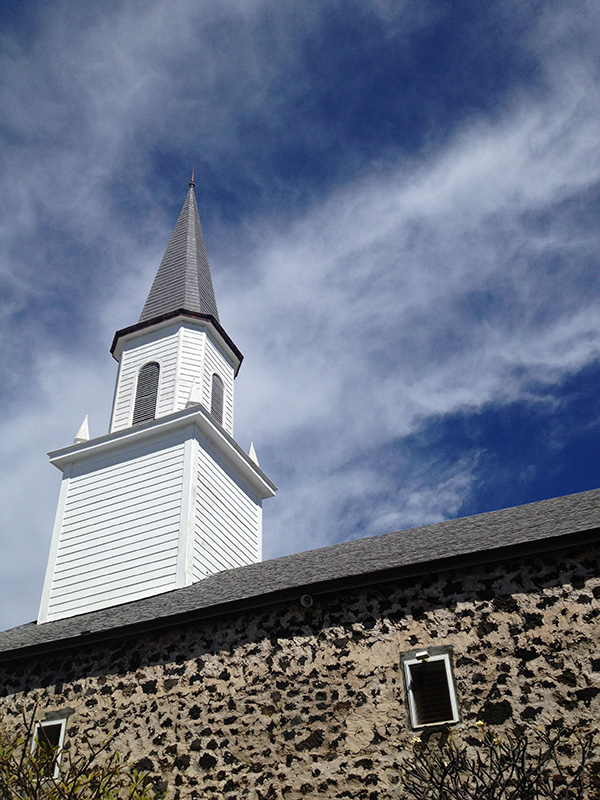 and  rainbow falls right outside of downtown hilo.  I wish we could have had a clearer day, but…  beautiful nontheless.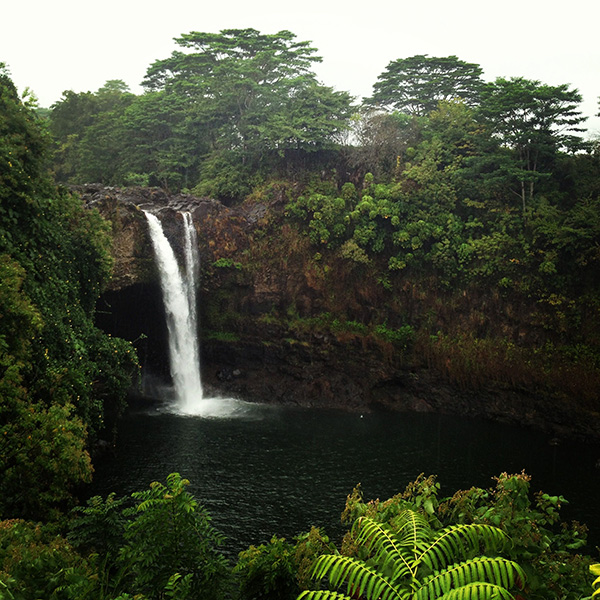 I could go on and on, but will end the post with some of the beautiful sights… They literally took my breath away and I can't wait to go back and see them all again!
Sunset on Lanikai Beach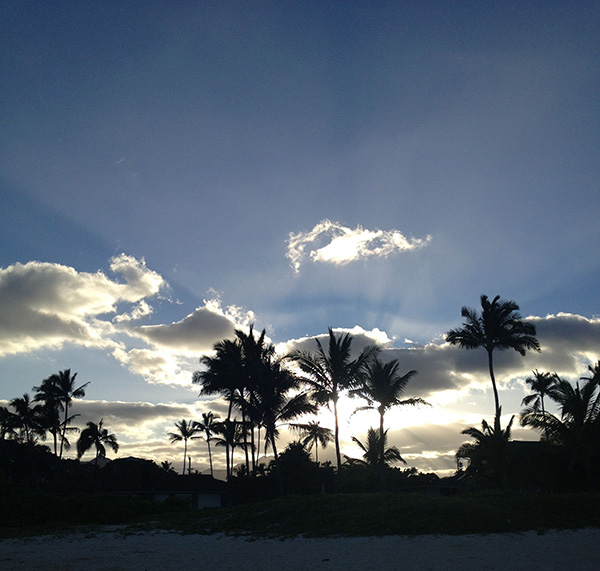 Sandy path to Kailua Beach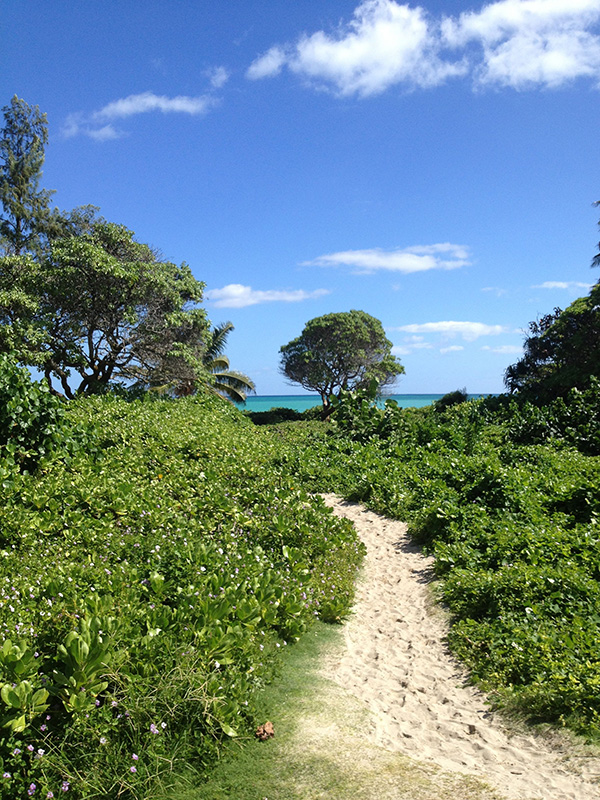 Coastline drive – note this is not a "scenic drive" just a road you can take to get home.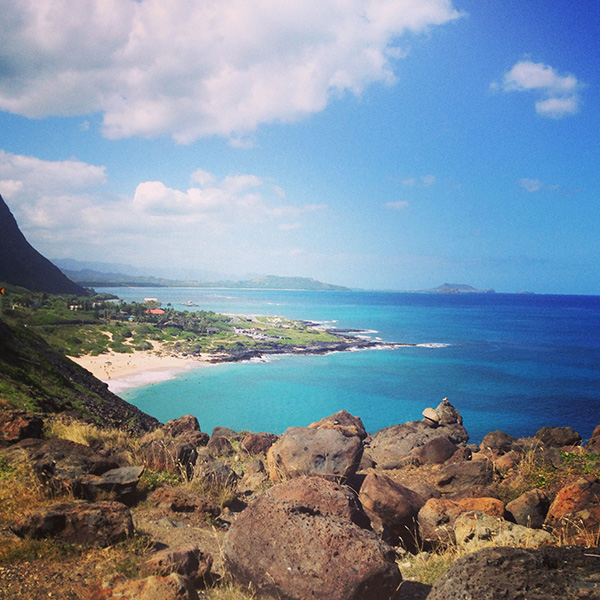 view overlooking the waves of North Shore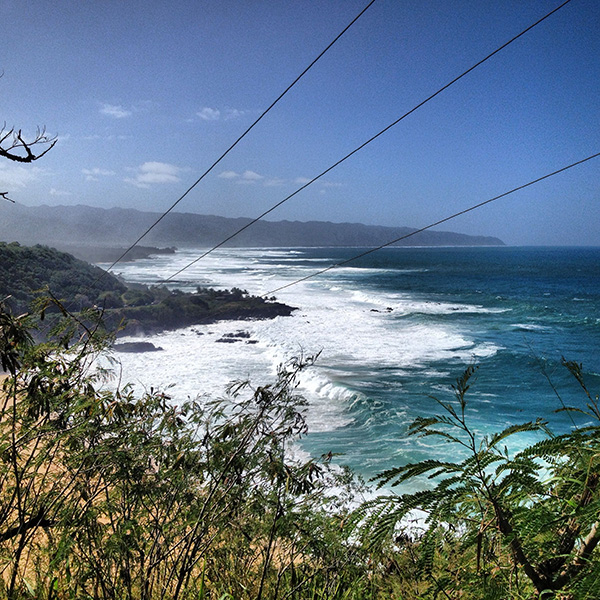 A walk around the resort we stayed at in Kona (Big Island)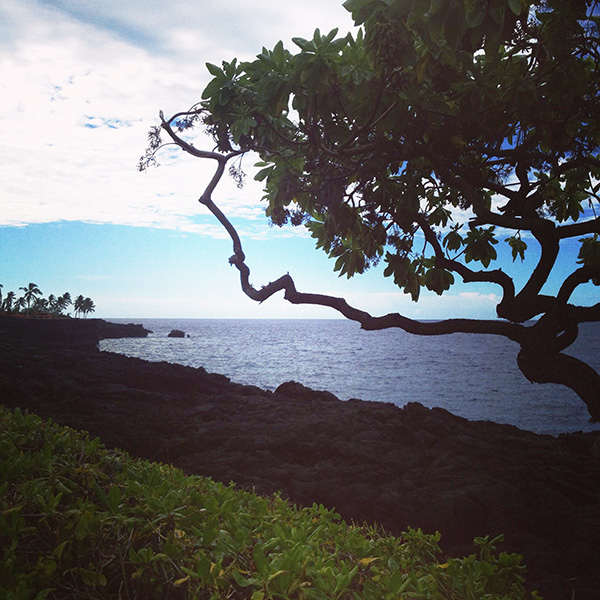 and a sunset we caught driving back to our resort as we were heading out of downtown Kona.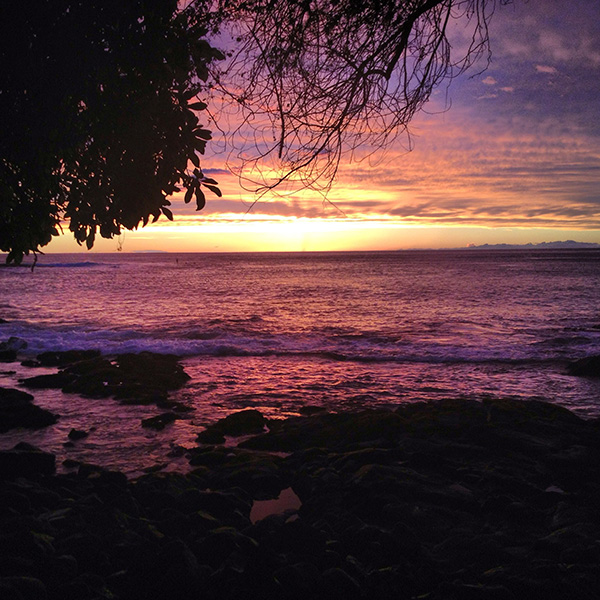 Mahalo and A hui hou.
Thank you and Goodbye, Until we meet again.