Over the past few months, The Mister and I have been doing a weightloss challenge.  The weigh-in is 5 – count em – 5 days – April 8.  We have both lost some weight and it has been a wonderful experience!
After discussing options with my sister, we chose to do the Paleo diet…. basically no grains and no dairy.  One of our favorite things has been finding new recipes and coming up with some of our own.  Some of the past recipes I wrote about are the Ahh-mazing Paleo Granola (this you have to try), bacon and pork medallions, and artichokes – the ultimate conversation food!
I don't like to brag, but I do believe I have come up with one of the best side dishes known, or soon to be known, to man!  I like to call them, You Won't Be Single Long Sweet Potato Fries. I could eat these every day.  They are awesome even if you aren't doing paleo, even if you don't care about eating healthy – they are the ultimate side dish.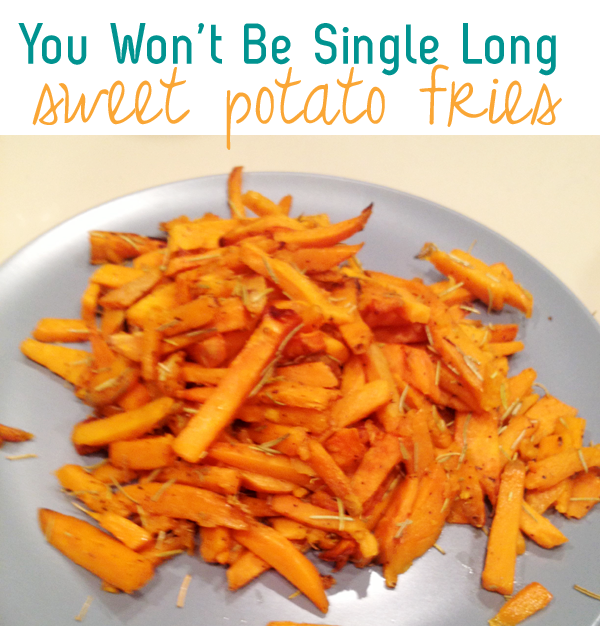 Five ingredients: sweet potatoes, olive oil, garlic salt, pepper and rosemary.  I told my mom about these and she was like "eww, garlic salt on sweet potatoes??"  She trusted me, she tried it and now her and dad are fans!  It will happen to you too!
Here are the details!
Ingredients
2 sweet potatoes
2 tablespoons olive oil (enough to barely coat)
2 teaspoons garlic salt
1 teaspoon pepper
1 tablespoon rosemary
Directions
Preheat your oven to 390.  I use my toaster oven to cut down on time.
Peal and cut sweet potatoes into fry size pieces
Add fries to bowl.  Add oil and spices to coat fries.  The less oil you use the crunchier the fries will be.
Add the mixture to a non-stick pan.
Bake at 390 for 30 minutes.  I keep start checking mine every 5 minutes after 25 minutes and pull them out just as they start to brown.
We eat ours with yellow mustard and sriracha.