Hey there!  Every year my parents have a big 4th of July party.  They invite friends and family to come up to the lake and hang out in the water, eat some amazing food, and end the night with fireworks!
My annual job is to go and buy the fireworks.  It used to be simple…. I walk in, tell the guys there how much money have I have to spend, they tell me which ones work the best for my given amount of money and I walk out the door a happy girl!  Well, now The Mister comes along and it isn't such a quick, in and out, process.  He likes to look at them all, choose some fun ones.  Bless that man of mine and his love for fireworks!!  I have to admit, it is fun to watch him get excited and bonus for me… we always get dinner out!  Impromptu Annual 4th of July date night!!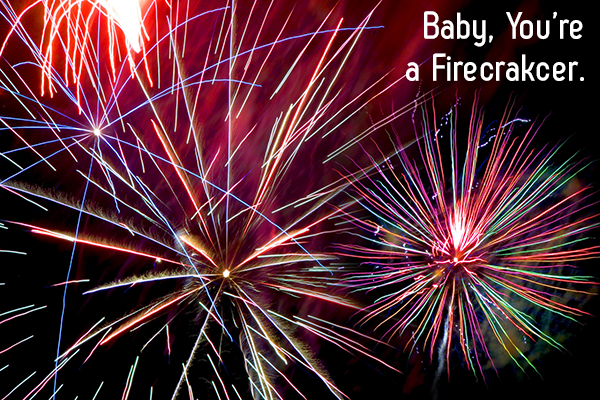 I always try to think of something fun to make as a side, appetizer, or dessert for the party.  Maybe this year I will do something with a firecracker theme?

Firecracker Popcorn from The Nerd's Wife.  I want to be your friend 🙂  Your blog is adorable!  Also check out her new blog, Always Arena, today for 4th of July fashion!
Firecracker Cupcakes from Tastes of Lizzy T.  These are make with twizzlers – every girl's favorite!
Firecracker Popsicles from The Comfort of Cooking.  Aren't these everyone's favorite on a hot summer day!
For more fun in the sun and 4th of July ideas, be sure to check out our July Pinterest Board!  We have all kinds of great ideas posted there!
I hope everyone has a 4th of July that really… POPS!!!