This week's focus has been on inspiring creativity in the kitchen through the use of new ingredients, but today's recipe will take a favorite summer fruit and use it in a fresh new style. Because it has been such a hot and balmy summer I am always looking for light but hearty meal ideas to keep me both cool and satisfied. This chilled Watermelon and Cucumber Gazpacho is the perfect summer cooler! Made with a blend of fresh watermelon, cucumber, and dill- this chilled soup is deliciously complex in flavor. But the uniqueness of this soup lies is the cayenne pepper ingredient, which adds an incredible spicy kick to every mouthful. Best of all, this gazpacho recipe is made with whole foods so it is wonderfully healthy and nourishing. I hope you enjoy the recipe as much as I do. And remember to stay cool this summer!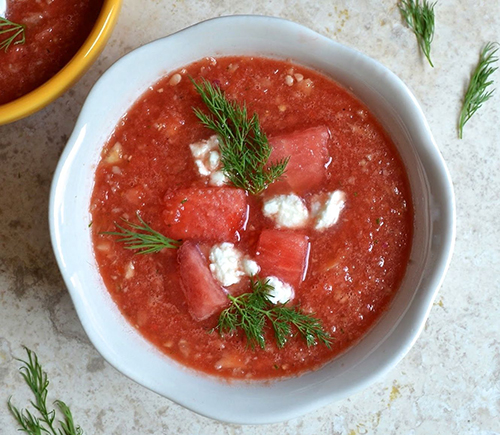 Watermelon and Cucumber Gazpacho
Ingredients:
1 large tomatoes
2 cups fresh watermelon, seeded and cubed
½ English cucumber, seeded, peeled and minced
2 tablespoons red onions, minced
2 tablespoons fresh dill, minced, plus more for garnish
2 teaspoons cayenne pepper
Juice of one lime (About 2 tablespoons)
1 tablespoon red wine vinegar
1/4 cup extra virgin olive oil
salt & freshly ground black pepper
1/4 cup crumbled feta cheese
Directions:
Using a food processor, puree the tomato and watermelon.  Add in cucumber, red onion, lime juice, oil and vinegar and pulse to combine. Fold in dill and cayenne. Add salt and pepper to taste.
Pour the gazpacho into cups or small bowls and refrigerate for 30 minutes until cool. Garnish with extra dill and feta before serving.
Serve and enjoy!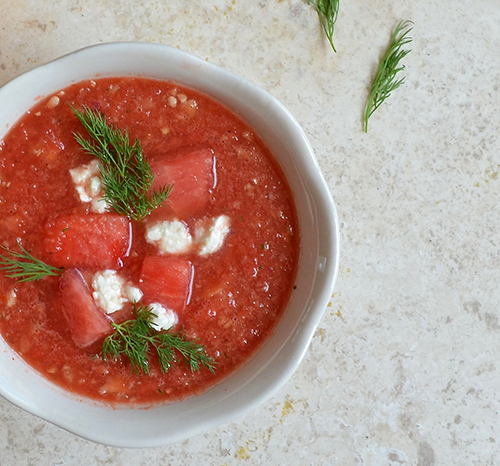 Referring link: http://www.seasonallyjane.com/2014/07/watermelon-and-cucumber-gazpacho.html
See you tomorrow Sunny Slide Up friends!