This week's focus is on vacation.
When I was a little girl some of my fondest memories were when my parents would pack up the car and take my brother, sister and me to the beach for a week. Looking back, it was such a simple trip; scrambled eggs and pancakes for breakfast as mom packed a cooler of drinks and sandwiches for the beach. We would all hop on the golf cart and ride through the camp ground where we would spend all day playing in the ocean and building sand castles along the water. There was never anything particularly extravagant about our family vacations….there was never the need. We made memories out of our time spent together and the older I get the more I long for times like that.
Now, as a mother, vacations and trips to the beach are never as relaxing as they once were. I imagine it will be many years before that happens again. The beautiful truth to what vacations have now become lies in a cooler filled with peanut butter and jelly sandwiches and tiny sandcastles along the shore.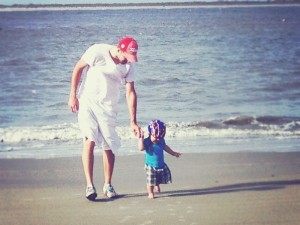 xoxo,