I have been meaning to share this recipe with you all for some time.   It is a favorite of mine, one I have been making for years and years.  Perfect to whip up for a party, picnic, cookout, etc.
It takes 20 minutes.  That's all.  From the time you boil the water to the time it is ready to serve.  And it is super delicious.  Promise!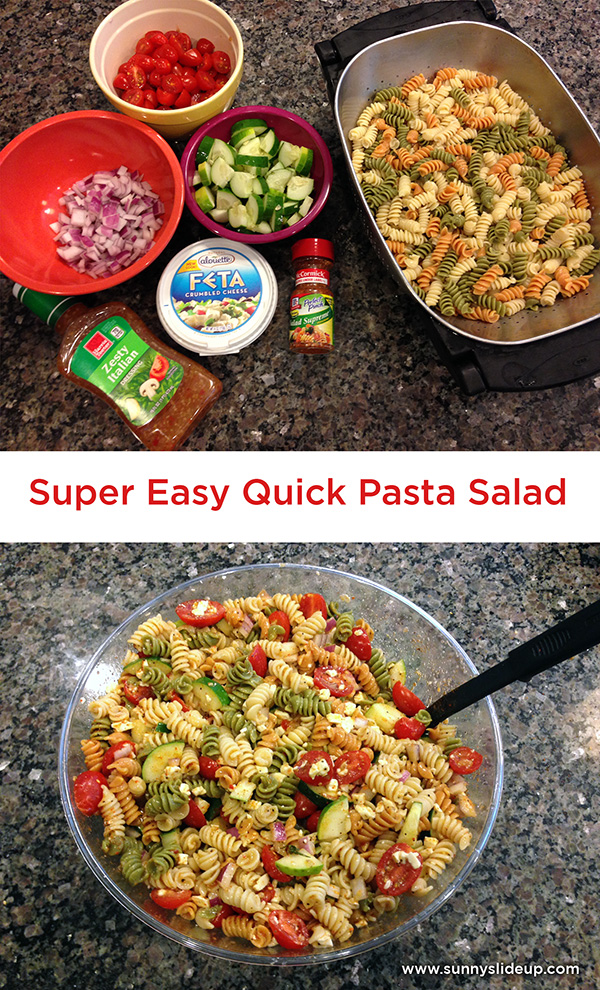 INGREDIENTS
1 lb. pasta, whatever kind you like

cherry Tomatoes chopped, however many you like

cucumbers chopped

red onion chopped

feta cheese crumbles

Zesty Italian Salad Dressing – 1/3-1/2 bottle

McCormick's Salad Seasoning, to taste…I usually use a couple of tablespoons full.
DIRECTIONS
Boil water and cook pasta – while this is happening, chop all of tomatoes, cucumbers and onions.
Chill pasta after being cooked by running cold water over it in a strainer.
Mix all ingredients together.
It's also good if you want to make it the night before to let all the flavors sink in.  You could even add ham, olives…..whatever you like.  See I told you it was easy!