So for those who may or may not know, I'm expecting a baby in a few (short) weeks.  My mind has been consumed with being as prepared as possible for all things related to this…  home, work, photography business, etc.  We are in the middle of remodeling our master bath (nothing like a big last-minute project!) along with prepping the nursery / a few crafty projects and preparing meals for once we are back home with our new little family member.
And like anyone who is planning a party, meals for the week or a wedding… Pinterest has been my best friend.  (Can someone please tell me what we did before Pinterest?!)  Anyway, I thought I'd share a couple little things that have worked out for me… and one that most definitely did not (yet… I'm determined to figure it out).
First, for any mommas-to-be out there, some meals I prepared in advance to freeze and throw in the crock pot during those first few (many) sleep-deprived days.  And this is not to discriminate – I'm sure meal prep like this would be great for any family, I've just never thought this far in advance before when it comes to eating!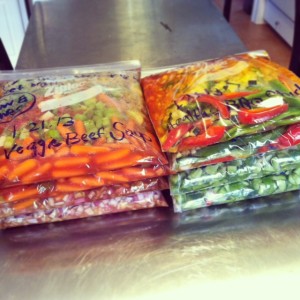 I will admit the prep work took a few hours…but we have at least 8+ meals freezing away and ready for us to enjoy when needed:
http://melissafallistestkitchen.blogspot.com/2011/09/freezer-cooking-slow-cooker-meals.html
Now, how about a major Pinterest fail?  DIY Pom Poms.   I was/am planning to make these for the nursery… and cannot get them to work.  I'm not sure what I'm doing wrong, so if anyone out there has had success, please holla back.
My attempt: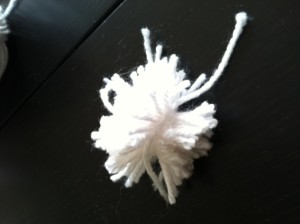 The easy to follow instructions… complete with pretty pictures and pretty poms:
http://vividplease.blogspot.com/2012/01/diy-how-to-make-tiny-pom-poms-with-fork.html
I also think these would be so cute in red around the house for Valentine's Day.  So much for that!
And one last major Pin Win goes to the library we put up in the nursery: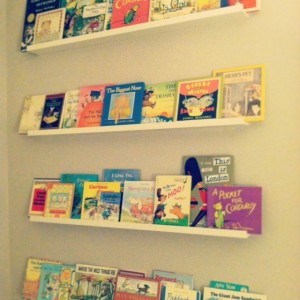 It's such a hit with those who have stopped by to see our progress, and was so simple to do.  Shelves are from Ikea; books are classics from my childhood.  It took us no time to put them up… we even went back for more to create a gallery wall with photos in another room of our house.  I loved the idea of the shelves vs putting a million holes in the wall — it will be so easy for us to switch photos out and move the frames around as we want.
ps – have you seen the websites out there with Pinterest fails?  I might go read a few to feel better about my Pom disaster.
Hoping our master bath remodel is finished by next week — I'll share a few pics!