Last night I went to a party for Origami Owl.  Have you heard of this new jewelry line?  It is such a cute way to tell a story with a piece of jewelry.  You can host a party and buy the jewelry at a friends home… similar to Pampered Chef or Twenty One parties.  We all need another excuse to buy jewelry and share and adult beverage with friends, right!
The table was full of ideas and people were making their necklaces right there on the spot!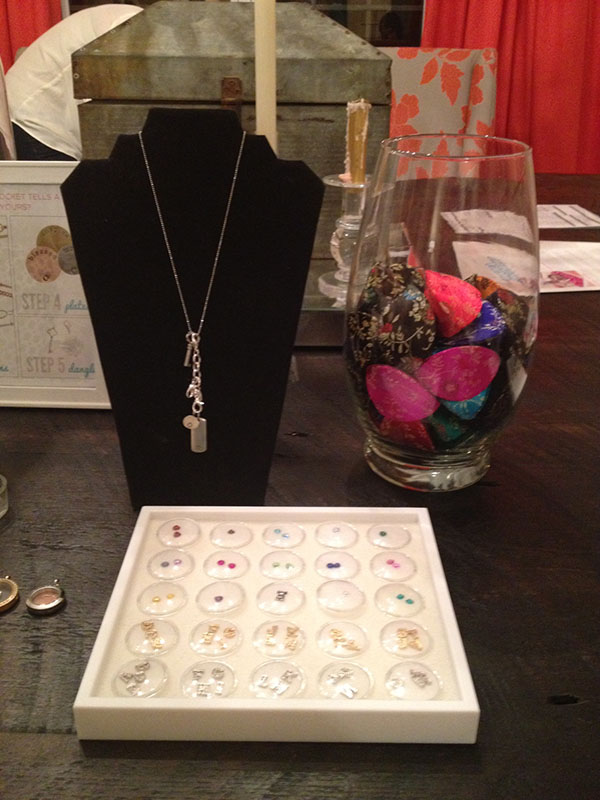 Here is the Designer (left) and host (right)… See shannon's locket that she had made at a previous party? (sorry for the blurry photos – I had a case of the iphone only last night)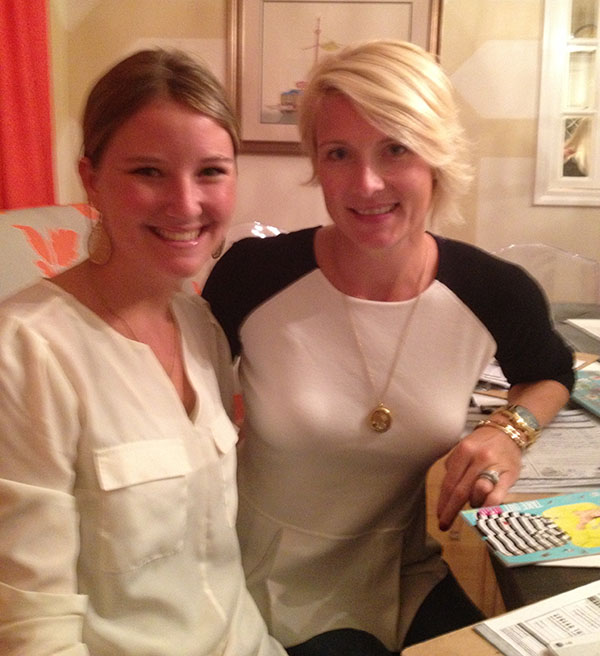 To get more information on Origami Owl, please feel free to contact the designer, Tanya Crimmins.  She is so sweet and said that she is ready to help anyone that is interested!
You can visit her website, find her on facebook or email her at yourowllocket@gmail.com
And quickly I must tell you about my fab friend Shannon – last night's host.  She is an amazing designer… You can follow her blog here and read a blog post that I wrote about working with her here.
With the holidays right around the corner, I thought I would share a few other ideas that I have seen – everyone loves a personalized gift, jewelry that tells a story!

1. Moon and Lola Monogram Necklace – I saw these in Charleston one time and thought they were so cute!  They have many other options… how cute for a wedding reception – to reveal your new initials?!?  just a thought!
2. Origami Owl Necklace – These are samples of the Origami Owl necklaces from the party I mentioned above.  I heard bracelets are coming soon!
3. Pandora Bracelets – I think these are everywhere and you can get many different brands, but what a cute way to build the story of your life!
4. Handwriting Jewelry – I can't begin to tell you how much this pulls on my heart strings.  I love, love everything about using someone's handwriting on a piece of jewelry…
5. Fingerprint Jewelry – You may remember a post I wrote a while back about my Granny.  The day after she passed, we had our jeweler go and take her fingerprint to use in a piece of jewelry.  I do not know what I will make yet, but I am so glad I have this as an option to have as a keepsake.
6. Nameplate Bracelet – I kind of love this little bracelet.  Love how understated it is!
7. Monogram Ring – how beautiful is this one – I could see it as your own initial, your daughter's initial, your mother's initial, your last name… and the list goes on!
8. Name Bracelet – i have NEVER seen this one – I kind of love that you can't tell what is say, but you personally know what it says…  maybe I should get the mister 🙂 – ha!  that would make for a BIG bracelet!
9. Initial and Leaf Necklace – My sister and I got this one for my mom for mothers day this year!  We had our initials and then I chose the clear/champagne colored stone.  It turned out so great!
Do you have any favorite story jewelry?  My sister gave me a stella and dot necklace with my initial a few years ago for christmas and I wear it all the time!