Today we welcome Vanessa from Our Life on Two Wheels.  Vanessa and her husband Kelly are avid bikers.  Their weekends are spent outdoors… in a race, down the road at a park in Raleigh, NC or out on vacation, traveling the country one trail at a time.  We couldn't think of anyone better to be our guest blogger this week, wrapping up the theme… NATURE.
Hey, I'm Vanessa and you could say that I'm a city girl.  Sitting here, typing a post about nature.  If you would've asked any of my friends five years ago to describe me, "outdoorsy" is not what they would have said.  And, as I think back to my days in high school, I'm reminded that I joined the marching band to avoid gym.  Yeah, not outdoorsy or athletic at all!
But, that was then and this is now.  And now, I'm a mountain biker.  I think you can safely say that my main hobby is both outdoorsy and athletic.  Go me!
This is along the Blue Ridge Parkway near the Pisgah Inn in North Carolina.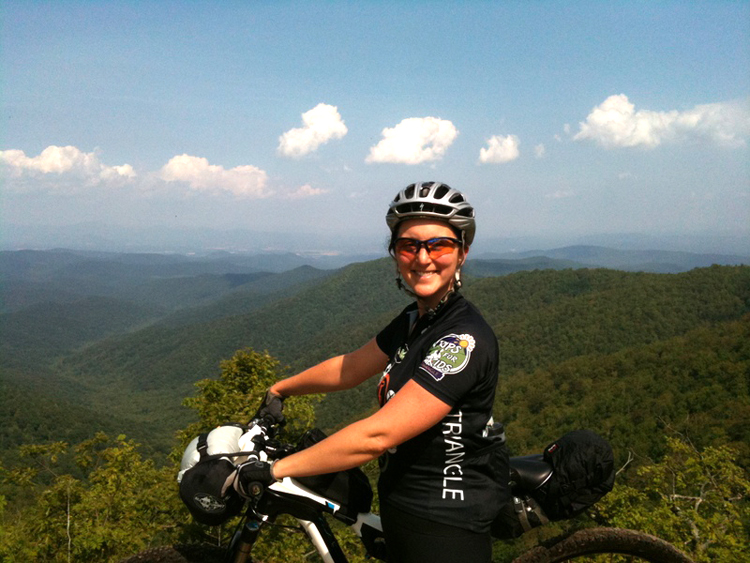 About five years ago on a whim, my lovely husband bought me a mountain bike.  Mind you, we have been together since high school (yes, we are high school sweet hearts…. that could be another post!) and in all of those years, I NEVER rode a bike.  He had gotten a bike a few months prior, and thought that I might like it.  Back then, I liked to watch TV.  Grey's was still interesting and vampires hadn't taken over the world of female entertainment.  And looking back on it now, that was about it.  Something was missing, I just didn't know it at the time.
My first trip to Fruita, CO for some fun on the 18 Road Trails!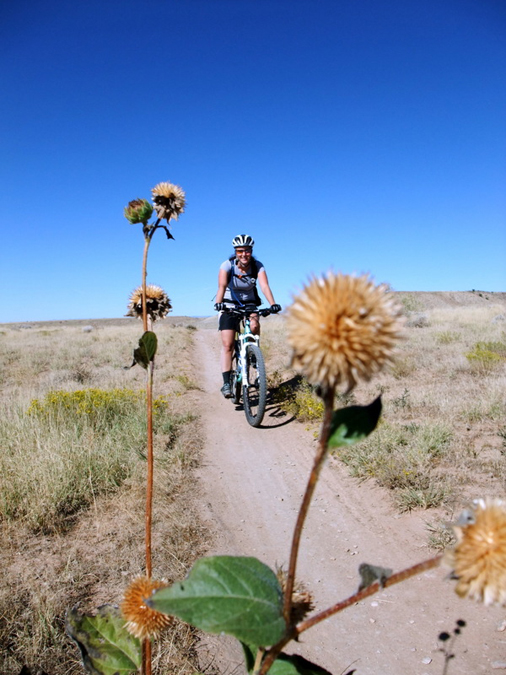 My first bike was great.  I will never forget the first time Kelly got me out on an actual trail.  I hadn't been on a bike in years and now I was expected to ride over rocks and roots and logs laying in my way.  But you know what?  It was so much fun!  Did I struggle because I had no fitness?  Yes, many, many times.  Still do!  But, did I make it until the end and have this great sense of accomplishment?  Yes.  Each and every ride is another example of me putting myself out there and pushing thru the tough times.  When you are in the middle of the woods with your only mode of transportation back to the car, you just have to keep pedaling.  And oh yeah, the woods….back to that theme of nature!  I certainly wasn't getting outside while I was so enthralled with my weekly TV shows.  But thanks to my fancy pants new bike, I was getting outside all of time.  And realizing just how beautiful and rewarding it can truly be.
A beautiful overlook in the Pisgah National Forest near Brevard, NC.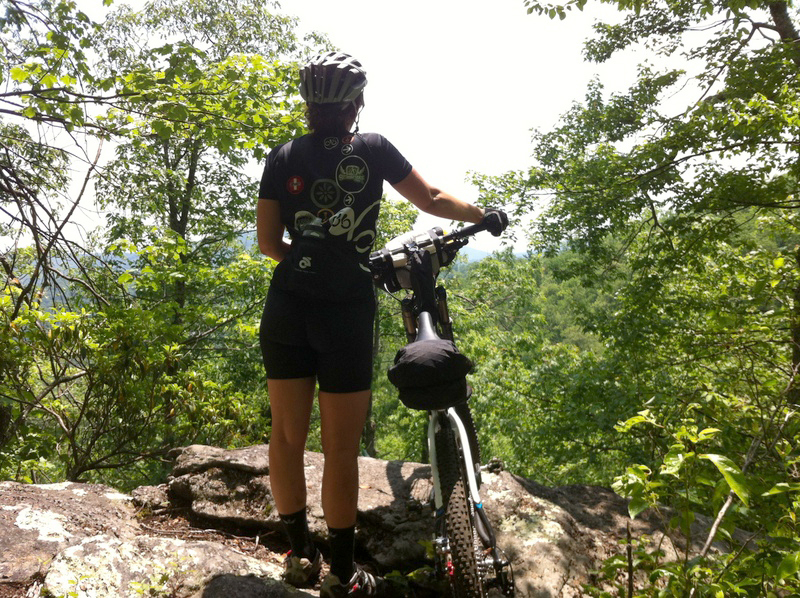 Waking up after a night out in the forest—the only mode of transportation that weekend was my bicycle.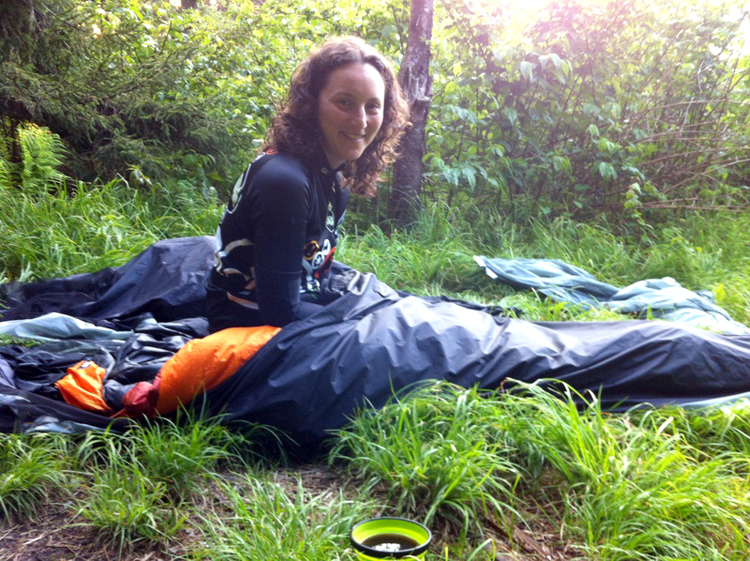 My mountain bike has given me rich, full life experiences.  My husband and I have been able to see parts of this country that I never dreamed I would see.  There is nothing like the feeling of being in an absolutely stunning place and knowing that at any one moment, I am the only person in the world seeing such a beautiful thing.  It has happened to us many times.  And it has filled us both with this sense of accomplishment.  Not to mention, it gets the two of us out of the house and experiencing life.  Together.
Finally getting to experience the infamous 401 trail in Crested Butte, CO with my husband, Kelly.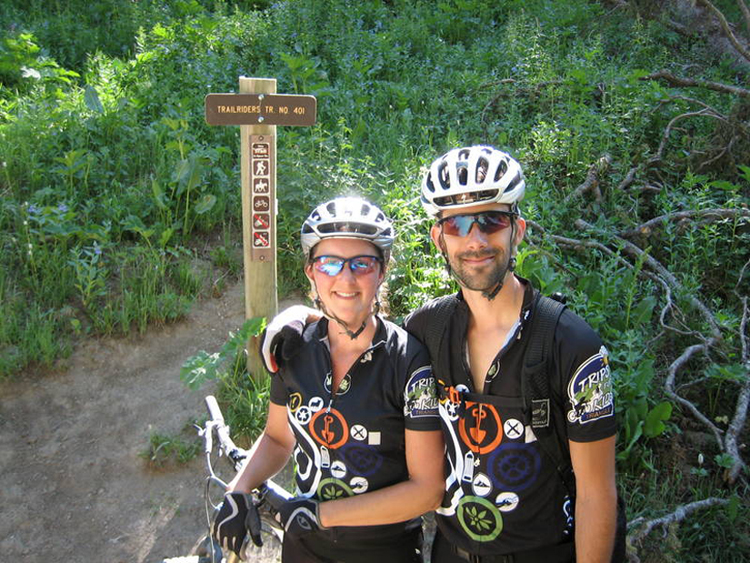 Mountain biking has given me the feeling of adventure.  It has also given me a drive to continue to improve at something other than my 8-5 job.  I have something outside of my professional life to push me and to get me to experience life.  I am so thankful that my husband took a chance to get my butt off the couch.  I love being outside and I love living life.  I'm still a city girl, but now I'm one that isn't afraid of a little hard work and time outside.
Along the 401 Trail in Crested Butte, CO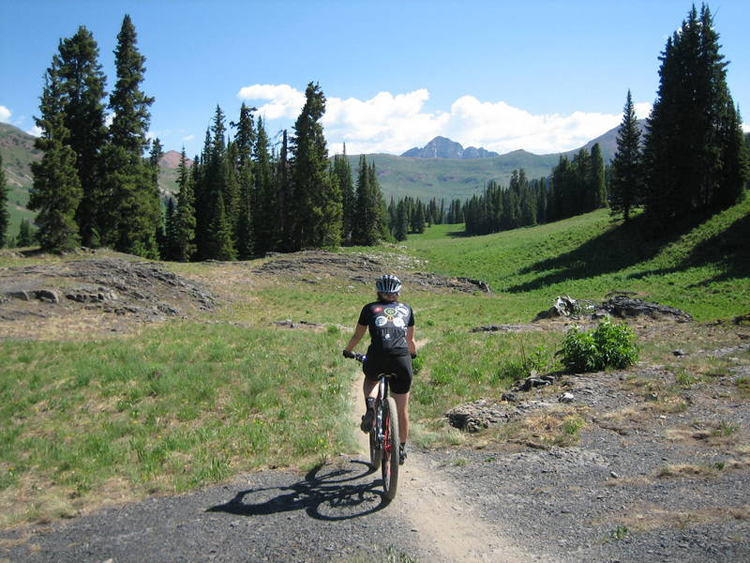 This one is just too pretty not to share!