When I was just a young chap, I lived in the north Georgia mountains in the middle of nowhere in a house that my dad built with his own two hands.  I moved from the mountain house when I was just four or five, so I only have a handful of vivid memories. Riding my hot wheels up and down our dirt road.  Dad in a beekeeper suit and the delicious honey he would pull from beehive.  Getting stung by those damn bees. The brown bath water from the well.  The Lincoln Logs that were kept in the hall closet that I loved to play with.   The unpainted plywood walls.  Oh, and the prunes that were kept in the fridge.  I know that is a weird one, but my brother and I had to eat a prune a day and I hated it.  My mom says we were constipated kids.  (I sure hope that made you laugh)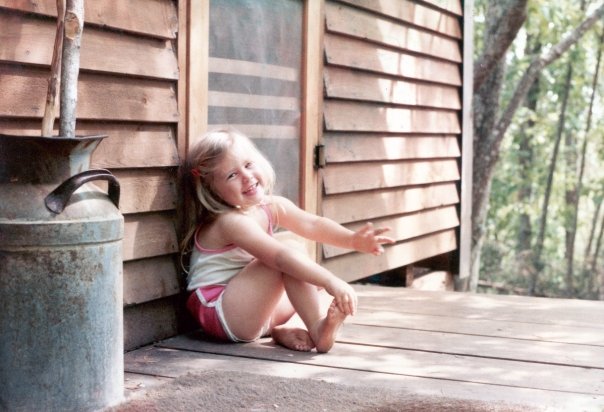 My dad was a horticulture teacher, so we grew up learning about all about different trees and plants. We thought it was so cool that we could point to any plant and dad could tell us all about it. We always had a garden and every season we helped plant the seeds. It was so exciting to go pick the plants off of the vine and bring it right inside the kitchen to eat. The best were fresh tomato sandwiches. Tomato, mayo, salt and pepper on some bread. Doesn't get much better – or southern – than that.
We moved to the big city of Roswell, Georgia after our mountain house. I think one of my parents got a new job or something. We lived in an actual neighborhood! This was a big change and I remember being really excited about having lots of kids around to play with. We would still escaped back to the mountains quite often to go camping. I have great memories of our frequent camping trips. Dad would take us to the grocery store on our way out of town and let us get things that mom never let us have at the house. Don't get me wrong, I loved my Cherrios, but man those Fruit Loops were delicious! We would carve hiking sticks, make s'mores, look for bugs…you know, your average camping activities.
I also loved girl scout camp. I went for at least a week or two every summer through my middle school years. We stayed in these elevated tent like structures and all of the cool kids had a big trunk as their suitcase. I remember it being pretty scary at night in the pitch black with all of those "nature" sounds, but the day time activities sure made up for that. Gosh, I haven't thought about girl scout camp in years, but what fun memories I have of that place. I still sing some of those silly camp songs.
I let 15 plus years pass before I went camping again. What a shame! Last year, I finally planned a camping trip with my family, and to ease back into the whole camping experience we stayed at Stone Mountain Camp Ground – with real bathrooms. We had an amazing campsite right on the water with Stone Mountain as our backdrop. Be sure to ask for campground #190 if you ever go!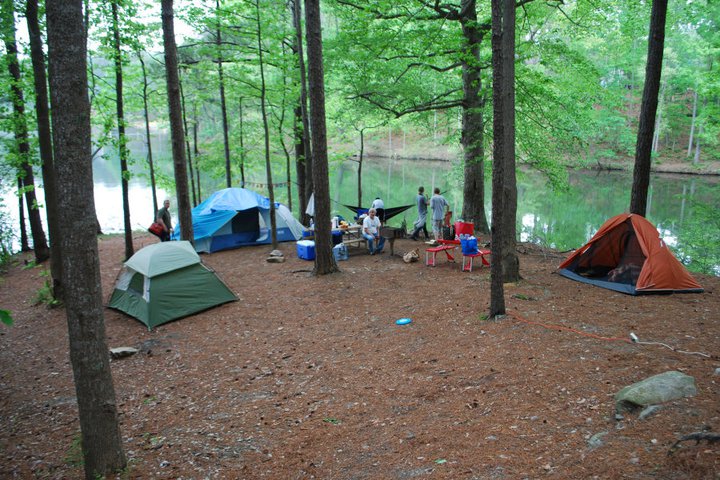 ________________________________
Sausage and Eggs (Perfect Campfire Breakfast)
1 frozen hash brown patty
2 eggs, scrambled, uncooked
2 frozen sausage patties
spices and seasonings
Cheese (optional)
Crimp the sides of your sheet of foil so that the eggs won't go anywhere when you add them. First place your hash brown patty on the foil. Then place the eggs on top of the hash brown patty. Then place the sausage patties on top. Season with spices and condiments and wrap up in a tent pack.  Place on hot coals and cook for 15 minutes. Add the cheese when it's ready (it turns out better than cooking it in the pack).
[get more campfire recipes over at The Art of Manliness]
 ________________________________
There was so much to do at
Stone Mountain Park
and we had such a blast.  We rode the Skyride to the top of the mountain, wandered through the little village of shops, saw the laser show at night and even visited a petting zoo.  I would totally recommend this place, perfect family vacation and the campground was very budget friendly.  I will leave you with this photo I snapped of a funny looking sheep at the petting zoo there.  It makes me laugh every time I look at it…