So, I love trying new recipes and I LOVE bang bang shrimp.  I read a few recipes, and decided to take a stab at the recipes myself!  This was so easy you guys and most of the ingredients you will already have at home.  We added a side of frozen asian vegetables from Trader Joe's and had a pretty amazing meal!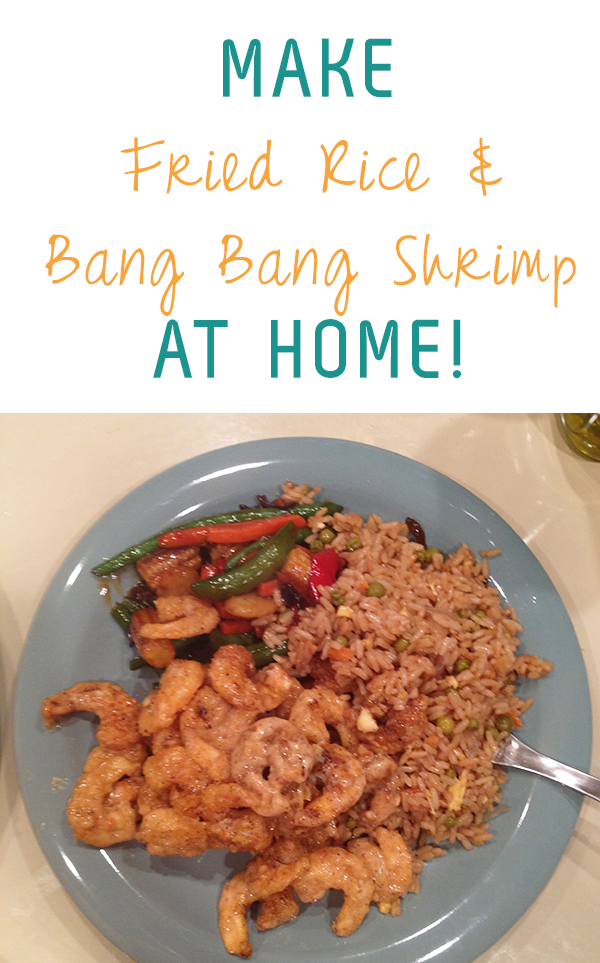 Ok first up is the bang bang shrimp.  I call it this because it is similar to the amazing shrimp at Bonefish Grill… However, I just made a dish based on what I thought would taste amazing… and, it did!

Make At Home Bang Bang Shrimp
Ingredients
1 lb peeled and cooked shrimp (I used frozen shrimp from Trader Joes)
3/4 cup corn starch
1/2 tablespoon garlic powder (I added a little over – we love garlic)
2 teaspoons pepper
2 teaspoons salt
2 teaspoons garlic
1/2 cup canola oil
1/2 cup mayo
1/4  cup Sweet Thai Chili Sauce (you can get this at any grocery store)
1/4 cup Sriracha
Dash of red pepper flakes (optional)
Directions
Heat oil in large frying pan on your stove top to 350 degrees –  (you will need enough oil to fry the shrimp).
In a medium size bowl, mix the cornstarch and all dry ingredients
In a second medium bowl, mix the mayo, chili sauce and Sriracha. (We added red pepper flakes to this as well to add more spice)
Coat the shrimp with the corn starch mixture and fry shrimp for 3-4 minutes or until golden brown.
Drain shrimp on paper towel and let cool for 5 minutes
Coat the shrimp in the mayo/chili/sriracha mixture and serve immediately.

Next up – my take on homemade Fried Rice!
Make At Home Fried Rice
Ingredients
Cooked Rice (I made enough for 6 servings)
soy sauce to taste
toasted sesame oil to taste
salt and pepper to taste
1 tablespoon butter
2-5 tablespoon canola oil
1/2 of a Shallot
1 can peas and carrots
1 egg
Directions
Cook your rice beforehand.  I cooked mine to be a little more dry than normal.
Heat oil in frying pan and scramble one egg.
Remove egg, wipe out the pan and reheat oil in frying pan and add in rice and chopped shallot.  Cook for 5 minute on medium heat.
Add butter and salt and pepper to taste.
Add in drained can of peas and carrots and scrambled egg a mix well.
Add soy sauce to taste – I used enough to make the color look like I imagine fried rice to look!
Add toasted sesame oil.  This is one of my most favorite seasonings to cook with, but it has a VERY distinct taste!  I would add and taste to see how much you would like to add.
I let it simmer for another 10 minutes.
Serve and Enjoy!
This was such an easy meal and we both LOVED it!  Let me know if you try it and what you think!