Happy Tuesday! Yesterday in my first guest post I spilled my secret to keeping innovative in the kitchen by regularly experimenting with new ingredients. In that spirit, this week's recipe theme is geared towards trying ingredients that are slightly off the beaten path. For example, yesterday I introduced cacao as a healthy cocoa or chocolate replacement in my recipe for Cacao Coconut Granola Clusters. Today I'd like to introduce you to a simple salad recipe that replaces every day romaine with yummy kale.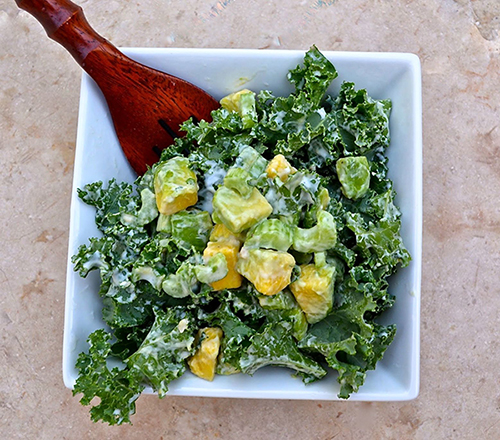 I'm always surprised by how many people don't use kale in their regular cooking habits. It is in fact a super food and in my opinion, it's super delicious too! This Kale and Avocado Salad with Creamy Cilantro Salad Dressing is a staple in my weekly meal plan. The trick to making the kale taste salad-ready and delicious is to make it soft and tender by massaging the leaves with the cilantro dressing. By massaging the leaves you help to break down the cell wall of the kale, allowing it to wilt and absorb all the delicious dressing flavors. Follow the recipe below to give your salad regime a new look!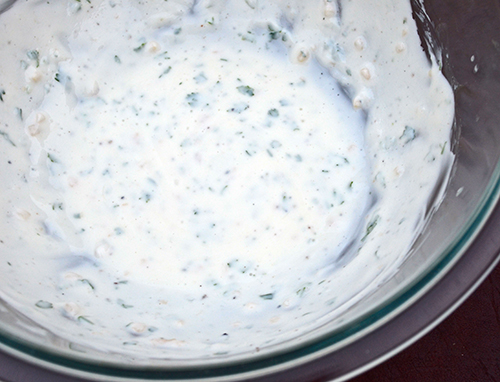 Kale and Avocado Salad with Creamy Cilantro Dressing
Ingredients:
Cilantro Dressing
1 cup loosely packed cilantro, stems removed and roughly chopped
½ cup plain Greek yogurt
2 tbsp. fresh lime juice
1 garlic clove, minced
¼ cup extra virgin olive oil
1 ½ tsp. white wine vinegar
1 tbsp. honey
Dash of salt and pepper
Kale Salad
2 bunches kale
4 ribs of celery, diced
1-2 avocados, diced
Instructions
For dressing: Combine all salad dressing ingredients into a mixing bowl and whisk until combined. Taste test and adjust ingredients to your personal preference. Set aside.
For salad: Start by washing the kale, then tear or cut small pieces off the stems. Discard the stems and place the leaves into a mixing bowl.
Drizzle all the dressing ingredients onto the kale. Then use your hands to firmly start massaging the dressing into the kale leaves for 2-3 minutes. As you massage, you'll feel the leaves soften and wilt. Once leaves are soft, add into the salad the celery and avocado. Serve and enjoy!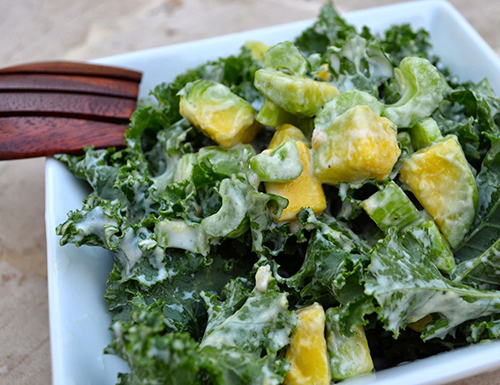 Referring link: http://www.seasonallyjane.com/2014/03/kale-and-avocado-salad-with-creamy.html
See you tomorrow!