On the topic of health this week, I wanted to share with you my new found love for acupuncture and introduce our guest blogger, Adrienne Wei from Inner Peace Acupuncture.  Adrienne contacted me about doing some design work for her a few months ago and she encouraged me to give acupuncture a try.  If I was going to help her market her business,  I needed to understand how it all worked, right?  I was nervous at first, but it doesn't hurt and I leave my sessions feeling so relaxed – like I just had a massage! It truly has improved my overall health in the three months I have ben working with her.  I encourage anyone who has never had acupuncture to give it a try.  You won't regret it!  Now, here's Adrienne…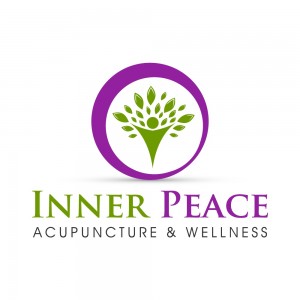 People often ask me what acupuncture is, exactly. Allow me to try and explain:
Several thousand years ago, East Asian practitioners discovered that the body forms disharmonies as a result of the various physical and mental stresses of life. These disharmonies disrupt the movement of the body's vital energy (qi) along the meridian pathways, which are channels through which the body's energy is thought to flow. Acupuncture restores the smooth flow of qi. Through the insertion and manipulation of  tiny needles, stagnant energy (or qi) that may have been blocked is now released and free to flow properly again.  Many Western practitioners view the acupuncture points as places to stimulate nerves, muscles and connective tissue. This stimulation appears to boost the activity of your body's natural painkillers and increase blood flow.
Traditional Chinese Medicine is one of the oldest medical systems used today.  It is different from conventional medicine in that it treats the whole person rather than isolating one symptom, and promotes health on the body level as well as the mind and spirit levels.  It has two main components, acupuncture and Chinese Herbal Medicine.  Acupuncture works to realign energy imbalances while Chinese herbs target the imbalances of the internal organ systems.  Other modalities of treatment include diet, exercise and meditation.
Acupuncture works by activating the body's own healing powers, so it can be beneficial for many health conditions.  Currently, the National Institute of Heath (NIH) has determined that acupuncture is effective in treating over 40 different disease categories, some of which include: pain, anxiety, arthritis, asthma, infertility, headaches, IBS, high blood pressure, insomnia.
ACUPUNCTURE DOESN'T HURT.  I get asked that question all of the time too. Acupuncture needles are hair-thin and flexible.  Most people hardly feel the insertion.  And actually, most patients leave their treatment feeling relaxed both mentally and physically.
I have always known that it was my destiny to be a healer.  Growing up with a mother who was a prominent Chinese Medicine doctor, I was exposed to the practive of Chinese Medicine at a very young age.  Under the influence of my mother, I found my mission in life – to help those who had lost hope and to heal the world with the power of Chinese Medicine.  I enjoy helping and working with people, so after enrolling in acupuncture school and attending my first day of classes, I knew I had made the best decision of my life.
Acupuncture has helped me in my personal life and because of that treating Women's Health has become my passion.  I dedicated my practice, Inner Peace Acupuncture and Wellness, to focus on Women's Health and my specialties include infertility, IUI/IVF preperation, endometriosis, PCOS, menstral irregularities, menopause, anxiety and stress management.
Thank you Sunny Slide Up for allowing me to guest blog and give acupuncutre a try!