Well, it must be recipe week here at Sunny Slide Up!  Personally I think it has something to do with the fact that we were all snowed in last week – what a perfect time to try out something new!
I love Eggs Benedict.  It is kind of sad how much I love them.  If I go to brunch, I almost always treat myself to this amazing goodness that comes together.
Last week I attempted to poach an egg… that was a disaster!  So, I improvised, fried an egg, and we were on our way!
Welcome…. FRIED EGGS BENEDICT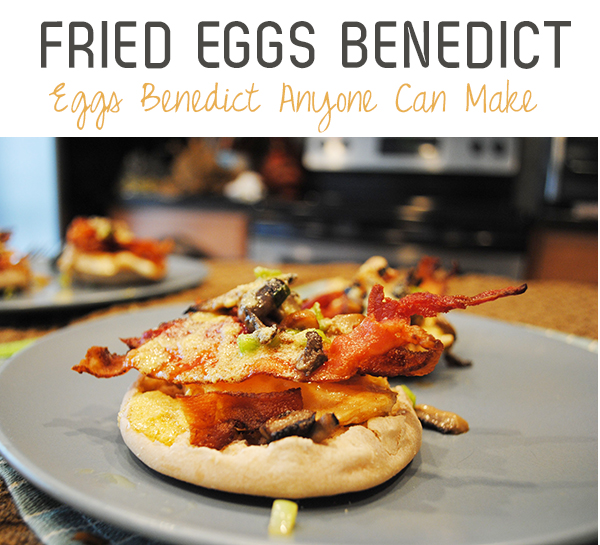 This honestly was so simple, delicious and approved by The Mister!
First get your english muffin and split them in half.  I used one per person and toasted them just enough so they were warm.
Fry an egg so it will still be runny and top each muffin half with one egg.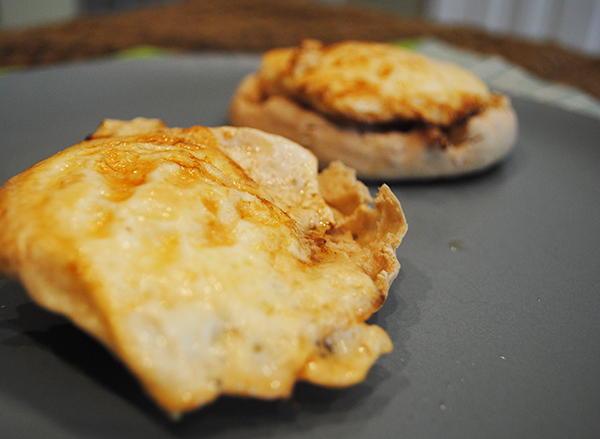 While I was frying my egg, I had my bacon – baking in the oven.  I always do my bacon this way now… Line a cookie sheet with aluminum foil to catch the grease, lay out the bacon flat and it will be crispy in about 20 minutes in a 350 degree oven…. NO MESS… NO HOT GREASE SPLATTERING.
Top the egg with bacon.  I used 2 pieces cut in half on each section.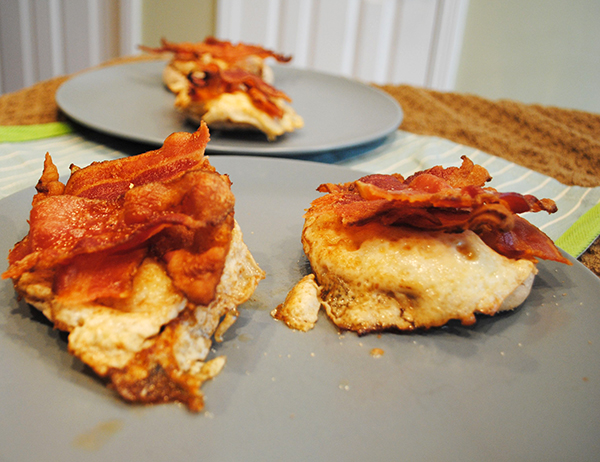 While the egg and bacon was cooking, I also sauteed some mushrooms and green onion in about a table spoon of butter… toss that on next!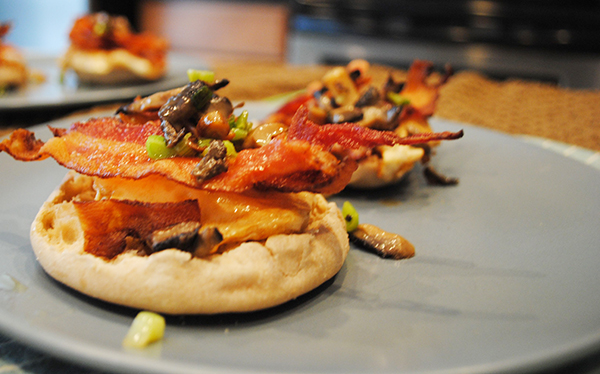 And finally top with the hollandaise sauce.  I used the recipe that Pioneer Woman uses.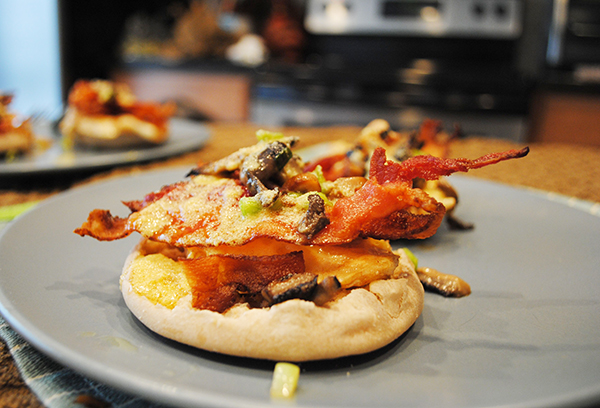 I am telling you… This recipe was sooo good!  We will make it again.  Maybe when I am serving brunch… It looks so pretty and tastes so amazing!
You could top yours with anything you like… ham… spinach…leave off the mushrooms.
Ingredients – for 2 servings
2 english muffins
4 eggs
2 tablespoon butter
1 small can sliced mushrooms
3 green onions chopped
4 pieces of bacon
salt and pepper to taste
Directions
Preheat your oven to 375.  Once warm cook bacon on baking sheet until crisp.  Set bacon to the side.
Cut 2 english muffins in half and toast until warm.  Lay on plate.
Use 1 tablespoon of butter to fry 4 eggs, leaving the yolk runny.  Place one egg on each half of the english muffin.
Stack bacon on top of egg/english muffin
Sautee mushrooms and green onion in 1 tablespoon butter.  Once sauteed, place this mixture on top of your bacon
Top the english muffin "tower" with the hollandaise sauce.
Serve Immediately.
For Hollandiase Sauce
3 egg yolks
2 sticks of butter
1 lemon
cayenne pepper to taste
Directions
Melt 2 sticks of butter in sauce pan.  Do not burn butter.
Separate 3 egg yolks and place in blender.
Turn blender on low and leave on during entire process.
Slowly pour all of the butter into the blender.
Immediately add the juice of one lemon to the blender.  If the mixture is still thick, add more lemon juice until you get the consistency you want.
Add cayenne pepper to taste.  You can add a generous amount as it is not a very hot seasoning.
Immediately pour over eggs benedict and serve.
*note… do not warm hollandaise sauce after it is mixed for long as it will turn into a runny mess!
I HOPE YOU ENJOY THIS AS MUCH AS I DID!!!!