I scored some major brownie points with the husband this past weekend.  He was hosting a fantasy football draft party for his league and I offered to help out with the food. Of course, I went straight to Pinterest for inspiration….and found some other awesome ideas which inspired me to do a little decor too 🙂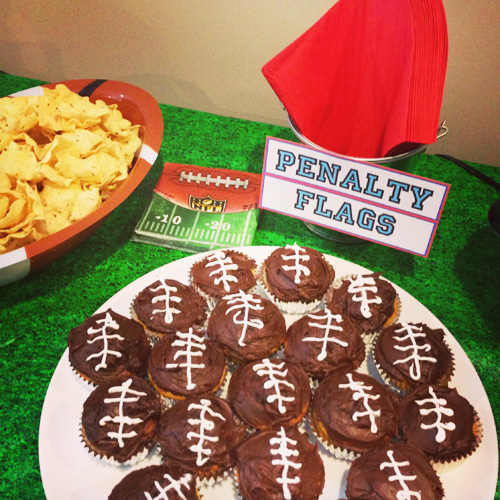 How cute are the football cupcakes?!?!  These were super easy to make.  Bake and frost cupcakes as normal (with chocolate icing) and then just buy a tube of white icing to make the football "laces" – I used Cake Mate Icing and Decorating Tips (the smallest one).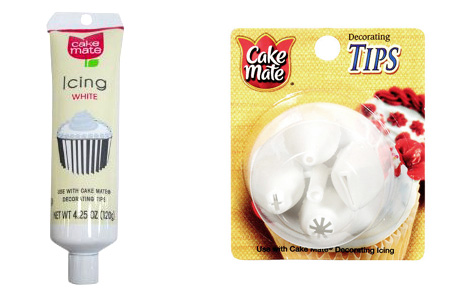 For the "Penalty Flag" Napkins I made my own printable – which I am now passing along to you for FREE – Just click on the image below to print!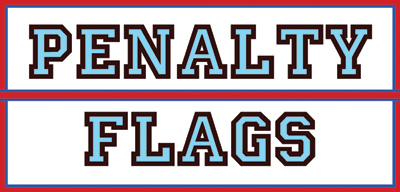 I made lots of food for the party, but the Buffalo Chicken Cupcakes were by FAR the most popular.  They were all gone off the plate in about 30 seconds and everyone raved about them.  I will be making these again for sure!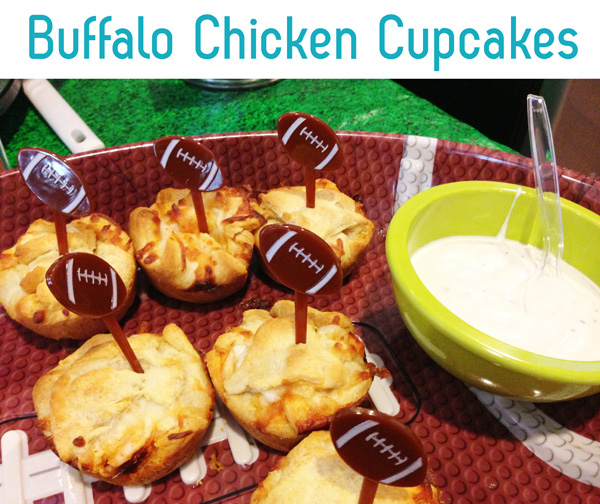 I found this recipe online which called for pizza dough and was a bit more complicated, so I switched it up a bit and made these with crescent rolls – so much easier!
Buffalo Chicken Cupcakes
2 packages of crescent rolls
1 small onion, chopped into small pieces
1 pound boneless, skinless chicken breast, chopped into small pieces
2 tablespoons butter
1/2 cup Buffalo Sauce (I used Frank's Red Hot Buffalo Wing Sauce)
1 cup fresh mozzarella
Melt the butter over medium heat and add in onions, cook until transparent, then add chopped chicken. When the chicken is done, add buffalo sauce and heat for a few minutes. Remove from heat and set aside.
Preheat oven to 375. Spray muffin tins with non-stick spray so you don't have too much of a mess to clean up.
Roll out crescent rolls.  Take two triangle (which make a rectangle) and press together – then cut this to form two squares.   Take each square and press into individual muffin tins.
Sprinkle some cheese at the bottom of each muffin tin on top of the crescent dough and then fill with the buffalo chicken mixture.  Sprinkle more cheese on top of the chicken then fold over edges of crescent dough as much as you can, closing it together at the top.  I ended up using some extra dough to lay on top to close them up.  You don't want them totally closed up – it's good to have a little gooey goodness crisp up on the edges.
Bake for 15-18 minutes, Serve and enjoy!
 *If you love this recipe, be sure to check out our very popular post Chicken Pot Pie Cupcakes too!
Another food favorite were the Cheesy Hot Dog Crescent Skewers – thanks Pillsbury!  Super easy and delicious. Click here for the recipe.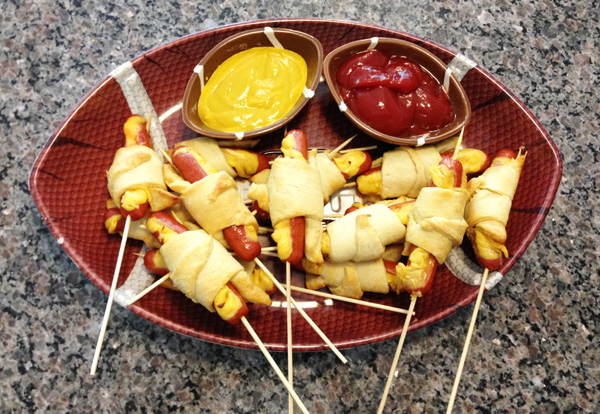 All fun aside, this was a serious operation!  I mean, check out this set up.  Impressive, right?

The party was a huge success and the boys are all very happy with their picks.  I wish them luck….especially my husband.  GO TEAM!