This Valentine's Day, I wanted to capture a moment of my relationship with The Mister.  After seeing several projects around blog-land, I decided to try DIY Paint Marker Plates.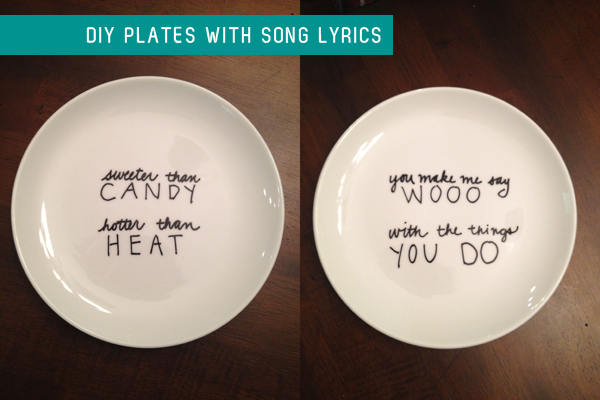 I decided to go with song lyrics to the first song we danced to, Carolina Girls (see full lyrics here).  It was a fun night at his dad's birthday party and now we will have these plates to remember that moment!   You could choose a favorite song, a favorite quote, the song you danced to at your wedding, etc.
Just have fun with it!  We love "You make me say WOOO"!

You will need the following:
porcelain dishes that you are ok to permanently change – I picked mine up at a local Goodwill store for $1 each.
paint markers – I have heard Sharpies work, but I went the "real thing"  DecoArt Glass Paint Marker – the package says it is diswasher safe!
an oven 🙂
All you do it write and back.  My paint markers say to let the dishes air dry for at least 8 hours and then bake at 375 degrees for 40 minutes.  I would guess you do the same for sharpies!
Other ideas for plates:
Conversation Starter Plates – have a question on the bottom of the plate, so as you finish your meal or dessert, you have a question to talk about.

Fortune Cookie Plates – after your meal you get a fortune!
List out favorite meals or dessert dishes
Draw initials or family names.
You can make these for birthday gifts, wedding gifts, anniversary gifts, or just to keep for yourself!
Happy Drawing!