This is one of my favorite recipes and I think it is about time I share it with you.  I first came across this recipe in my Real Simple magazine.  I love that magazine.  Full of great tips, stories, recipes and such!  This meal is one of my easy, go to quick fix during the week recipes.  Both my husband and I love it.  I could honestly eat the couscous salad all by itself.  It is delicious.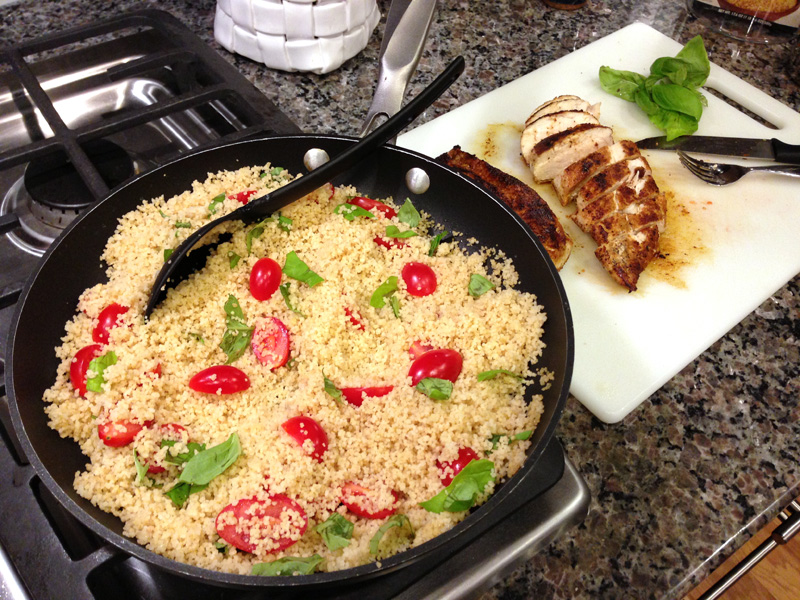 Chicken with Couscous Salad
(easy to modify the amounts based on how many people you are cooking for!)
Ingredients
2 boneless, skinless chicken breasts (6 ounces each)
2 tablespoon olive oil
1 tablespoon paprika
1 tablespoon ground cumin
kosher salt and black pepper
1 cup couscous – I like the Near East Roasted Garlic Couscous
cherry or grape tomatoes, quartered
torn fresh basil
2 tablespoons fresh lemon juice
Directions
Heat a tablespoon or so of olive oil in a large skillet over medium heat. Season the chicken with the paprika, cumin, salt and pepper.
Cook the chicken until golden brown and cooked through, about 6 to 7 minutes per side. Transfer to a cutting board.
Meanwhile, cook the couscous as directed on box. Fluff with a fork.
Add the tomatoes, basil, lemon juice, remaining olive oil to couscous. Season with salt and pepper. Toss to combine.
Slice the chicken and serve with the couscous.