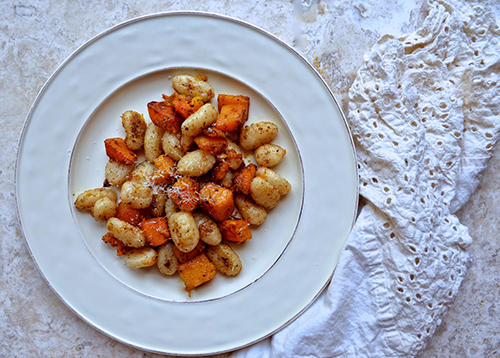 Hello there Sunny Slide Up readers! Thank you for stopping by! I am SUPER excited to be sharing another new recipe with you today. Although I have not been the biggest fan of gnocchi in the past, my desire to continuously experiment and try new things lured me in to giving the pasta another try. I'm so happy I did, because the outcome resulted in this lovely dish for Butternut Squash Gnocchi with Sage Brown Butter. Although I love to make recipes from scratch, I used packaged pasta and pre-cut butternut squash cubes to save time and cut to the chase. This dish is a perfect comfort food and easy to recreate. I used warm spices like sage, nutmeg and cinnamon that gave the house an incredible scent and brought the gnocchi and butternut squash to life. I hope you enjoy!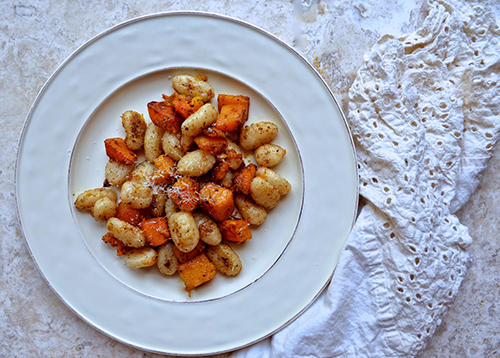 Butternut Squash Gnocchi with Sage Brown Butter
Ingredients:
16 oz. package of gnocchi
1 pound butternut squash cubes (buy these pre-cut to save time)
1 teaspoon salt
1/2 cup (1 stick) unsalted butter
2 tablespoons chopped fresh sage
1 1/2 teaspoons freshly grated nutmeg
1 teaspoon cinnamon
3/4 cup finely grated Parmesan cheese, for serving
Directions:
Prepare gnocchi as package indicates and set aside.
In a medium saucepan, brown the butter by cooking it over medium heat until golden, stirring often, for about 3-4 minutes.  Add in butternut squash cubes, sage, salt, nutmeg, and cinnamon and allow mixture to simmer for 10-12 minutes until butternut squash becomes tender.  Taste test the mixture to ensure the spices are to your liking.
Add gnocchi; cook until heated through and coated with butter mixture, 2-3 minutes. Transfer to serving bowl and top with a sprinkle with Parmesan cheese. Serve warm.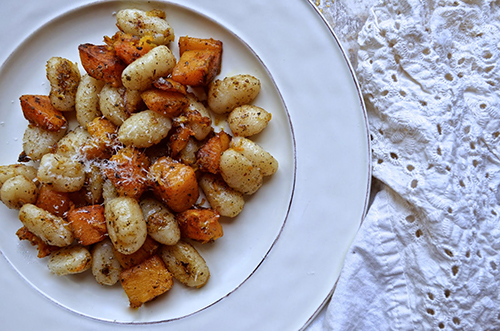 Referring link: http://www.seasonallyjane.com/2014/06/butternut-squash-gnocchi-with-sage.html
One more awesome recipe coming up tomorrow for you!