I love mexican food just as much as the next person and so when I made this at home and everyone loved it, I knew it was one I had to share!  We do one that is all vegetarian, but you could always add a meat of your choice.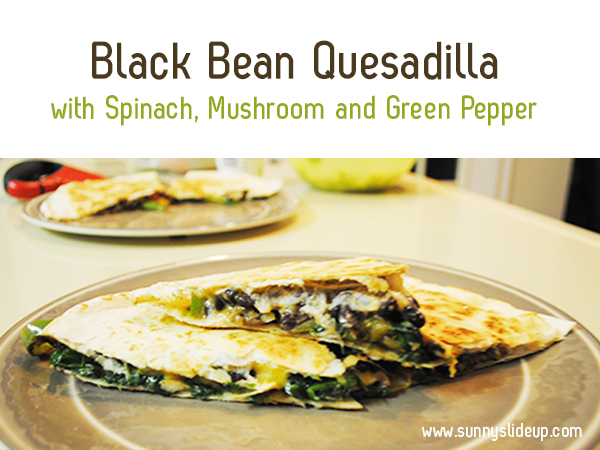 Black Bean Quesadilla with Spinach, Green Peppers and Mushrooms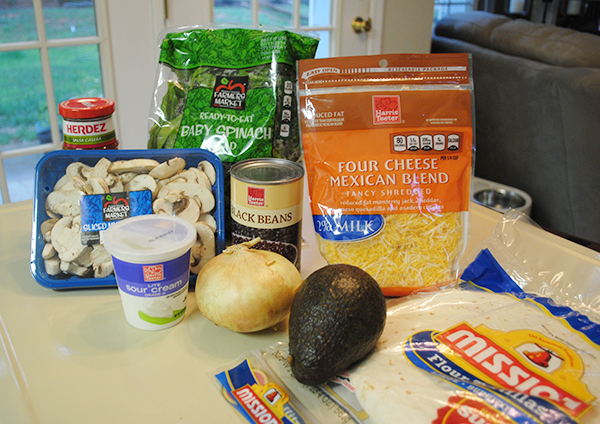 INGREDIENTS
Tortillas
Shredded Mexican Cheese
1 can of Black Beans
Salsa
1/2 of an Onion chopped (any kind will work)
1 Green Pepper, sliced – not pictured
1 package of sliced Mushrooms cut into pieces
1 bag of Spinach
2 tablespoons of Butter
Lime Juice
salt, garlic salt, and pepper to taste
DIRECTIONS
Prep all ingredients and then begin to sauté each individually.  Set each aside as they are finished.  Once all ingredients are prepped, toast one of the quesadillas, add cheese until it melts, then ad toppings.  I start with beans then add all veggies.  Add additional quesadilla on top and carefully flip it over until it is toasted on both sides and cheese is completely melted.  Set on a plate, cut into sixths and serve with toppings of choice.  I use salsa, sour cream and guacamole.
Begin by cooking all of the toppings to add to your quesadilla.  I warm up a can of black beans on the sot ve top, just until they are warm.  I also add a bit of salsa to the beans while they are cooking for additional flavor.
Add some butter to a large sauce pan and sauté mushrooms and onions until the mushrooms turn golden brown and the onions are transparent.  I add salt, garlic salt, and pepper to taste.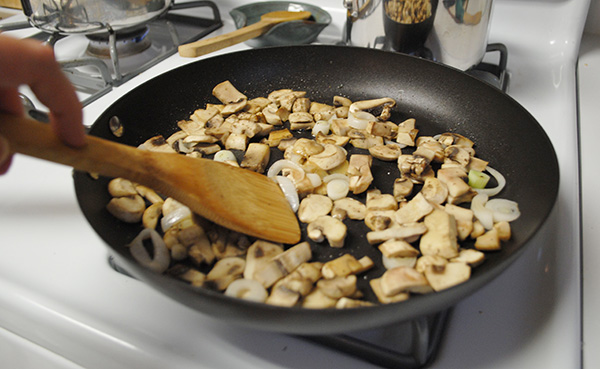 Set mushrooms aside and in the same pan add more butter before adding green pepper.  Cook until the pepper begins to soften.  About half way into your cooking, I added a bit of lime juice for additional flavor.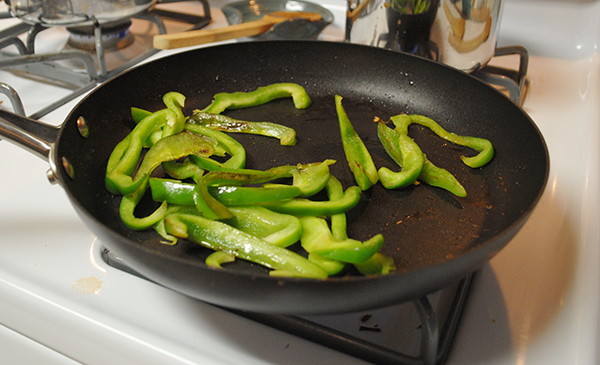 Set the peppers aside and again add butter and cook spinach.  I cook the spinach until it is a dark green color and soft.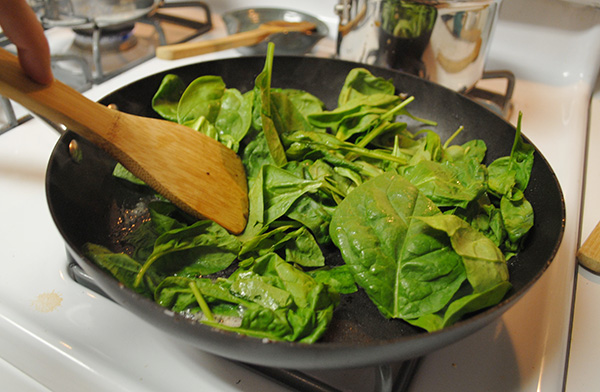 Once all toppings are cooked, add one tortilla to the same pan and add one layer of cheese.  I just add some until it is covered.  Let the cheese melt down before you add other toppings.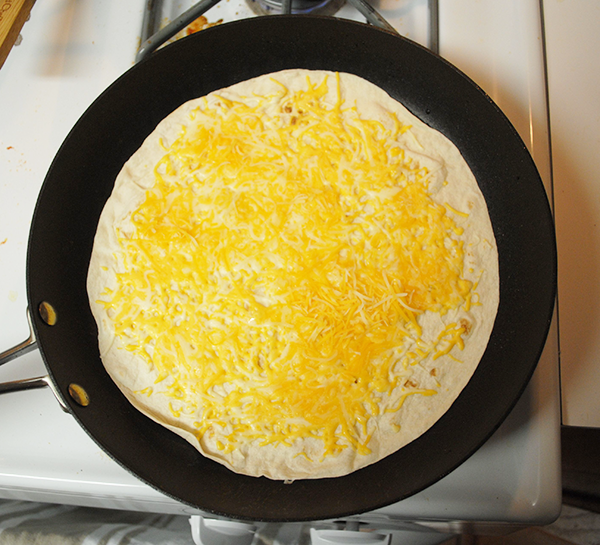 Once the cheese is melted, add other toppings.  I start by adding black beans and then all others in anyway.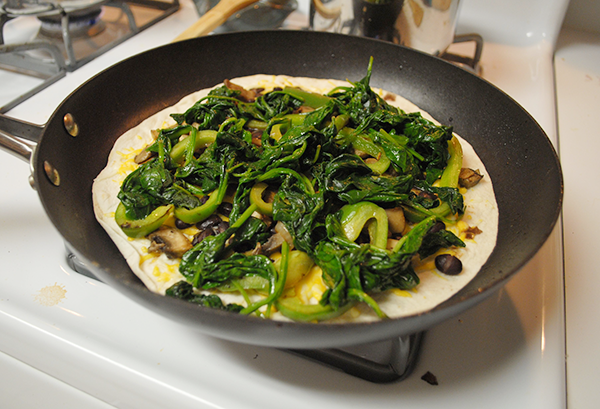 Add the other quesadilla, carefully flip over (I use two spatulas) and let it toast on the other side.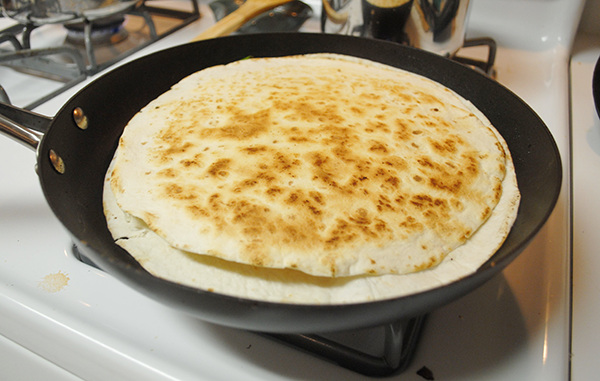 Once all cheese is melted, you are done!  Set on cheese and cut to the size you like!
Enjoy with any toppings you like.  We used salsa, sour cream and guacamole.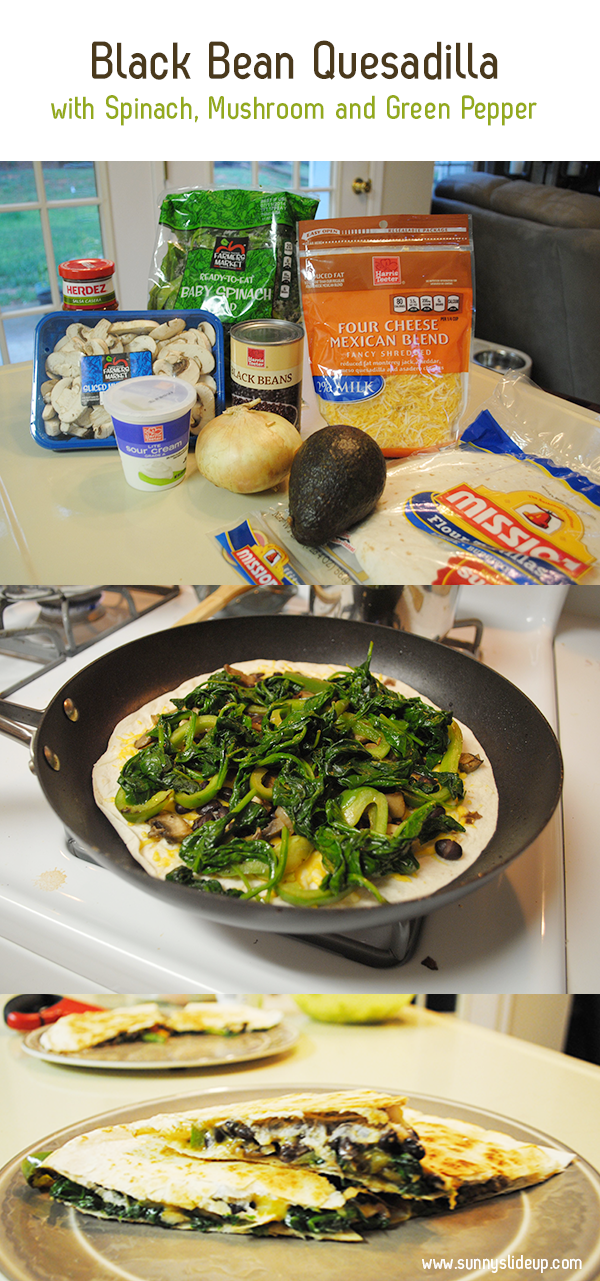 Enjoy!