This past weekend was my brother's birthday and I wanted to plan something special since he recently moved back to Charlotte with my mom.  His birthday is always near Easter, this year it just so happened to be Easter weekend…..so I planned a scavenger hunt around the city of Charlotte with clues hidden in Easter eggs!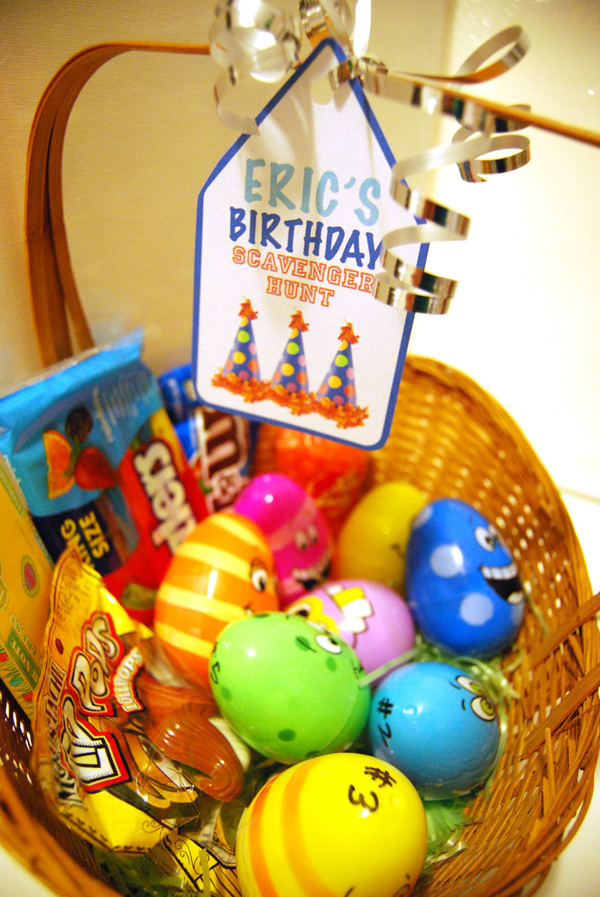 I printed out clues, some riddles, some jokes, some images to hide in each egg.  He opened each each egg in between stops along the way, so the whole day was one surprise after another.  This wasn't your typical scavenger hunt where you gathered things along the way, it was just a fun way to organize the surprise trek around town. My mom served as the navigator in the back seat helping me with directions from place to place….careful not to reveal where we were headed next!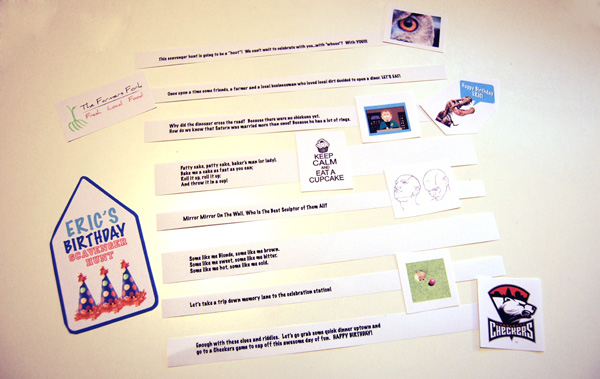 Here was where our adventure took us….
 CLUE #1
This scavenger hunt is going to be a "hoot"!  We can't wait to celebrate with you…with "whooo"?  With YOU!!!
 Carolina Raptor Center – I knew he had been here as a kid, but that was a long time ago.  And the weather this weekend was beautiful.  And yes, this isn't quite Charlotte, but I wanted to get him out of the parts of the city he is used to everyday.  He loved it!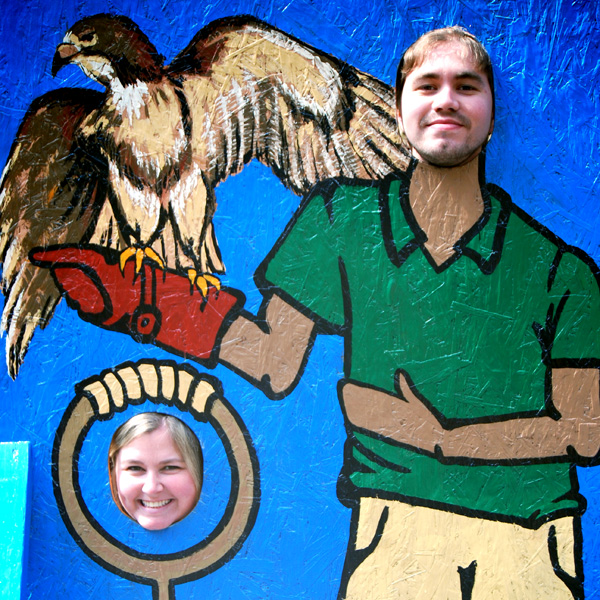 Clue #2
Once upon a time some friends, a farmer and a local businessman who loved local dirt decided to open a diner. LET'S EAT!
The Farmer's Fork – I stumbled upon this cute little diner while trying to plan for somewhere to eat between stop one and three.  This place just happend to come up in my search and I knew it would be a hit with my brother.  He has always worked in restaurants and loves the whole "eat local" and "fresh food" thing that this restaurant is all about.  Their food was amazing!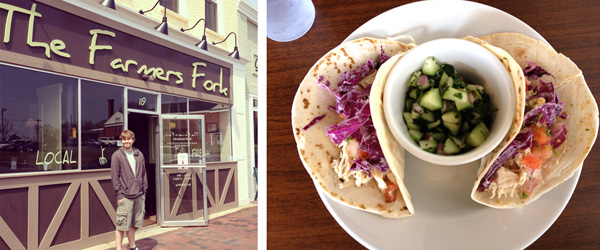 Clue #3
Why did the dinosaur cross the road? Because there were no chickens yet.
How do we know that Saturn was married more than once? Because he has a lot of rings.
The Schiele Museum of Natural History and Planetarium – I had no idea there were dinosaurs in Gastonia (a small town outside of Charlotte – for all of our readers who have no idea what Gastonia is).  There were some cool things here.  I think a better spot for younger kids.  They did have the fattest raccoon I have ever seen.  And the planetarium show taught me a ton about the planet Saturn.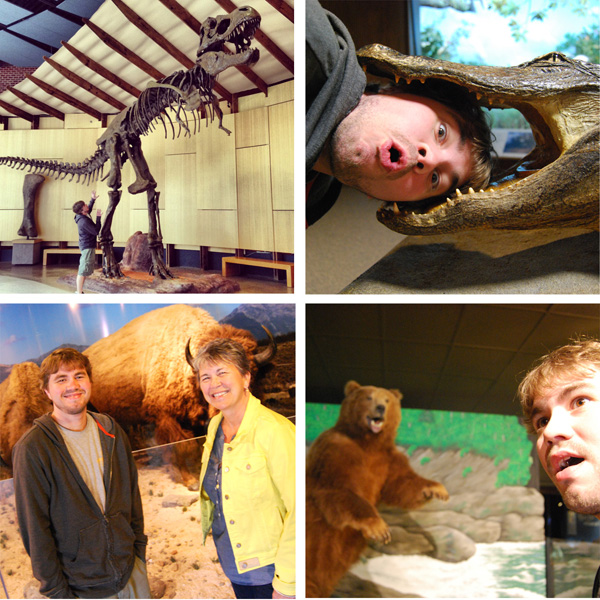 Clue #4
Mirror Mirror On The Wall, Who Is The Best Sculptor of Them All?
Metalmorphosis –  Amazing sculpture tucked away in an office park off the interstate in Charlotte.  A must see!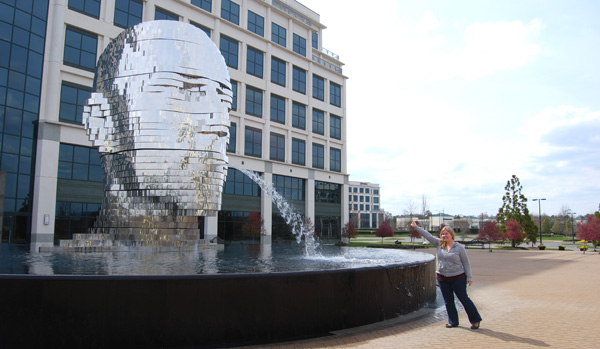 Clue #5
Patty cake, patty cake, baker's man (or lady). Bake me a cake as fast as you can; Roll it up, roll it up; And throw it in a cup!
Cupcrazed – Ever seen Cupcake Wars on the Food Network?  These people won.  And I can see why.  The cupcakes were DELICIOUS!!   Here is the loot we picked out to try (oreo, carrot cake, nerds, and mini red velvet):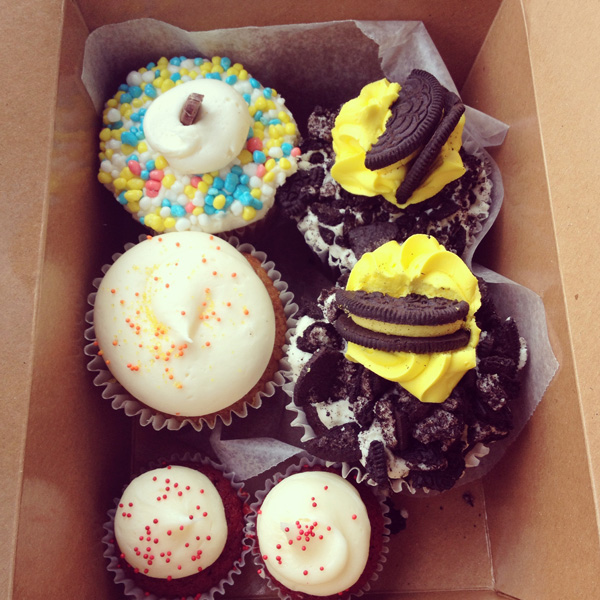 Clue #6
Let's take a trip down memory lane to the celebration station!
This is a local putt putt golf / go kart / arcade game place in Charlotte we used to go as kids.  It used to be called "Celebration Station" but is now been changed to Adventure Landing. My brother had many a birthday parties here and it had been forever since he had been back.  He was super excited to get this clue and knew exactly what it was.  (Side note….all of us "kids" in my family, there are four siblings, will never grow up.  We all act like big kids!)
 Clue #7
Enough with these clues and riddles. Let's go grab some quick dinner uptown and go to a Checkers game to cap off this awesome day of fun. HAPPY BIRTHDAY!
Charlotte Checkers Hockey Game – I knew he would be super excited for this one, ever since moving back to Charlotte he had been talking about wanted to get to a hockey game and he hadn't made it yet.  It was a great event to end our birthday surprise day of fun!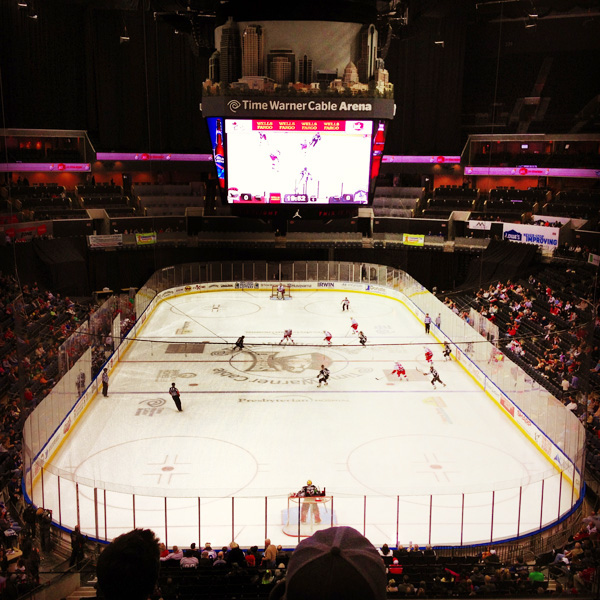 Here is the full map of our travels around Charlotte with the photo clues.  We did a lot of driving!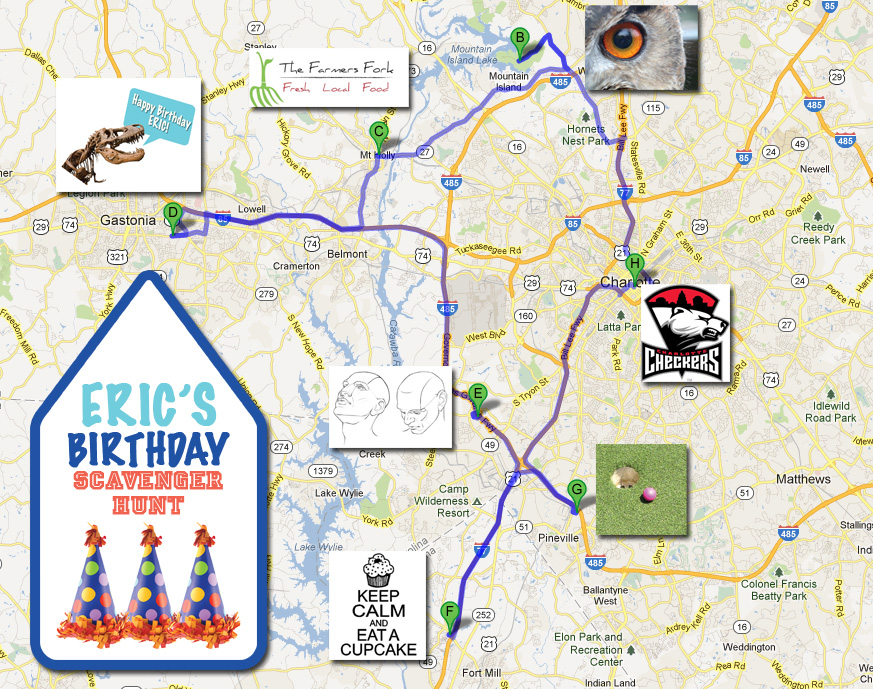 Oh, and HAPPY APRIL!   ***Don't forget it's April Fool's Day!  Don't let anyone trick you!***