This Thanksgiving has been great for me!  I was able to spend a lot of time with my family and I have been able to spend a lot of time with my sister.
She has been great helping me focus on being more healthy.  I am learning what to eat at different times of the day as well as what to eat at different time of the year.  It is a big change from my pizza and beer nights, but I am really enjoying it and loving all of the new recipes I am trying!  In the winter it is good to eat a lot of warm vegetables, so we have done a lot of roasting.  Roasted brussel sprouts and broccoli with nuts – ah-mazing!
On top of it all, I have to add that the Mister is being very supportive and is eating healthy with me!  I think we may have had our favorite meal so far the other night!  We had the brussel sprouts and an amazing salad with goat cheese and avocado. The star of the night was a fresh artichoke.  We started out with the artichoke and was not only easy to make and delicious, but it was so fun to eat.  We sat down at the table and had a wonderful conversation while we slowly picked away at the vegetable!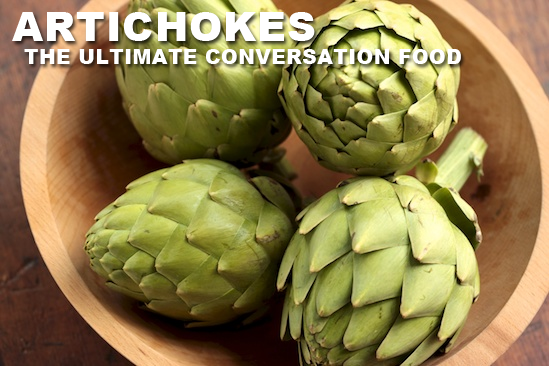 This was my first time cooking an artichoke and it was SO easy – anyone can do it!
1. Slice off the top third of the artichoke with a sharp knife and cut off all of the points – I took about a 1/2 inch off each one.
2. Cut off the stem – no need for this part!
3. Rinse the artichoke with the cold water.
4. Get a large pot and fill it with water.  I added lemon juice and a garlic clove to my water.  Insert a steaming basket, add the artichokes and cover.
5. Bring the water to a boil and reduce heat to simmer. Cook for 25 to 45 minutes or until the outer leaves can easily be pulled off.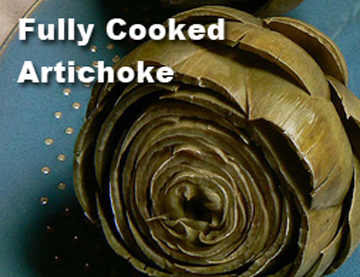 6. For a dip, I took a spoonful of mayo and added some balsamic vinegar, just enough to taste and it really went well!
I encourage you to grab an artichoke, maybe a bottle of wine and have a conversation night!