As I continue on my new paleo lifestyle with The Mister, we are always looking for new recipes.  Snacks have been a little hard – I can only eat so much fruit and almonds people!
I was talking with a friend the other day that started paleo a few months ago and he had this ahh-mazing looking granola mixture.  I stopped him because all oats are not allowed and I had to know more.  Turns out the oat looking things were actually slivered almonds..  He let me taste it, I fell in love and the rest is history!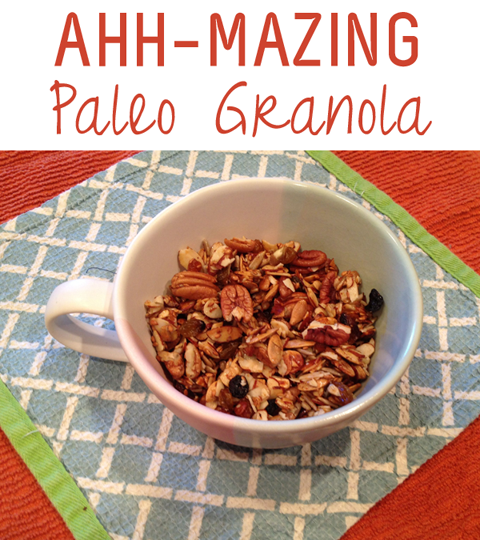 Ahh-mazing Paleo Granola
Ingredients
5 cups nuts and seeds – I used 2 1/2 cups of slivered almonds, 1 cup pecans, 1/2 cup sunflower seeds, 1/2 cup flax seeds, 1/2 cup pumpkin seeds.  Make sure to use 2-3 cups of slivered almonds as these take the place of oats.  Make sure all nuts are unsalted and organic
1/4 cup honey
1/4 cup organic grade B maple syrup
1/3 cup coconut oil – coconut oil comes in wax form.  Remove the lid and heat in microwave for 1 min.  Coconut oil is Jenn's fav!
2 tsp vanilla extract
1 tsp ground cinnamon
1/4 tsp ground nutmeg
1/4 tsp ground ginger
3/4 cup organic raisins
1/2 cup unsweetened dried fruit.  I used blueberries
Directions
Line a baking sheet with wax paper and Preheat your oven to 350.
Combine nuts and fruit in large bowl,  drizzle on oil, and mix to coat the mixture.
Put the honey, syrup and seasonings into a small skillet pan on med-low heat until everything is mixed together.  The longer you heat it, the crunchier it will be.
Add the nut and fruit mixture to the skillet and stir everything to coat.  (This reminded me of stirring rice-crispy treats – it will be a little sticky).
Pour the entire mixture onto the lined baking sheet and bake in the over for 15-25 minutes.  Everything will start to get a golden brown color.
Immediately after removing the mixture from the oven, transfer it to a new bowl to begin the cooling process in the refrigerator.  Make sure you take a few bites while it is warm though – just trust me  – it will change a small part of your life!
Enjoy, snack, have as dessert, have as breakfast, send with your kids, send with your Mister.  It is healthy, it is paleo and it is AHH-MAZING.