Welcome to Sunny Slide Up!
We are a pair of graphic designers and friends who make a conscious effort to seek out the good in life – all with creative intention.  Join us as we try new recipes, create DIY projects, travel on adventures,  discover fun products and share creative tips for work and play. We hope to motivate, encourage, and inspire you to find more creativity in your everyday life.
Slide up a chair and join us.  We welcome comments and love hearing your ideas. Cheers to living Sunny Slide Up!

Heather is owner of The Creative Stack, a local Charlotte graphic design company that specializes in website design and small business marketing.  She loves helping business owners their brand and voice in this busy world. 
Heather has a zest for life and insists on taking the glass is half full approach to things.  She celebrates the "never grow old" motto by silly faces, laughing, and dancing daily.  She refuses to believe that she is on the uphill to 40.  
She counts her family as her most prized possession and relishes in her role as a loving wife, daughter, sister and mother (to her 3 furry babies).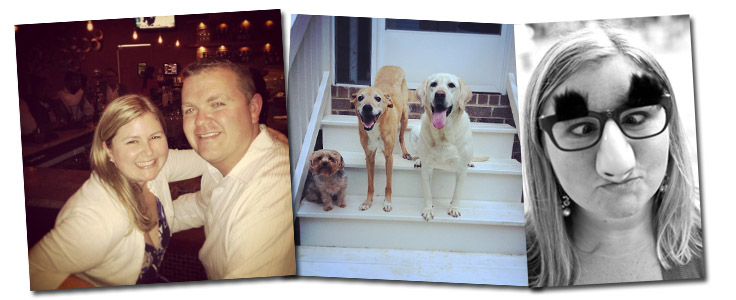 Mandi is a graphic designer with a passion for branding, handwriting, design and being creative on a daily basis.  Working with clients nationwide, she maintains a southern yet savvy style that is clean and fresh.  Inspired by good design, great food and lifelong friendships, she happily resides in the Lake Norman region with her husband, son, and Great Dane.
Recently, Mandi has expanded her art, and opened a shop on etsy where you can purchase one-of-a-kind pieces as well as custom designs.