As you can tell… this week we are ALL about camping!  Camping gear, making s'mores, bringing the camping life into your home and of course fashion!
I grew up camping with my family and working at summer camps.  I love a good bandana on my head, cut off jean shorts, guitar songs around a campfire and hikes in the woods to see amazing views!
Today I am going to tell you the top 10 places I would say to go camping in the US.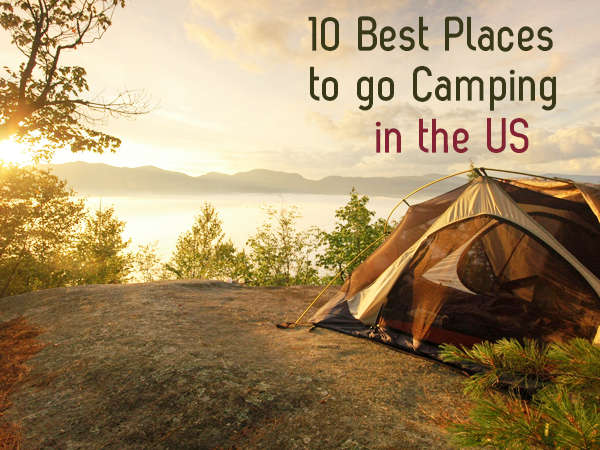 1. ACADIA NATIONAL PARK, Maine
Maine is called "The Pine Tree State" for a reason: It's covered in 17 million acres of forest. Plus, it has 6,000 lakes and ponds and 32,000 miles of rivers and streams. Basically, it's a camper's paradise. Located on Mount Desert Island, Acadia National Park makes the perfect camping destination for nature lovers of all skill levels. Looking for a unique experience? Hike to the top of Cadillac Mountain (the highest point along the east coast) just before sunrise and be the first person in the U.S. to say hello to Mr. Sun that morning.  (source)
The park has two campgrounds: Blackwoods (closer to the island's town center, Bar Harbor), and Seawall (which offers a more rustic, less touristy environment). While visitors can enjoy hiking throughout the entire park, camping is only allowed in these designated areas (backcountry enthusiasts, take note).
2. YOSEMITE NATIONAL PARK, California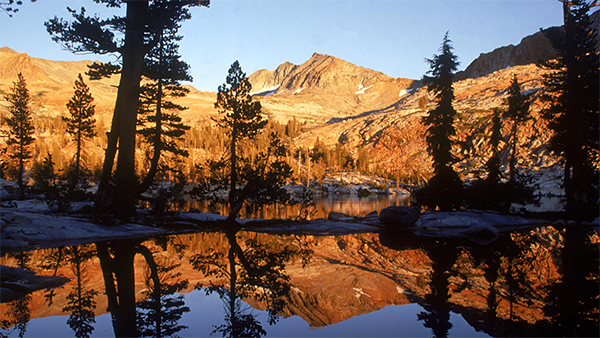 Photo: canuckabroad
Nearly 95 percent of the park is designated wilderness — that means no cars, no structures, no roads, and no electricity. After a night spent under the stars, take a hike up to Glacier Point, which overlooks the park's famous Yosemite Valley, Half Dome (a rock structure revered among climbers), and the High Sierra peaks. The hike on Four Mile Trail from Yosemite Valley to the top of Glacier Point takes about 3-4 hours each way. If you're looking for something a bit tougher, the Panorama Trail is about twice as long.
There are 13 popular campgrounds scattered throughout the park, and those requiring reservations are usually full from about April – September. If you don't have a reservation for summertime camping, there are seven campgrounds that operate on a first-come first-served basis. Backcountry camping is also allowed, but requires a free wilderness permit (which can be reserved ahead of time). Reservations are recommended. (source)
3. JOSHUA TREE NATIONAL PARK, California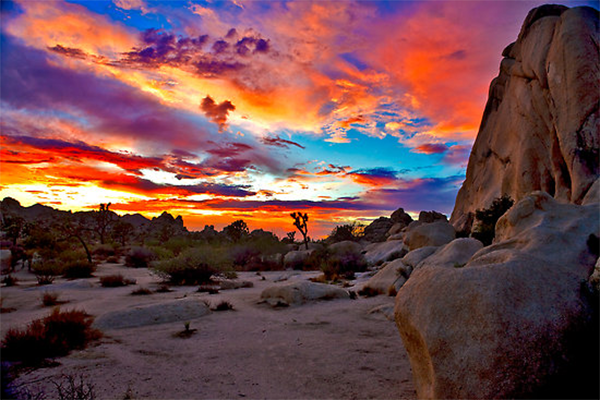 (Photo: We are adventure)
We know — camping in the desert doesn't sound like so much fun (hello, sunburn). But the famous Joshua Tree National Park is oh so much more than just desert. The park actually sits at the intersection of two very different deserts: To the east is the low-lying Colorado Desert; to the west lies the slightly higher, cooler, wetter Mojave Desert (home to the park's namesake, the Joshua tree). In addition to the deserts, the park also has ten mountain peaks higher than 5,000 feet in elevation. Need to get vertical? Joshua Tree is a popular rock-climbing destination (Just be sure you know what you're doing first.)
The park is home to nine established campgrounds. Some campsites require reservations for October through May. The rest of the sites are first come, first served year round.Backcountry camping is allowed, but campers must register in advance at a designated backcountry registration board.  (source)
4. OLYMPIC NATIONAL PARK, Washington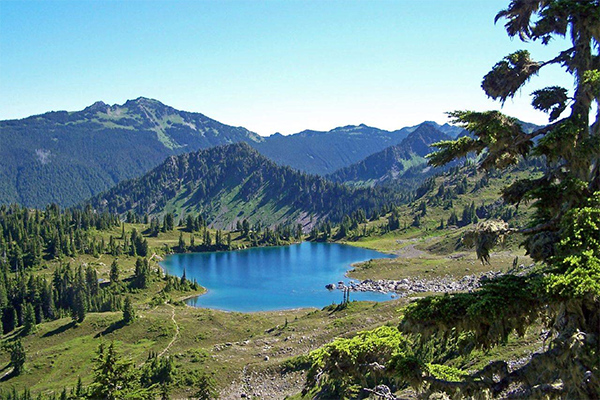 The coolest thing about this park? It contains three different ecosystems, including — wait for it — a rainforest. Head to the Quinault Rainforest (one of only three in the western hemisphere) to see the largest Sitka Spruce tree in the world. There's a 30-mile road that loops through the rainforest, but we think hiking's the better option. End your trip at Ruby Beach — where you can see the mountains, glaciers, and rainforests right from the shoreline — or at La Push, the northernmost beach in Washington, where you can see whales off the coast during migration season.
The park has 16 National Park Service-operated campgrounds with a total of 910 sites. Availability varies from site to site, but there are some primitive sites open year-round. Backcountry camping is allowed, but a Wilderness Camping Permit ($5) is required (reservations are also sometimes required). (source)
5. ZION NATIONAL PARK, Utah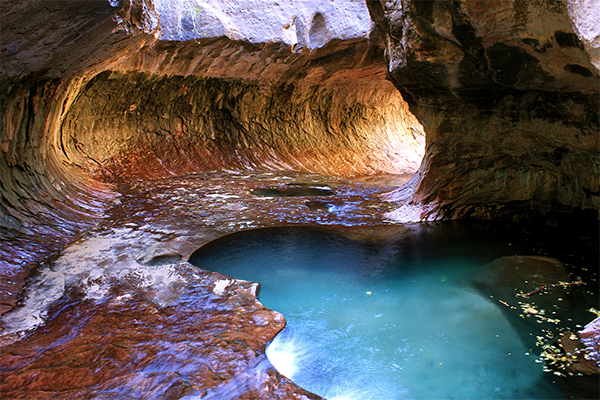 Remember learning about the pioneers? Yeah, they walked the grounds of Zion (before it was a park). After spending the night in the woods, try hiking the Kolob Canyons in the northwest corner of the park. The five-mile and 14-mile trails make perfect four- or eight- hour trips. The longer trail takes you to Kolob Arch, one of the largest natural arches in the world. (There are also a bunch of backcountry campsites by the arch, and staying out there can make a great two-day backpacking trip.) If you're traveling in the summer and lucky enough to win a permit in the permit lottery ($5), exploring The Subway of the park is an unparalleled experience. There are two ways to hike the deep valley and underground passageways, both strenuous, nine-ish mile routes. (Be warned — both trips are wet.)
The park has three established campgrounds and during the summer, they are full every night. Wilderness permits are required for all overnight backpacking trips and can be issued the day before or day of your trip (or reserved up to three months in advance). Before embarking on a backcountry trip, be sure to read through the Zion wilderness guide. (source)
6. GLACIER NATIONAL PARK, Montana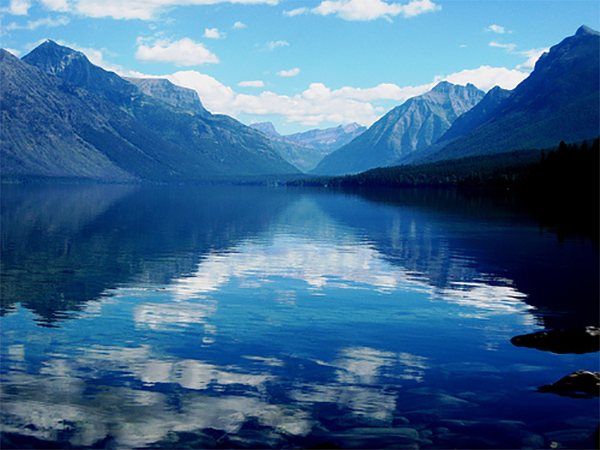 The park's probably known best for Going-to-the-Sun Road, a 50-mile road through the park's interior that winds through the mountains — but that's only fun if you're in a car (and what fun is that, really?). For some fun on foot, try hiking the Many Glacier (there are a few trails to choose from, many of which offer spectacular views of alpine lakes). There's also a campground at the glacier that accommodates both vehicles and primitive camping.
There are 13 developed campgrounds with a combined 1,009 established sites. Most operate on a first-come first-served basis, except for three that require reservations. Backcountry camping is also allowed, but a backcountry permit is required and you may only camp in designated backcountry campgrounds. (See the Backcountry Guide for details.)  (source)
7. ARCHES NATIONAL PARK, Utah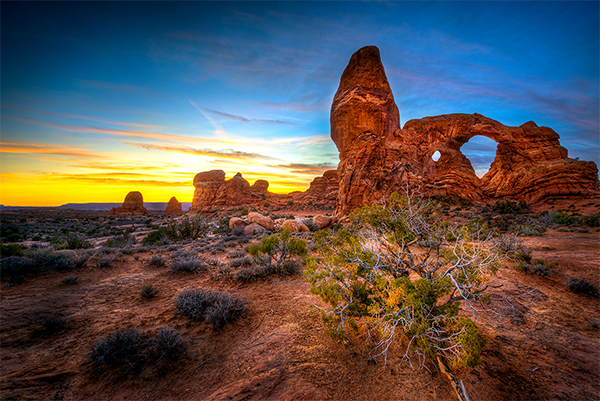 It's a red rock wonderland with over 2,000 natural stone arches. The park has a variety of easy, moderate, and long trails. One of the most popular, the Delicate Arch trail, takes you to the well-known arch by the same name (a photo op not to miss). There's also the option to take a ranger-guided hike through the Fiery Furnace, an area of sandstone canyons with no marked trailheads (to go without a guide, you need a permit).
The park has one developed campground, The Devils Garden Campground, and it has 50 campsites. Sites are usually reserved in advance during the busy season (March–October), but there are also campgrounds located outside the park and nearby. Arches is relatively small, and there's little land for backpacking. To do so, you need a free permit, and you should know what you're doing (be able to read a topographic map, identify safety hazards, etc.).   (source)
8. GRAND CANYON NATIONAL PARK, Arizona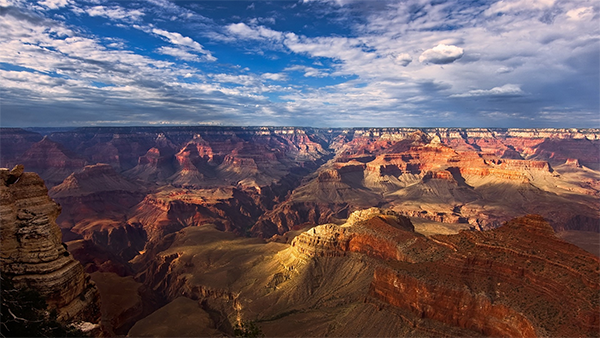 My mom and I went here last year… it is unbelievable in person!  You have to go!  You can read my blog post about that trip here.
Do you really need a reason? It's the freakin' Grand Canyon. There are two main areas: The North Rim, and the South Rim. The South Rim is more popular, easier to get to, and busier. The North Rim is harder to get to, but offers a more secluded stay (and is actually in Utah). Both areas are gorgeous, so you really can't go wrong. Hiking is one of the most popular activities, but it can be tough (and equally rewarding); know what you're doing before setting off. Rafting trips are also very popular.
There are three developed campgrounds in the park, two of which are available for reservations. Two are by the South Rim; the other is closer to the North Rim. Backcountry camping is also allowed with a permit ($10–$25)  (source)
9. EVERGLADES NATIONAL PARK, Florida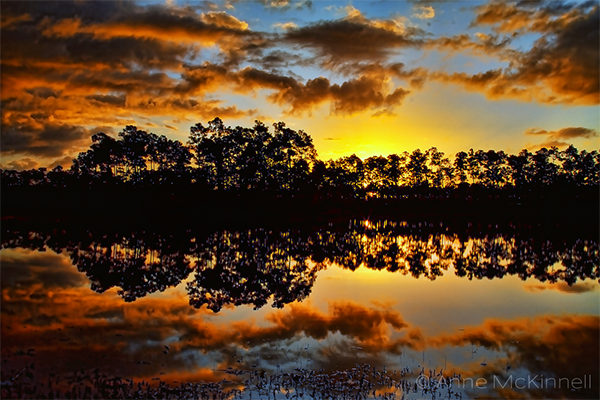 This park is the third largest in the lower 48 states, covering 2,400 square miles. So, let's just say you won't get bored. There's a wide range of hiking trails with heads near all of the park entrances and campgrounds, as well as ample opportunities for biking. There are also a ton of canoe and kayak trails to take you further into the park's mangrove forests, freshwater marshes, and open Florida Bay (You can also take a multi-day canoe or kayak trip — just make sure you don't accidentlydo that by getting lost). Once you've had enough of doing the work yourself, check out one of thetram or boat tours offered in the park.
There are two drive-in campgrounds in the park (one of which, Long Pine Key Campground, will be closed for Summer 2013). Reservations are accepted at Flamingo Campground and are strongly recommended. Most backcountry sites (permit required, see more below) are only reachable by canoe, kayak, boat, or particularly adventurous hikers.  (source)
10. PISGAH NATIONAL FOREST, North Carolina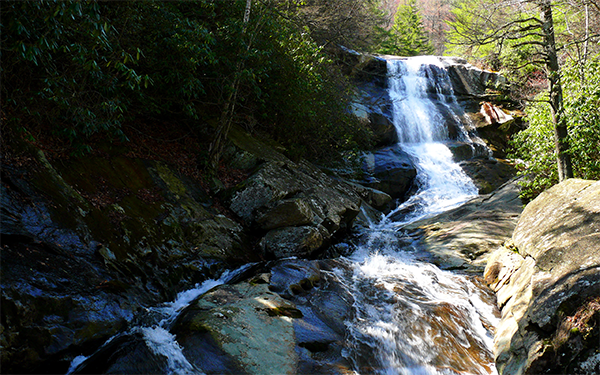 I have to end on one of my favorites that is close to home and close to my heart.  I grew up going to Pisgah with my childhood camp. It is an amazing place full of trails, waterfalls, and views!  I definite must see!
There are literally hundreds of different trails throughout the Hemlocks region, offering a diverse range of hikes and backpacking opportunities. Just an hour from Asheville, NC, The Pisgah Forest is sometimes called "Land of the Waterfalls" (we'll let you guess why), so take a look at a map and pick a hiking trail at your comfort level to check out some of the wondrous falls. The forest also contains four long-distance trails, including portions of the Appalachian Trail and the Mountains to Sea Trail.  The Art Loeb Trail is one of the toughest (30.1 miles) trails in the forest, but also one of the most popular. There are plenty of campsites along the trail, too, so it makes a great path for a weekend backpacking trip.
All forest-operated campsites are first-come, first-served. Dispersed camping is only allowed at one of the forest's designated camping areas. (source)
And remember… if camping is a little too rustic for you?  Why not try glamping or Glamour-Camping?  There are amazing places everywhere for you to try!  Here is an entire website dedicated to it!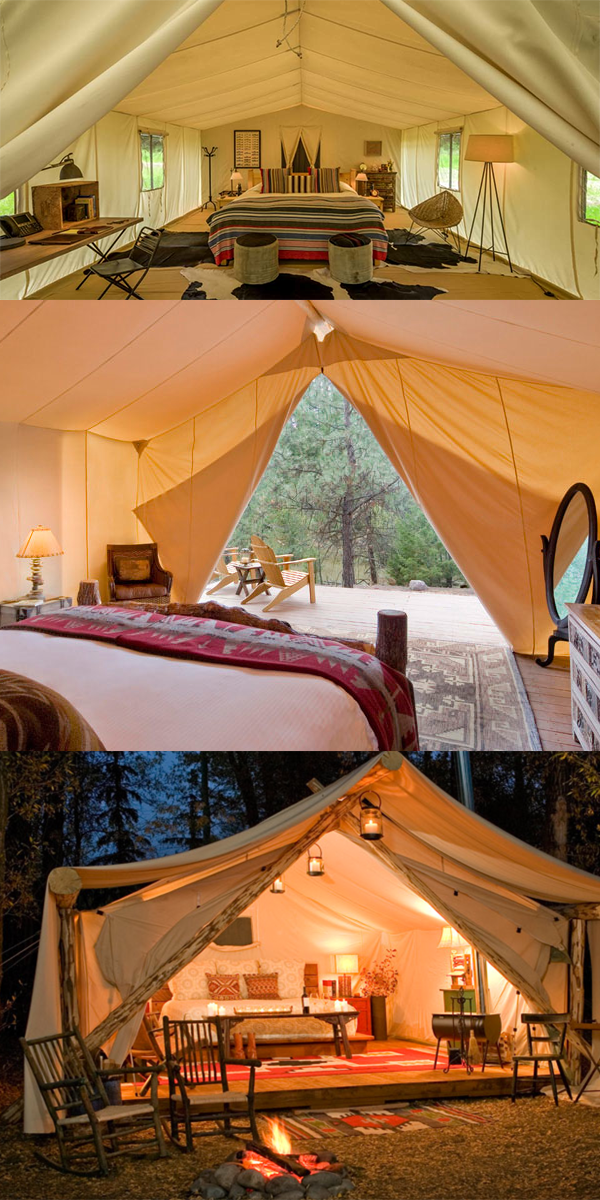 Dunton Hot Springs   Paws Up   Fireside Jackson Hole
Now with all these places to go… its time to look the part!  Sign up for our giveaway with Apricot Lane!